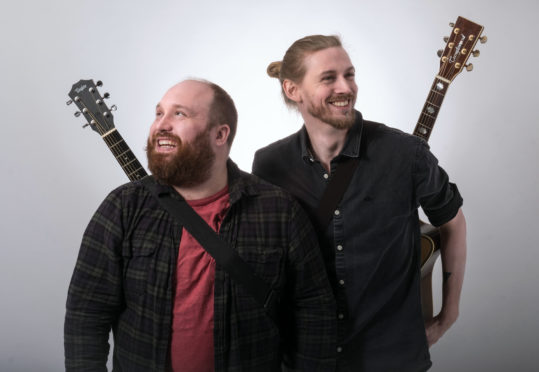 Musical comedy duo Jonny & the Baptists – a.k.a. Jonny Donahoe and Paddy Gervers – return to the Edinburgh Fringe this summer with their latest show.
Known for their politically charged songs, this year they're trying hard to step away from the all-consuming world of politics and instead focus on us all just getting along.
Here, they answer our Fringe Q&A….
---
How are you feeling ahead of your return to the Edinburgh Fringe?
This year we go straight from Edinburgh into a four month UK tour, whereas we normally have a bit of a break after the Fringe and tour in Spring. So it feels even more exciting: we open the show on July 31st and then we don't stop until Christmas. It's going to be non-stop.
It'll be like being top athletes, but without the training or any physicality or moving around, and you're allowed to drink heavily, only eat fried foods and do 'admin' in pubs. So I guess it's like Darts. We're the musical-comedy equivalent of Phil The Power Taylor.
---
What prep work have you been going through before heading for the festival?
The best way to prep for Edinburgh is stay up late every night, only eat things that either contain or are wrapped in sausage, and always stand in the vicinity of someone chain smoking and crying. So we've been doing that since the winter of 2003, just in case.
We also had to write the show, which is an enormous amount of prep-work. It's very frustrating that no-one else writes it for us. We keep expecting elves to write our shows in the night, and wake up and find it all done. But it never happens and we are now this close to stopping believing in elves.
---
How did you first start out with musical comedy?
It was a very simple decision. We wanted to be comedians. And we wanted to be musicians. So we thought we'd do both. The trick to good musical comedy is for it to be as funny as talking-comedy (which we believe is the technical term), and as good to listen to as serious-good-music (also technical). So it's sometimes twice the work, but it's worth it because when you finally make a very funny great song, it's the best feeling in the whole wide world.
---
What can we expect from this year's show?
This year's show is an attempt by us, a deeply political comedy act, to make a non-political show, at a time when politics absolutely suffuses everything around us. And wow, it's really hard.
We keep trying to write songs about nothing, but they end up being about how our government is destroying its people and the Earth is burning up around us at a rate that is unstoppable. Arrgh!
But we're carrying on! Let's just have fun! Ignore how awful everything is! Look, it's a lovely kitten! Here's a song about different kinds of soups! We're not having a breakdown!
---
How do you find a balance between silliness and seriousness?
At the moment, all you have to do to inject seriousness into the silliness is to be briefly honest, and point out what's going on all around us. That's why we need the silliness because otherwise it'd be hard to get out of bed in the morning.
So many of us use humour as a coping mechanism or to soften the blow of something tragic or difficult – so finding that balance is actually becoming more natural as the world becomes steadily more tragic and difficult and we have to do that more and more in our everyday lives and not just onstage. Hooray?
---
Have the lines between satire and reality blurred in the age of Brexit and Trump?
Sure. It's harder to point out a funny way of looking at things or a hole in an argument when the absurd becomes your reality. It's often said that this dreadful state of politics is a satirist's dream, but we don't really agree with that. We'd much rather have to really dig to find something to write about and live in a better society. That's definitely a good trade that we'd be willing to make if anyone has any ideas.
---
Which politician do you think would make the best rock star?
Oh God, none of them. People like rock stars. They're charismatic and talented. Nick Clegg is the sort of person who goes into politics. In the Venn Diagram of politicians and rock stars, there is no overlap at all. They are two circles on different pieces of paper, in different rooms and time zones.
---
What do you enjoy most about taking a show to Edinburgh?
Those rare moments when you are feeling utterly crushed and emotional, perhaps upset about a bad review, panicking like there's no tomorrow and cry-eating your way through a Viennetta and suddenly you feel a hand on your shoulder and remember that you're at one of the most wonderful festivals in the world, surrounded by your friends and loved ones, doing what you love and we are all in this together and we all feel exactly the same way. Those little turning points are the absolute best.
---
If you had to pick one item that's essential for surviving a month at the Fringe, what would that be?
Ideally a four to six bedroom flat that that was left to a friend of yours by some wealthy, guilty uncle and they don't know what to do with it and can't be bothered to charge you any rent. And the flat is ready equipped with twitter-blocking anti-wifi walls, salad abundance and a self-contained scream chamber.
---
The Edinburgh Fringe can throw up some surprises – what is the strangest moment you can remember from the festival?
We once did a show in the round in Summerhall in which we were barefoot for the whole thing because of a long lost reason that we're certain was dramatically justified. A ways into one of the shows, I (Paddy) was on one knee doing a bit of a 'sad' song at Jonny – and during this 'sad' bit a woman in the audience stood up and crept up behind me.
I had no knowledge of this other than seeing Jonny's face start to contort in utter confusion as he panicked, quickly followed by the rest of the audience in my line of sight – and then there was someone tickling my feet.
My leg buckled and I tanked myself on the floor, and in an unprecedented Paddy moment I sort of had a go at her and she went back to her seat a bit defeated.
She came and found me after the show and said she was sorry, but (and I quote) "Can you blame me? You know me! Whenever I see feet!".
I did not know her, or what would happen when she saw feet. That was very much the end of my evening and sort of the end of every evening ever since.
---
Jonny & The Baptists bring their show Love Edinburgh, Hate Bastards to Assembly Roxy Downstairs as part of the Edinburgh Festival Fringe from 31st July – 25th August (excl 13th, 19th) at 7.00pm ahead of a nationwide Autumn tour. More info and tickets available at jonnyandthebaptists.co.uk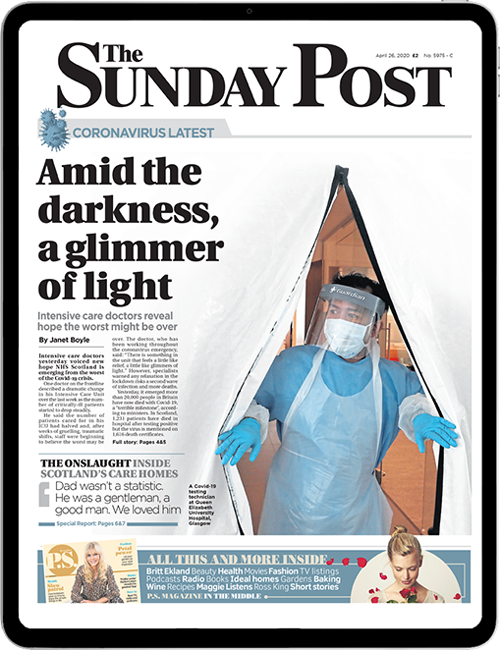 Enjoy the convenience of having The Sunday Post delivered as a digital ePaper straight to your smartphone, tablet or computer.
Subscribe for only £5.49 a month and enjoy all the benefits of the printed paper as a digital replica.
Subscribe