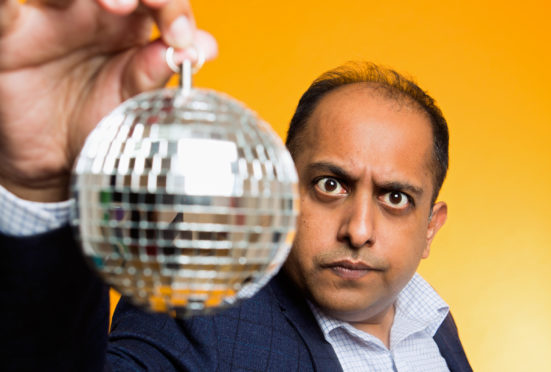 One of India's most popular stand-ups, Anuvab Pal is back at the Edinburgh Fringe.
His show, Democracy and Disco Dancing, sees him compare the UK and India – and telling the story of how he was almost jailed for doing the latter.
Here, he answers our Fringe Q&A…
---
How are you feeling about your return to the Edinburgh Fringe?
Last year, I came with a story about The British Empire and realised that carries a lot of baggage. For both Britain and India. Everyone has opinions and my opinions then meet their opinions. It becomes more than a comedy story.  This year I've tried to write a show that carries no colonial baggage- nothing Imperial is going on. Just me – facing jail time- for not knowing enough about Disco Dancing in India.
---
What prep work have you been going through before heading for the festival?
Writing about how not to make it like last year. Also, realising the importance of a story through all the jokes. Also as I write this, I'm in Oslo doing shows realising that Norwegians may not be very interested in my issues with Indian Disco Dancing.
---
What is your show, Democracy and Disco Dancing, all about? (Other than the obvious!)
Comparing British and Indian democracies while telling a story about how I nearly went to jail for Disco Dancing. Disco Dancer is an Indian Bollywood movie from the 1982. it is also what my Edinburgh show is about. In India, the movie is seen as a serious rags-to-riches story. The Wikipedia entry for the movie says, 'A story about a poor boy who disco dances his way out of poverty and into genius, destroying villains along the way, and overcoming guitar phobia'. To me, it is the greatest comedy ever made. Something the director of the movie disagrees with me about. And has tried to imprison me ever since for saying it. It is the most watched movie in Russia.
---
What did you enjoy most about taking a show to Edinburgh last year?
Being able to change a show mid way to confront what the show was really about. And myself. Also reviews telling me I was too polite. And I was missing 'zest'. I've tried to add zest. Disco does that.
What was it like having part of your debut show curated as part of a museum collection?
Ha. I had no idea a recorded stand-up act would get place next to a tomb of an Egyptian pharaoh but there we are. Also, I have often been told by young hip people that some of my observations belong in a museum, so there it is now.
---
If you had to pick one item that's essential for surviving a month at the Fringe, what would that be?
Cook. Walk. Drink water. Watch. Read. Try not to get jealous. Wait none of these are items. An umbrella.
---
The Edinburgh Fringe can throw up some surprises – what is the strangest moment you've encountered at the festival?
Watching a man smoking a pipe on stage for one hour wearing a chimpanzee mask and saying nothing. The audience went wild. Later I found out it could have been Daniel Kitson.
---
What do you think it is about the Edinburgh Fringe that attracts people from all around the world to come to watch and also to perform?
The energy of the town itself. It is almost like an industry conference of comics. Also, there is no other place in the world, by which I mean an arts festival, where you can torture yourself of 24 days, legally.
---
What was your first taste of the Fringe like?
When you get out of the train station, it feels like you've entered a Game Of Thrones set. Then you see your own face on a poster, which is scarier.
---
What is your favourite one-liner?
I can't believe you can't find humour in your own lives that you have to come to a room and pay a person to find it for you. Zak Galfinakis said it. To his sold out audience.
---
Anuvab Pal: Democracy & Disco Dancing, Assembly George Square Studios 5, August 6-26 (not 12), 17:30, https://tickets.edfringe.com/whats-on/anuvab-pal-democracy-and-disco-dancing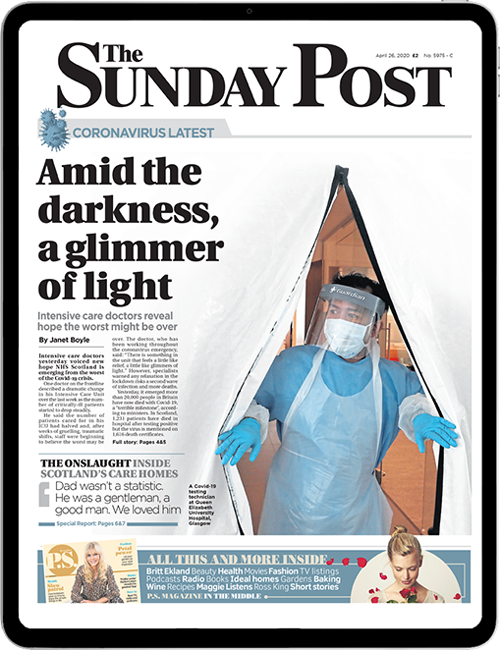 Enjoy the convenience of having The Sunday Post delivered as a digital ePaper straight to your smartphone, tablet or computer.
Subscribe for only £5.49 a month and enjoy all the benefits of the printed paper as a digital replica.
Subscribe