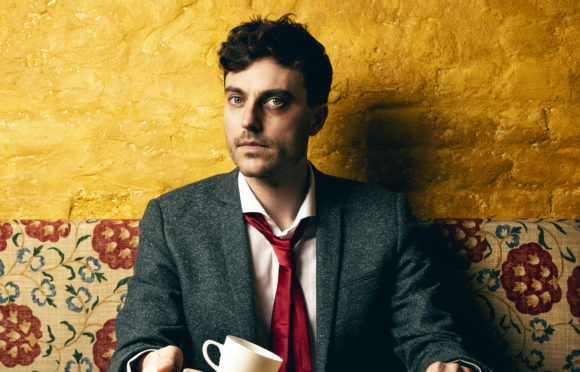 "So wait, she just died?" is the question Tom Machell is often asked when talking about the tragic loss of his friend Steph.
She was a friend from school who, aged just 24, woke up on a normal day, went to work and suddenly dropped down dead.
Steph had an undiagnosed heart condition, sudden death syndrome, which is thought to cause an estimated 12 young people across the UK die from heart failure each week.
From the loss and the ensuing grief that followed, her friends decided to honour her memory in whatever way they could.
To that end Tom, an actor and writer in award winning comedy group zazU, decided to write Ticker, his debut play at the Edinburgh Fringe.
"From school, we've all done marathons, bike rides, walks and everything we possibly can to raise money but not actual awareness," Tom says.
"Steph was a copywriter, writing for lots of different magazines and she loved it and also loved theatre. I thought that if I could do something that I could dedicate to her then that would be great.
"I didn't want to do a play about her specifically because I think she'd have found it the cringiest thing in the world but I spoke to her family and the idea of being able to raise awareness of the condition in a hopefully entertaining way would be great."
With it being around six years since Steph died, Tom says it's important to keep her story and the bid to raise awareness alive.
"I think sometimes, especially when you lose someone, they start to fade into the background slightly more just because life moves on," Tom says.
"I started working on Ticker properly last August when I was up at the Fringe doing a comedy show. I submitted it to a couple of short festivals and short writing nights to see what central themes were coming out and how to expose the condition but not just make the play about the condition.
Developing the piece with Scots director Derek Anderson, the main themes that started to emerge were very much about outsider grief as well as male mental health.
"It was the idea of not talking about things," Tom explains. "I was at a boys' school and Steph came to it for sixth form. She had a big group of boy mates and I don't think any of us have actually sat down and had a conversation about her death.
"We were all at the funeral, but we've not actually had a chat about it. I think that was an interesting theme to look at."
In Ticker, Tom's character of Geordie millennial Spencer sees his girlfriend die from a heart condition.
Gabi's untimely and unexplained death leaves him struggling to cope with finding himself suddenly a prime suspect and a chief mourner.
Tom says: "He's on his own. He's not talking to anyone about it and he's very much feeling like an outsider because he's not allowed to be part of the process of grief or the funeral planning because her family are doing that.
"He's got the idea of what a man should be and there's two other characters in the play, one is sort of the extreme bloke and then from the opposite perspective is Gabi's best friend.
"Spencer calls him the Penguin because he can't understand him or and what he does and why he was friends with her, that male / female relationship. He can't get his head around it.
"The play looks at ideas of masculinity, what that represents and puts it all in a big stew pot and we see what we come out with."
Edinburgh is the perfect place for shows like Ticker, exploring tough themes through all kinds of mediums.
Tom is a regular at the festival, but this is his debut play – and the first time he's going it alone.
"I've been up at the Fringe before with a group for four or five years but this is my debut on my own which is a bit scary," he admits. "I did my first proper preview last week and just performing on my own was so strange, not having anyone else there to do anything with."
While he'll be performing solo, he's had plenty of backing. Tom says he's immensely grateful to those who have backed his crowdfunding campaign to take the show north of the border.
Accommodation costs alone have more than doubled since he started going to the Fringe in 2010, and the total cost of a one-person show has reached at least an eye-watering £15,000.
"The crowdfunding campaign was so important. I'd applied for bursaries and arts council things and wasn't getting anything and wondered what the hell I was going to do," Tom admits. "It was amazing the response to it. There were so many backers.
"An Edinburgh show is a full time job, I didn't realise how much work it is. The power of the social media stuff is amazing but there's a lot of Tweeting, Facebooking, Instagramming to be done.
"We got there, I'm very relieved and doing it early was a good thing. If I was having to worry about it now doing previews and things it would be a bit more stressful."
Ticker has also received the backing of Cardiac Risk in the Young (CRY), the main charity supporting efforts to combat the frequency of young sudden cardiac death.
"CRY are the big charity that support the screenings of ECGs, screening young people for irregular heart beats," Tom says. "They're saving a lot of lives doing that.
"I'll be fundraising for them throughout the festival and also doing a comedy night at Monkey Barrel in Edinburgh in Steph's honour to raise some money.
"We'll hopefully raise some money for CRY and get more people to get their hearts tested. The great thing about the previews is we've had lots of nice emails from people saying they've gone out and done it."
Whether or not people do get tested following the play, they are sure to be more aware of sudden death syndrome having seen it.
"I think people don't really understand how ridiculous the human body can be in that way," Tom adds. "It's a condition that you can live with your entire life and suddenly, one day, gone."
---
Ticker is on from August 1 – 25 at Underbelly, Iron Cow https://tickets.edfringe.com/whats-on/ticker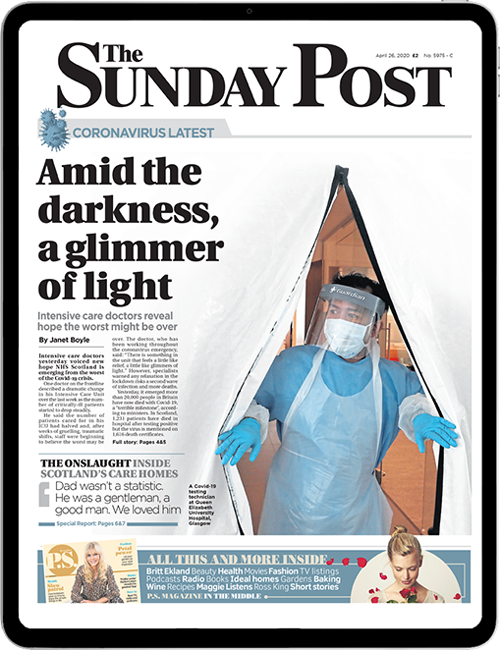 Enjoy the convenience of having The Sunday Post delivered as a digital ePaper straight to your smartphone, tablet or computer.
Subscribe for only £5.49 a month and enjoy all the benefits of the printed paper as a digital replica.
Subscribe