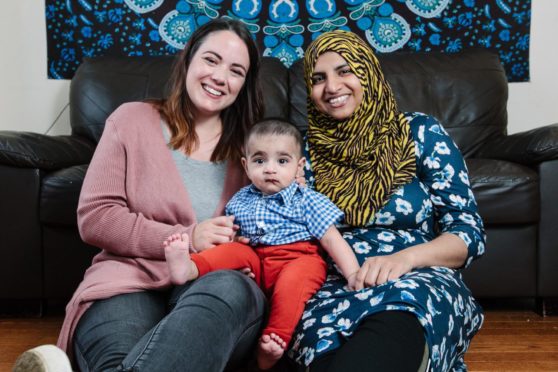 Childbirth should be the most joyful time in a mother's life, but it can also be a fraught experience, especially for women going through it alone.
For pregnant asylum seekers and ­refugees who have found temporary safety in Scotland, the thought of giving birth in a strange country with no support is a daunting prospect that can, say experts, inflict further psychological trauma, ­putting both mother and baby at risk.
While helping women in this ­situation through the former British Red Cross Mums Project, program manager Sarah Zadik and Glasgow-based doula Helen MacDonald saw a desperate need for support provided by doulas. Doulas and birth companions work separately from midwives to provide emotional, practical and informational support through pregnancy, labour, birth and some postnatal care.
Sarah and Helen founded the charity Amma Birth Companions in May 2019 to provide one-on-one birth companions for asylum seekers and refugees in Glasgow. Mothers-to-be referred to the charity by midwives and other organisations can receive support from their third trimester to two months after birth.
"I was acutely aware that there was this big gap around birth support for women who had no one by their side to support or advocate for them," said Sarah. "Almost everyone we work with is separated from their family, are in a new country and might not speak English.
"Often these women have been ­victims of trafficking. Vulnerable mothers who have been through sexual violence can be re-traumatised through pregnancy and birth, so we try to minimise that threat by having someone there who is aware of their situation and can advocate for her needs."
Crucially for mothers facing a ­language barrier, Amma Birth Companions will advocate on their behalf and help them make informed decisions about maternity care and during labour. "These women are also going through stressful times related to their immigration status, faced with uncertainty over their safety and future," said Sarah. "In pregnancy, stress can have long-term impacts on both mothers and their unborn child. The women we work with have said having a birth companion they know and trust by their side made an enormous difference to their well-being and the whole birth process."
So far, Amma has helped 35 women give birth and the project is in the process of doubling the number of volunteer birth companions from 15 to 30 to support more mothers and babies. They are also recruiting a mother companion, to provide further postnatal support.
The Covid-19 pandemic has affected the support Amma provides but the organisation has preserved the connection between mothers and their birth companions through regular phone and video calls. The charity has helped 15 mums through childbirth since mid-March.
Sarah said: "We've not been able to be at the full birth but we have provided support during labour and follow-up calls with mothers via phone and video call, plus physically-distanced home visits.
"We've provided taxis to our mothers so they don't need to use public transport during the pandemic because pregnant BAME women are at high-risk of Covid-19. These women are usually living on just £37 per week so we've helped them communicate with each other and access information online."
She added: "We could never have imagined the positive impact our service has had on the mothers we support. It is an intense and emotional experience but helping these women bring their babies into the world is a real privilege."
---
Right away, I knew Amanda understood me and, when I was in pain, she spoke for me
Nosheen Nazer lovingly cuddles her eight-month-old son in her family home in Maryhill, Glasgow, beside her birth companion Amanda Purdie. The pair have become like family ever since Amanda helped Nosheen bring her baby Abdul Mutaal into the world.
Nosheen fled an arranged marriage in Pakistan and has been seeking asylum in Scotland for the past four years with her husband, whom she met and fell in love with after coming to the UK in 2012.
The Red Cross referred her to Amma Birth Companions last November when she was seven months pregnant with her third child and suffering depression.
"We are asylum seekers, so I don't have any friends or family here. While I was pregnant, I was looking after my eldest son who has autism and my young daughter. It was very difficult. I was depressed," explained Nosheen, 29, whose family
has disowned her.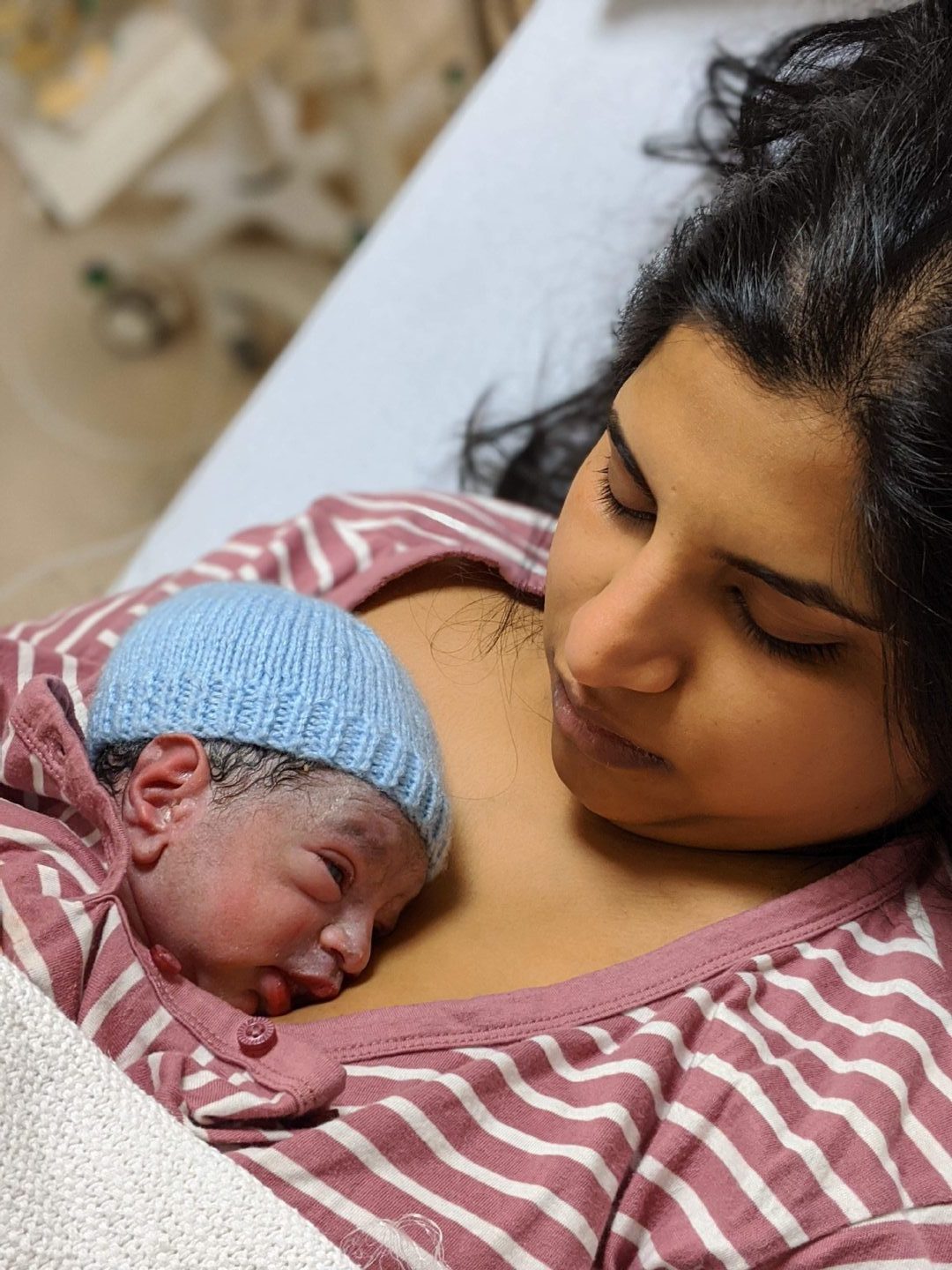 "I was nervous and scared the first time I met Amanda because I was worried about speaking in English. As soon as I met her, I felt at ease. She was so nice and understood me. Soon I felt comfortable talking to her about my feelings and what I was going through."
With only her husband to look after her eldest son, Muhammed Jasir, five, and daughter Hareem, three, Nosheen faced going to antenatal appointments and giving birth alone – as she had done with her daughter.
"Amanda drove me to the hospital to be induced early because my baby had stopped growing. The last time I gave birth, I was very scared but knowing Amanda was there with me made me feel comfortable and strong.
"All through my labour, she spoke softly to help me relax. That helped me to speak more openly to the doctors and nurses, and Amanda spoke for me when I was in pain."
Mum-of-two Amanda added: "It was such a privilege to be part of Nosheen's childbirth and be there to support her. It was an important moment and we've formed a strong bond."
After six hours in labour, the joy and relief Nosheen felt as she held her newborn baby quickly turned to fear and anguish. Abdul needed a vital operation to correct an imperforate anus, caused by the organ not developing properly in the womb.
He was rushed to another hospital while Nosheen still required essential post-natal care.
Amanda went with newborn Abdul to the Glasgow Royal Hospital for Children, remaining in contact with both Nosheen and her husband, until the family could be together again. Amma sent a back-up birth companion, Lorna, to take care of Nosheen and bring her to Abdul when she was strong enough.
"I was worried what would happen to him and if he would be ok. I asked Amanda to be with him for me as I didn't trust anyone and couldn't send my son alone," Nosheen said.
"I was crying, in a lot of pain and missing my family but Amanda and Lorna really helped me through it. I felt very vulnerable and am so thankful that there was someone there who I trusted to support me and be with my son when I could not."
Abdul's surgery was a success and he came home 10 days later. The family continued to receive regular support and visits from Amanda, who has remained in contact with Nosheen.
The two mums embody the beautiful bond forged between "Amma Mammas" and their birth companions as they travel a childbirth journey together. Their friendship has also helped to improve Nosheen's English skills, and Amanda is advocating for the family where she can, for example, helping them apply for and secure better accommodation.
"Things are still very hard at home and I still suffer depression at times but I am very happy with my family here. When I feel upset or depressed, I know I can give Amanda a call for help and advice.
"Amanda has also helped me to practice speaking English, which has made me feel a lot more confident speaking to other people.
"With Abdul, Amanda and the Amma team were helping me all the time so I never felt alone. I had a family there with me."
---
When Amma came into my life, I had nothing. Now, they are like my family
Amma means "mother" in Urdu and Hindi but to Caroline and her fellow Amma Mamas it also means "family".
Her story is typical of the trauma many mums supported by Amma have experienced. Caroline, not her real name, was trafficked from Nigeria to Scotland in May 2018. With no family or friends to guide her through her first pregnancy, Caroline was referred to Amma for support in January, seven months into her pregnancy.
"When Amma came into my life, I had no one. I had nothing. They helped me get clothes, nappies, everything I needed," she said.
"At first, I didn't understand why they wanted to give me all this. It is not something I'd get in my country, not even from my family.
"Before Amma, I was crying every day. I was going to be a new mum in a new country where I didn't know anyone. I thank God for Amma because I don't know what I would have done without them."
In February, on her first hospital visit with her birth companion, Hannah, Caroline was shocked to hear she would be admitted to hospital that day. Two days later, she gave
birth to a beautiful, healthy baby boy.
"Hannah stayed by my side, even in the theatre when they delivered my baby by C-section. I was scared but Hannah was by my side, telling me it was going to be OK.
"She came home with me after my baby was born, taught me how to breastfeed and made sure we had everything we needed.
"Hannah came to see us several times a week until Covid happened, then we spoke through phone and video calls. She taught me how to look after my baby.
"Two weeks after my son was born, I felt very scared and didn't know what to do. I called Hannah, who said we needed to lift my mood, so she taught me how to use a sling and took us for a walk. That gave me confidence going out with my son."
A lasting aspect of Caroline's journey with Amma is the connection the charity has helped her forge with mothers in a similar situation. Unable to meet in person, the mothers share their experiences in a weekly video call.
"During lockdown, I was depressed. I went through a lot during that period, but it is OK now.
"Amma Mammas has helped as we can share our worries, news about our babies and advice.
"I have made friends who I talk with every day now. We understand what everyone is going through and hope to meet up when it is safe. They are like my family now."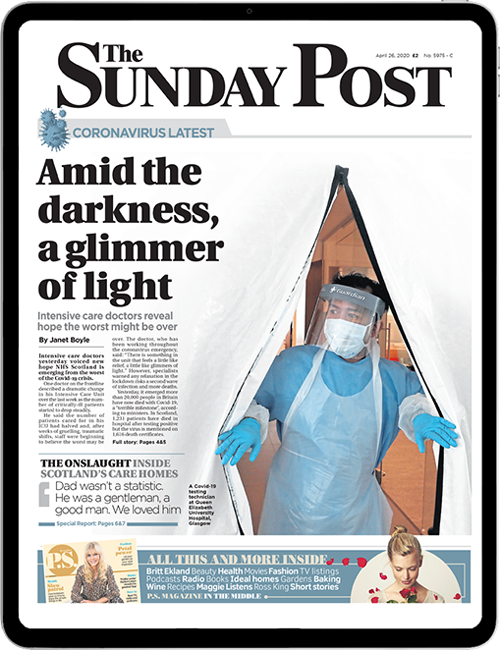 Enjoy the convenience of having The Sunday Post delivered as a digital ePaper straight to your smartphone, tablet or computer.
Subscribe for only £5.49 a month and enjoy all the benefits of the printed paper as a digital replica.
Subscribe