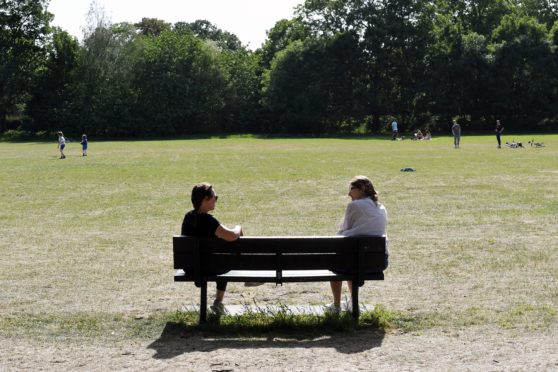 As the country prepares to move into phase one of the "route map" out of lockdown, many Scots are wondering what this means for meeting up with friends and family members.
From Friday, the rules on meeting other people will change, the First Minister announced during Thursday's daily press briefing.
The most significant adjustment is that one household will be able to meet with another household outdoors – for example, in a park or in a private garden – while staying two metres apart.
Nicola Sturgeon said this must be in small groups – ideally, the total number of people meeting outside should be a maximum of eight and should be kept to less if possible.
People will also be able to meet up with more than one household – as long as it is at different times. Although it will not be the law, the Scottish Government is strongly recommending that people do not meet with more than one household per day.
The First Minister asked the public to remember that they should still be meeting with far fewer people outside their household than they would during "normal times".
Each individual decision we take will affect the safety and wellbeing of everyone. Make sure love, kindness and solidarity continue to be our guiding principles – First Minister Nicola Sturgeon
She acknowledged that many people will be planning socially-distanced picnics and barbecues this weekend thanks to the predicted hot weather. However, she advised that each household must not share items like food, cutlery, plates or cups or touch the same hard surfaces.
Ms Sturgeon said staying at least two metres apart when meeting up is "crucial" and people must avoid going inside other houses to avoid creating a "bridge" for the virus to spread.
In terms of the distance people are now able to travel to visit friends and family, she said the government are not setting a "legal limit" but people must use their "judgement" and not travel so far that they would have to use someone else's bathroom.
Nicola Sturgeon said: "I'm sure there will be lots of emotional reunions this weekend. You'll be planning to see family and friends you haven't seen for weeks. Based on the current forecasts, the sun will be shining too. We've all waited a long time for this.
"I hope you all really enjoy it. But please, please – respect the parameters that we have set out. Be respectful of each other's space, and make sure things still feel different to normal, because they should.
"Above all, remember that each individual decision we take will affect the safety and wellbeing of everyone. Make sure love, kindness and solidarity continue to be our guiding principles."