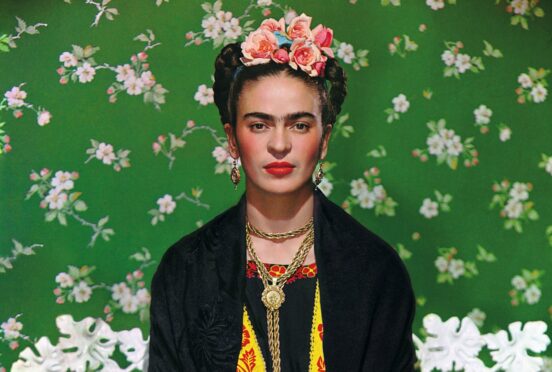 An art superstar, the astonishing career and dazzling legacy of Frida Kahlo has become the stuff of legend.
But a new documentary series about the Mexican reveals the truth behind her life is every bit as rich and complicated as the woman herself.
Becoming Frida Kahlo, made in Scotland by multi-award-winning director Louise Lockwood and a small team based in Glasgow, tells Kahlo's story through a fresh lens, using a mix of stunning visuals and first-hand accounts of her life from letters, friends' diaries, family members, associates and biographers.
The self-taught artist died at the age of just 47 in 1954, having spent her last few years mostly bedridden.
Lockwood, who studied fine art photography at Glasgow School of Art, uses the recurring motif of Kahlo's Blue House throughout all three episodes, to be screened on BBC2 before getting a global release on Disney+ later this year.
The cobalt-blue house in Coyoacán, near Mexico City, is where Kahlo was born, grew up and lived for a period with artist husband Diego Rivera. It's also where she died.
It is now a museum devoted to the artist's memory. During the revealing series the house is seen as if shot on grainy Super 8 film.
"I always had Frida's point of view in mind as we shot," Lockwood explains. "I wanted it to feel like Frida was standing on a street corner, smoking a cigarette. Just looking."
It's a view with which Mexican actress Gabriela Cerda is very familiar. Cerda, who has lived in the UK since 2005, was born and bred on the same street in Coyoacán as Kahlo.
Now, with only three minutes of moving image featuring Kahlo in existence and no audio, the 29-year-old Glasgow-based star has given a voice to an artist now regarded as a global icon.
"The Blue House is so, so familiar to me," says Cerda, who was discovered by Lockwood and her team after a global search to find someone to lend a voice to Kahlo's letters in the series. "I literally used to walk past it every day.
"I have also been a devoted Frida fan since I was at school, so this is my dream job. I have read and seen everything there is out there about Frida. She was a strong and vibrant woman at a time when women were not expected to be like that, especially in Mexico. I even have a Frida tattoo on my arm.
"When I got the call about providing a voice for Frida and discovered the team making the series were based in Glasgow, not far from where I live now, I couldn't believe it. It was meant to be."
Cerda was in Coyoacán visiting her family at Christmas when she was contacted by fellow South American actress Valerie Andrews. Cerda explains: "Valerie messaged to say she had been asked to read from Frida's letters for a new documentary series but felt that, being from Guatemala, it wasn't the right fit for her. Was I interested? It was so funny. Valerie didn't even know that I was from Coyoacán – or how much I loved Frida.
"Less than a month later, I found myself in a studio in Glasgow 'being Frida Kahlo'. It sounds cheesy but it was all very unreal. The world is small – and I was in the right place at the right time.
"Now, having read her words aloud for the series and seen all three episodes, I feel I have a deeper understanding of Frida. Yes, she is my idol, but I suddenly started to see her as a human being.
"The series covers a time when Frida went to the US with Diego and was really just there as the little housewife to the big-star artist. It was a time of great divisions, when there were signs up saying, 'no blacks, no Mexicans'. Life was tough for her a lot of the time. This tiny woman had a lot of things happen to her.
"Giving Frida a voice means so much to me. My parents can't believe it. My mum's already planning a screening party when it comes on Disney+ in Mexico in May."
Access to a rich seam of archival material, rarely published diary extracts, letters written by Kahlo, and more than 50 rarely seen artworks adds layer upon layer of texture to Becoming Frida Kahlo.
Lockwood and fellow Scot, producer Becky Marshall, travelled to Mexico and the USA to track Kahlo's story, using the same Mexican crew to film segments in both countries.
Throughout the process, the pair had feelers out around the globe looking for the right person to voice Kahlo's thoughts via her vast store of letters written to family and friends. The pair were amazed to find the perfect fit in their home city. "We could not believe that Gabi was living just down the road from us in Glasgow all the time," says Lockwood.
Kahlo was born in Coyoacán in 1907. She contracted polio as a child and, aged 18, was seriously injured in a collision between a tram and a bus. As a result of this accident, in which many people died, she suffered life-threatening internal injuries. Health problems connected to her injuries ultimately contributed to her death.
Having joined the Mexican Communist Party as a young woman and with a growing reputation as a painter, Kahlo began a relationship with Rivera, who was 20 years older than her, in 1928. Rivera was already a globally famous artist by this stage. The couple married the following year. The series tells the story of how the pair, who had a complex and volatile yet supportive "open relationship", with many lovers on both sides, became celebrities at home and abroad.
Kahlo had relationships with both men and women, including Russian revolutionary exile Leon Trotsky; Jacqueline Lamba, wife of surrealist artist Andre Breton; and celebrated American painter Georgia O'Keeffe.
Within months of marrying Kahlo, Rivera was having affairs. Most hurtfully to Kahlo, he ended up having a relationship with her younger sister, Cristina, with whom she was very close.
Politics lay at the centre of their world and, according to Lockwood, having three episodes to tell Kahlo's story allowed the team to weave in stories about the couple's personal life with the political side of their relationship. "You could not tell this story without politics, which was so important to both," she says.
Lockwood says that, prior to starting work on the series, her own knowledge of Kahlo was basic.
"I knew about Frida's injuries, illnesses and turbulent relationship with her husband. But as we shot the series I learned more and more about how they fed each other as artists. They really were an incredible couple."
Lockwood and her small team of creatives had access to members of Kahlo's family, including Rivera's grandson, Juan Rafael Coronel Rivera.
An art historian, he paints a sad picture of Kahlo's final days and claims that the persistent rumour that his grandfather may have helped his wife die might have some substance.
"She started using drugs and alcohol," he says. "She didn't want to be again picked open. Everyone will get tired of that sooner rather than later. And she starts to let herself go…for her the future was really terrifying and she decided not to go through that future.
"There are some versions that say that Diego helped her. That…in the family is a taboo. Nobody talks about that. If your companion of all your life said, 'I am tired, I really want to go, help me.' Well maybe you try…"
Towards the end of the final episode, Cerda reads out the last words that Frida wrote in her diary just a few days before her death in July 1954: "I await the exit with joy and I hope never to return."
Beside her handwritten words, Kahlo drew a black angel.
---
Becoming Frida Kahlo, BBC2, Friday, 9pm, and available on iPlayer after broadcast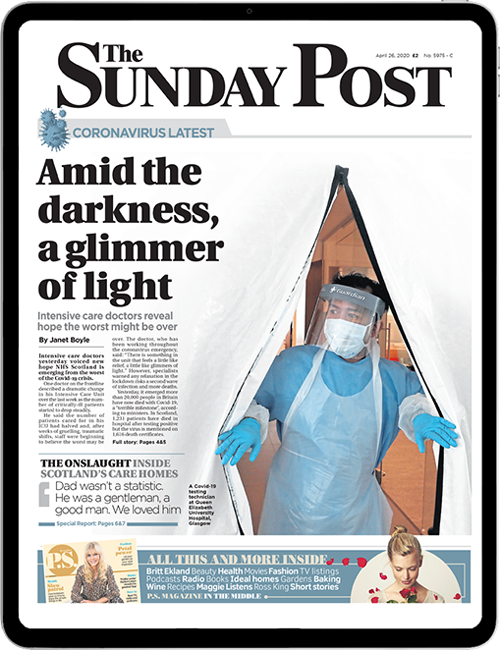 Enjoy the convenience of having The Sunday Post delivered as a digital ePaper straight to your smartphone, tablet or computer.
Subscribe for only £5.49 a month and enjoy all the benefits of the printed paper as a digital replica.
Subscribe