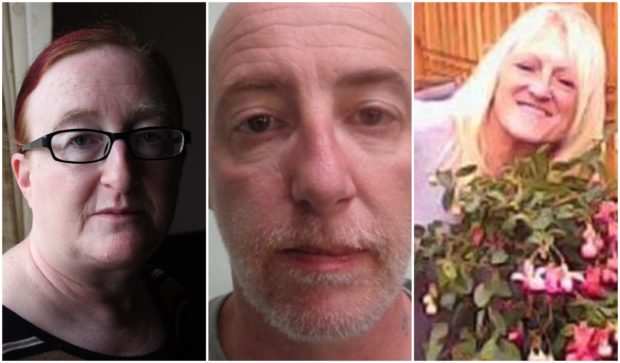 A violent abuser who went unpunished after attacking his Scots girlfriend moved to England before murdering his next partner.
Andrew Highton was put in the dock after grabbing Michelle Cunningham around the throat and smashing up her home in Grangemouth.
But, despite having a string of previous convictions that included one for domestic abuse against Michelle, Highton walked free from court with just an admonishment.
After the slap in the wrists from a ­sheriff, Highton moved to England and earlier this year murdered his next partner, Linda Treeby.
Last month he was jailed for life for ­murdering school caretaker Linda at a caravan park in Skegness where they were supposed to be celebrating her 64th birthday.
He repeatedly kicked her and smashed her face with a heavy glass ashtray, leaving her with 34 injuries.
Yesterday, mother-of-two Michelle, 44, said: "That could have been me.
"I always knew one day he would kill, but I thought schemes were in place to make sure other women were protected from known domestic abusers.
"I'm so sorry for Linda's family. They must be utterly devastated. I truly believed that after he attacked me others would be warned so he couldn't destroy more lives."
Highton's first domestic abuse ­conviction involving Michelle came in 2010, when he was found guilty of a breach of the peace for shouting and screaming at her, and then breaching bail conditions by attempting to contact her. He was sentenced to 18 months' probation at Falkirk Sheriff Court.
In December 2011 he went berserk inside Michelle's flat, smashing down two doors to try to get to her and grabbing her around the throat before she was rescued by police.
But, in court, he was admonished by Sheriff Craig Caldwell.
---
---
The criminal record of Andrew Highton ranges from arson to murder across three decades. But, campaigners claim, a harsher punishment and tighter supervision in Scotland would have prevented him moving to England before killing his new girlfriend.
1988 Arson
2001 Common assault and criminal damage
2007 Breach of the peace
2010 Breach of the peace involving Michelle Cunningham and failing to comply with a bail condition by contacting her
2011 Assault – grabbing Michelle Cunningham around the neck
2015 Criminal damage
2018 Breaches of a non-molestation order
2019 Murder of Linda Treeby
---
---
Nursing assistant Michelle spent almost five years living in terror of Highton, 51. She said: "Andy could be quite a charmer when he wanted to.
"It was like living with two very different people. One could be kind, generous and loving. The other had a raging temper. He would throw food at the walls, smash furniture and literally foam at the mouth with uncontrollable anger.
"I endured almost five years of his ­explosive moods, rages and controlling behaviour. I'd tried to get him out of my life several times, but he always managed to worm his way back in with pathetic ­begging and crocodile tears.
"But the day he smashed through two doors to try to get me, something inside me just snapped and I called the police. I truly believe if he'd managed to get to me, he would have killed me that day.
"Luckily the police came just in time."
Michelle said she was never asked to give evidence, and was never told how the court had dealt with Highton.
She said: "I was told he'd left Grangemouth and wouldn't be back. It was as if someone had lifted a huge burden from my shoulders. I was finally free. But I see now that my freedom from him came at a terrible price for another poor woman and her family. I'm devastated to hear the system failed to stop him and mark him down as a dangerous domestic abuser.
"Instead they left him able to kill another woman. Something needs to be done to ensure this never happens again."
Last month Highton, from Nottingham, was jailed for life with a minimum sentence of 18 years for the murder of mum-of-three Linda.
His record revealed 17 convictions, for violence and arson. These included a series of convictions dating from before he attacked Michelle – including an 18-month youth custody sentence for arson, a conviction for common assault and criminal damage and a breach of the peace.
Highton had called Michelle to beg her to lie about his abusive behaviour for a "background report" he claimed was being done so he could get access to Linda's grandchildren and family.
Michelle said: "I said there was no way I'd lie to cover up what he'd done because I'd never subject another woman to what he put me and my family through. Nobody ever contacted me. If only they had, maybe Linda would still be alive."
After Highton left Scotland, Michelle rebuilt her life, went to university and graduated with a degree in community education, something she says Highton would never have let her do.
She said: "With him gone out of our lives, my girls and I finally felt free to be ourselves again. I'm just very angry the system that is supposed to prevent that kind of behaviour continuing failed to protect the poor woman he murdered.
"There's not much point in having a ­system if it can't track an abuser from Scotland to England. We need to find out why it failed and make sure it doesn't ­happen again."
Nottinghamshire Police is one of four forces in the UK that carried out pilot schemes from 2012 to roll out Clare's Law. Named after mum-of-one Clare Wood from Salford, who was murdered by her ex-boyfriend in 2009, the scheme allows police forces to inform concerned families about the abusive past of any new partner by making an official disclosure application.
Detective Chief Inspector Clare Dean, of Nottinghamshire Police, said: "Our sympathies are with the family of Linda Treeby and all those affected by her tragic death.
"As per established procedures, a multi-agency domestic homicide review has been commissioned in relation to this case.
"Nottinghamshire Police will be fully supporting that review, the findings of which will be published in due course after being shared with the family."
Detective Superintendent Debbie Forrester, head of Police Scotland's Domestic Abuse Taskforce said: "Tackling domestic abuse is a priority for Police Scotland and we work with a range of partners to raise awareness of the help available, to identify risk and to support victims.
"Our officers and staff are trained to look beyond physical abuse and to identify and investigate the full range of abusive behaviour, which can include physical violence but also the emotional, psychological and financial abuses now offences under the new Domestic Abuse (Scotland) Act.
"Domestic abuse, like other gender-based violence, is under-reported. We would encourage people to report. We will listen and we will take action."
---
He quickly took control of my life
Michelle Cunningham told how she met Andrew Highton when he moved to Grangemouth to work as a delivery driver.
She said: "Looking back it was frightening just how quickly he took control of my life, moving into my house and taking over what I wore, who I saw and where I went.
"He was extremely jealous and possessive, even if I made one of his friends a cup of tea he would accuse me of having an affair with them."
Michelle said Highton began keeping her family and friends away, and would suddenly refuse to attend family events and tell her not to go.
She said: "He was very clever about how he did it, but I realise now that it was all controlling behaviour."
During the trial, Linda's family described Highton's controlling behaviour – behaviour that was exactly the same as that he subjected Michelle to.
Linda's eldest daughter, Maree Moran, said: "My relationship with my mum very slowly started to change because he wouldn't allow her to do certain things or spend a lot of time with us.
"Me, mum and my sister would meet up every Saturday, but that wouldn't be in Andy's best interests. Slowly but surely it didn't become a regular thing.
"My mum didn't change until she met Andy.
"She'd had friends she saw regularly, but wasn't allowed to see them if Andy didn't like them. If she met any male friends it was pretty much a no go."
---
Calls for domestic abuse homicide reviews in Scotland
Support charities yesterday backed the introduction of all-agency reviews after violent deaths blamed on domestic violence.
Dr Marsha Scott, chief executive of Scottish Women's Aid, said Scotland should bring in domestic abuse homicide reviews after they were introduced in England and Wales.
She said: "Scotland must design and implement its own domestic homicide review process as part of action to see this picture change.
"Our colleagues in Police Scotland recently released a report on domestic homicides which reminds us that, despite all of our work in Scotland, the number of domestic homicides has remained virtually level.
"All parts of the criminal justice system have a long way to go before what we do reflects what we say about tackling domestic abuse and holding perpetrators to account.
"One of the biggest fault lines is how we communicate with each other across professional boundaries.
"This can be exacerbated when we're talking about crossing borders or perpetrators moving outside of Scotland.
"There is not one element of our system that can't be improved for women and children experiencing domestic abuse."
Co-convenor of the cross-party group on violence against women and girls, Rona Mackay MSP, has been working on what Scotland can learn from other jurisdictions and has been examining the development of multi-agency homicide reviews.
She said: "Key to this will be learning from the practice in other jurisdictions, which have allowed for improvements to be made."
Scottish Conservative shadow justice secretary Liam Kerr said: "It's quite clear this evil individual [Highton] escaped with far too soft a sentence in the first place. Had he been given the jail time he deserved, attempts could at least have been made to rehabilitate him, or the prison experience may have deterred him from further violence.
"Instead, he was essentially just released into the world to find his next victim."
Green Party Justice spokesman John Finnie said: "The fact he was flagged on systems for domestic abuse shows that was accepted by the authorities."
---
Expert: It's a serious issue… we all must learn
Forensic criminologist Dr Jane Monckton Smith, of Gloucestershire University, specialises in stalking and coercive control
This tragedy demonstrates every flaw in the system, every possible failure.
None of the risk markers were recognised. Coercive control is the biggest predictor of homicide. Most coercive control is underpinned by fear of violence, even if it's not routine violence.
It can be very low-level violence. Sometimes they've used extreme violence but have only needed to use it once to say right, that's what happens if you don't behave.
The trouble is we can have the best police in the world but the police have no power when it gets to the courts.
We need a whole joined-up approach. Everyone assumes judges know about these things but they don't. The judges are still looking for violence.
People don't want to think partners are planning to murder. It's almost as if as a society we don't want to think that. We refuse to see it.
It's all very well the police getting the knowledge, we've got to get it through to the judges and the courts and the community as well, because there are juries deciding on this stuff too.
It's a very serious problem and everybody needs to start taking it a lot more seriously.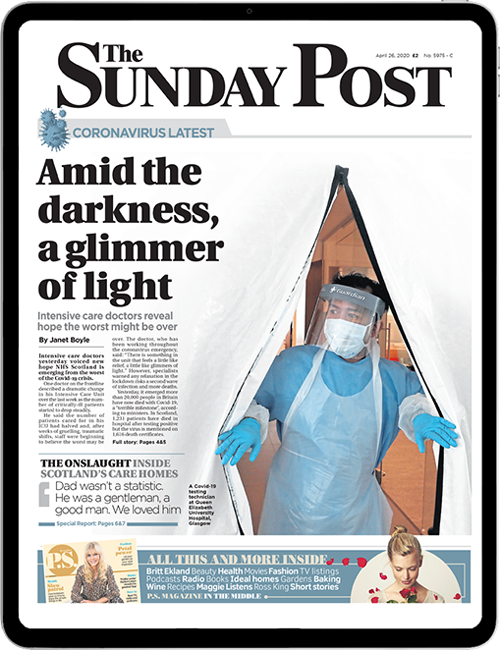 Enjoy the convenience of having The Sunday Post delivered as a digital ePaper straight to your smartphone, tablet or computer.
Subscribe for only £5.49 a month and enjoy all the benefits of the printed paper as a digital replica.
Subscribe