Travis star Fran Healy has told how he was forced to undergo surgery to recover the movement in his finger after being mauled by a dog in Los Angeles.
The singer, who also plays guitar in the band, was left with limited function in a finger of his left hand after being bitten by a runaway dog he was trying to save from the traffic outside his home in Hollywood.
He said: "I was going out to meet a friend, and was driving down our street. I'd driven maybe 10 feet, and suddenly all these cars were jackknifed on the hill.
"I got out and saw this little dog running out from under the cars. A dog had been killed on that road before, and it was heartbreaking.
"So I thought I'd go to save this dog's life. I jumped out the car, shimmied up behind this dog, and picked it up. But it bit into my hand. Honestly, it felt like a shark attack. I felt like Quint in Jaws.
"The dog went mental, I slipped, dropped it and it ran away. Then I realised there was blood pouring out of my hand. It was totally chewed up, like a horror film.
"First thing I was thinking was that it looked like I'd really damaged it. There was one wound in particular that was really deep."
And things took a Hollywood turn when the emergency services arrived.
"When you can't get ambulances here they send a fire truck. So suddenly all these Calvin Klein models turned up, the most handsome, buff guys you could meet, and I'm sitting there with my finger," said Healy.
"I totally get the 'fireman' thing now. But I'll never touch a dog again in that situation."
The dog – a dachshund – was later returned to its owner, but Healy is still living with the repercussions having been told by a hand specialist in LA that he needed to undergo surgery to regain full function after doctors feared the tendons were damaged.
"The doctor worried the tendon was hanging by a thread and wanted to go in. But it wasn't torn, it was infected," said Healy.
Now, with his physiotherapy on track after what he jokingly refers to as his "sausage dog saga", Fran's already started writing songs in his Skid Row studio for Travis's next album, the follow up to last year's Top 5 hit 10 Songs.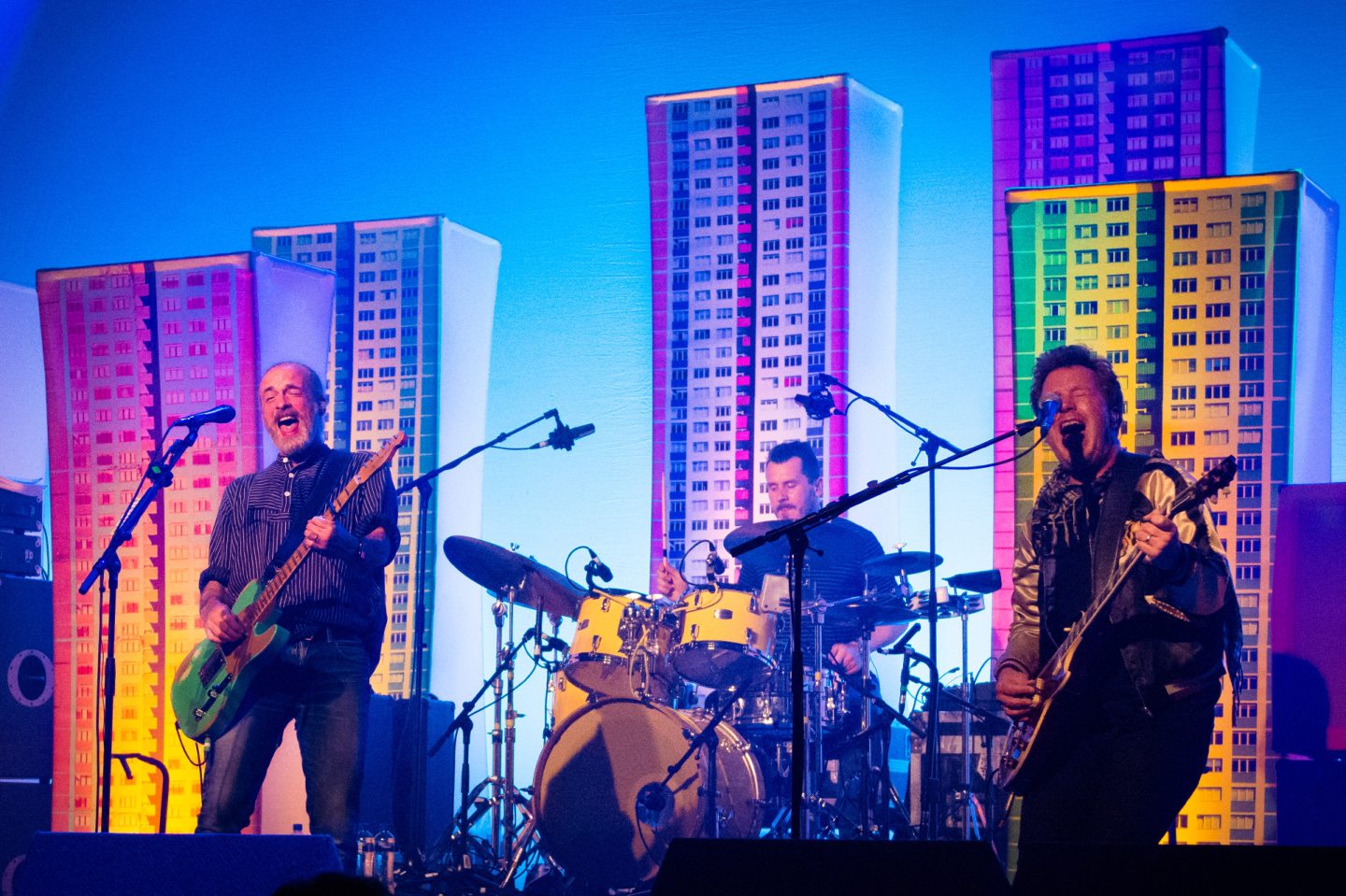 A full UK and US tour will also see the band – Healy, bassist Dougie Payne, drummer Neil Primrose and guitarist Andy Dunlop – perform their third album, The Invisible Band, in full, to mark the hit-packed record's 20th anniversary.
Home to the typically hummable tunes that made the group's name, such as Side, Sing and Flowers In The Window, the record has been remastered for a re-release with a hoard of demo versions and rare tunes, including covers of classics by The Beatles, Queen and David Bowie.
Revisiting it took the singer down memory lane, meeting the likes of Julia Roberts and Paul McCartney along the way.
The record came off the back of a massive wave of success for the band, following breakthrough hits like Why Does It Always Rain On Me, Driftwood and Turn from their 1999 classic LP The Man Who. Recorded in LA's famous Ocean Way Studios, it reunited them with producer Nigel Godrich, who produced its predecessor.
"Nigel had just produced Kid A and Amnesiac with Radiohead, so had been working in really intense atmospheres. Then he comes into Travis world, where we're all having a laugh. It took a week to get rid of the smog he brought with him."
Having landed a clutch of Brit Awards on the back of The Man Who's success, the band's next album put them back at No 1 and saw them pick up the Best Band Brit Award in 2001. America was waking up to them.
He said: "Julia Roberts said she wanted to introduce us on The Late Show with David Letterman which was kind of cool. It was such a weird time, going into that dimension, when you experience proper fame, and other famous people start to recognise you and think you're alright.
"There was a period when people started to notice me in the street and I didn't like it. I didn't court it. I'm not an extrovert. I can do extrovert things like be on a stage, but I don't need to be there."
Nevertheless, those years fired the Glaswegian band into A-list orbit with the likes of McCartney, who they joined on the bill for Channel 4's Millennium revival of music show The Tube.
The Beatle eventually appeared on Fran's 2010 solo record, but their turn-of-the-century encounter also spawned a mistruth about Travis' hit Flowers In The Window which Fran has had to redress.
He said: "There's a rumour that Paul McCartney co-wrote that song, but it's a rumour that got lost in translation.
"I played him Flowers In The Window that night, which was a song I'd just written, and by the time we got to the second chorus, he was singing along – he has such a musical ear. Someone said he 'finished it' as if he finished the song. But why let the truth get in the way of a good story? I just don't want Paul McCartney at my door saying I owe him money."
The record's early form began to open doors for them in the States in early 2001, until the world changed one September morning in New York.
"Things were beginning to go over for us in the States, and then 9/11 knocked the wind out of so much in the world, and a big reset button was pressed."
And the band would be forced to confront tragedy on a more personal level within months when drummer Neil Primrose broke his neck in a swimming pool in France.
Healy said: "Someone threw a pint glass into the pool. It was like with those black bricks you used to get in school, when you had to dive in to get them. Neil did that for the pint glass. But it was in the shallow end. It was really terrible.
"It was the end of that run. We had to bring things down, we couldn't keep things at that altitude. We'd been working constantly, and everything was 'bang-bang-bang'.
"Something was always going to give, something was going to fly off the machine. We'd got lost in the dust cloud we'd created and this event was the sudden rainfall that cleared the air," added Fran. "We saw each other properly again after that, and we remained at helicopter altitude ever since."
---
The Invisible Band 20th Anniversary re-issue is out now with Travis touring The Invisible Band next year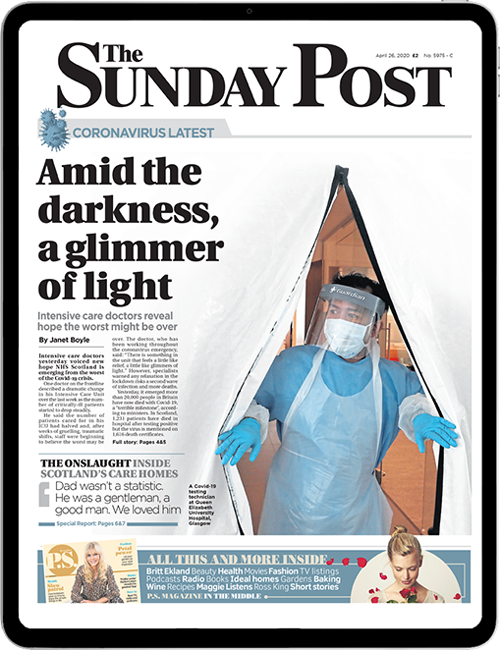 Enjoy the convenience of having The Sunday Post delivered as a digital ePaper straight to your smartphone, tablet or computer.
Subscribe for only £5.49 a month and enjoy all the benefits of the printed paper as a digital replica.
Subscribe