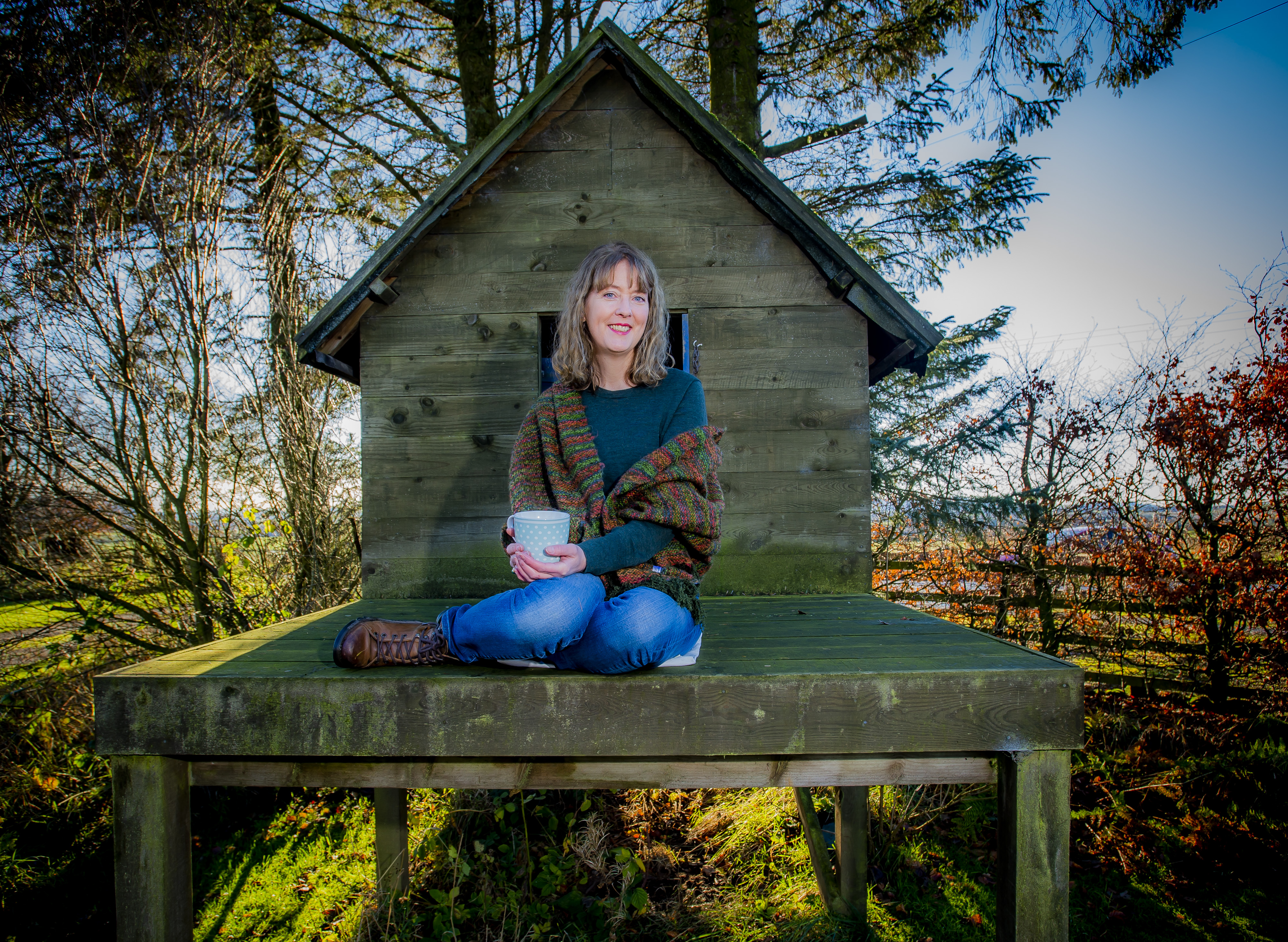 WEDDING photographer Tracy Gow was an expert in capturing the look of love in prints.
Now she is capturing that special moment in print – after swapping her camera for a keyboard to launch a new career as a romantic novelist.
Tracy's debut novel is a sweeping romance set in the Scottish Highlands – and featuring, you guessed it, a wedding.
"People always say you should write about what you know – and Scotland and weddings are two of the things I know best," Tracy said.
"It's funny, when I read Mills and Boon back in the 80s, I used to think the locations sounded very exotic, but for me Scotland is one of the most beautiful – and romantic – places in the world."
Tracy, 56, grew up in Ayrshire, before settling down south.
She returned in 1998 to Kinross with husband Phil and young sons James, now 23, and Matthew, now 21, and she's been here ever since.
After 10 years as a TV camerawoman filming creepy crawlies for science documentaries, she decided to start her own business to fit better with the demands of a young family.
"Believe it or not, I actually started out with a degree in history and the intention to become a TV journalist.
"While I was at uni, I did a course in TV camera work. And as soon as I put the camera on my shoulder and saw through the viewfinder, I was hooked.
"For 10 years, I worked in TV, filming science and natural history.
"When we came to Scotland, being in Kinross, I was too far away from the cities where the big TV companies were.
"So when my youngest started primary school, I thought, 'what am I going to do now?'
"I set up a business as a portrait photographer – but one day someone asked me to do a wedding.
"To be honest, I didn't want to go down that route, but I was eventually persuaded. And 15 years on, here I am still doing it!"
Tracy has captured hundreds of weddings on camera in some of the most stunning locations Scotland has to offer, and she's loved every minute of it.
The whole wedding experience proved an inspiration for Tracy's first writing project.
She first put pen to paper in 2013, when wedding bookings dried up.
"Nobody wants to get married in a year with a 13 in it in case it's unlucky," she said. "So I had a lot of free time."
Tracy wrote a first draft of a romantic novel, but didn't do anything with it.
A few years later, a friend encouraged her to enter a competition in Prima magazine. The Love to Write competition involved writing and sending in the first chapter of a romantic novel. The prize was a publishing contract with Mills and Boon.
"I wrote the chapter, sent it and didn't think much else about it – until I got an email saying I'd been shortlisted," she said.
"When I got the call to say I had won, I almost dropped the phone.
"I had to ask them to put it in an email because I just couldn't believe what I was hearing!"
Tracy juggled writing the novel with studying a Masters in Writing Practice and Study at Dundee University.
"I basically didn't draw breath for 12 months," she said.
"I wrote some of it before I started my course, then picked up again in the holidays once the assignments were in.
"It was really hard work for a year, especially while still doing photography work – in fact, I think I'm still recovering!"
Tracy found husband of 28 years, Phil, a huge support throughout.
"Phil read every single word I wrote and got out his big red pen with corrections," she said.
"He's always been a good barometer. He didn't really grasp why there had to be conflict though – largely because we don't have any in our relationship.
"I had to tell him that's all part of the story though."
The novel, Her Brooding Scottish Heir, a Mills and Boon, and written under the pseudonym Ella Hayes, tells the story of Milla O'Brien running away from a broken engagement to the Scottish Highlands only to arrive during a lavish wedding on the estate – and a chance meeting with the bride's brother and brooding heir Cormac Buchanan.
"It's kind of similar to my chance meeting with Phil… we first crossed paths when I went to visit a friend he was staying with and he answered the door.
"And the rest, as they say, is history."
Now she's hopeful her debut novel, released on December 27, will make history too.
"It's like any rom com, all to do with the will they or won't they as well as the happy ever after. It's a hard balance to strike.
"I was basically walking a tightrope for the full 50,000 words.
"But the ultimate thing for me when doing any job is whether people will like it.
"Romance always boils down to telling a story, whether in pictures or words, so hopefully I've mastered writing it down as well as doing it through the lens of a camera."
Tracy has already started penning her second novel, also set in Scotland – and this time she plans to publish under her own name.
"I've shot my last wedding and am going to concentrate on writing instead," she said.
"It started with a chapter and now I'm moving onto a new one of those in my own life – and I'm very excited to see how things develop."
Mills and Boon: Her Brooding Scottish Heir, by Ella Hayes, HarperCollins, December 27
---
Making happy couples say cheese doesn't come naturally
Tracy loved her life as a wedding photographer, sharing and capturing, couples' happiest days.
She said: "It's always a privilege to capture a couple's special day and create those photos that they will look back on fondly for years to come.
"And, of course, to see people so in love.
"I've worked on so many lovely weddings and experienced some lovely moments.
"You can feel like the third wheel standing taking pictures while people are being all lovey-dovey, but that's what the job is all about.
"I always tell my couples to think of those romantic moments in movies that give you goosebumps because that's the parallel you're trying to create.
"It's easy to be in love, but the reality is it can be hard work to create the fantasy you see in the photographs.
"Some couples can pose radiantly with ease, but others are nervous of the camera and trying to act 'naturally' isn't natural at all.
"Like when you ask a groom to put his hand tenderly on the bride's face and it ends up being a rather clumsy affair.
"But it's a fantastic job, especially when you see the finished results."
Mum-of-two Tracy also sees behind the scenes – and says sometimes weddings aren't as glamorous as they look.
"It's a very polarised six hours where there's a lot going on.
"And while the bride and groom and their guests are having the time of their lives, suppliers are fixing disasters.
"I've seen cake makers in floods of tears because the cake has been damaged in transit, and florists with bleeding fingers.
"The hard work that goes into making everything run smoothly is certainly something that's kept under wraps.
"I've had some disasters too – like a bride's veil blowing off into the Forth – and her telling her new husband to go and get it! Brides falling off chairs and blades getting stuck in cakes…but sometimes it's the bits of a wedding you didn't plan that make the best pictures!"
---
How the book begins
Milla O'Brien glanced at the map open on the passenger seat. She'd circled landmarks with a pink highlighter so she'd be able to track her progress north, and now that she'd passed the last pink circle—a stone bridge over sparkling amber water—she knew that she was only fifteen miles from the Calcarron Estate. In front of her the narrow road snaked through the glen, a grey ribbon rippling through a perfect wilderness.
It was a wilderness she longed for. London held too many memories, too much heartbreak. It was impossible to work there now. She needed a clean slate. These two weeks of perfect isolation at Strathburn Bothy would give her some time to heal; give her a chance to get back on track with her portfolio. Her postgraduate art exhibition was six weeks away and she was seriously behind schedule.
The road ahead straightened and she accelerated, stretching her eyes to the immensity of the landscape. The glinting May sunshine lured subtle hues from the surly mountains while the wind played with tufts of yellow grass on the lower slopes. The beauty and freedom of the scene bolstered her spirits—and then suddenly the steering wheel shifted in her hands as the four-by-four lurched to the right.