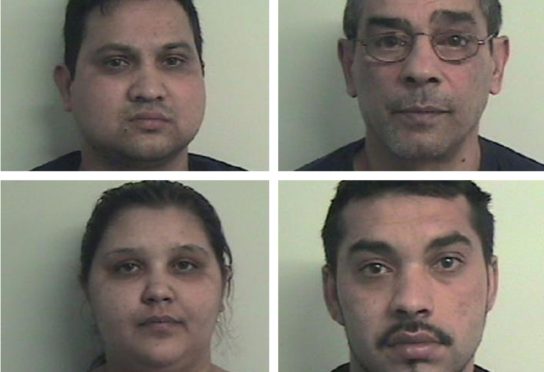 Four people have been jailed for their roles in trafficking women from ­poverty-stricken communities in eastern Slovakia to Scotland, where they were sexually exploited, forced into slavery or sold into sham marriages.
Vojtech Gombar, 61, Anil Wagle, 37, Jana Sandorova, 28, and Ratislav Adam, 31, were found guilty at the High Court in Glasgow last month of charges involving eight women.
Gombar was today (Friday) jailed for 12 years, Wagle for eight years and six months, Sandorova for seven years and Adam for nine.
The trial followed a police investigation over several years.
It heard that one ­victim was sold for £10,000 outside the Primark store in Glasgow's Argyle Street, with others forced into prostitution and slavery.
Last month, we revealed how one victim, Adriana Adiova, had returned to her home in Slovakia after an ordeal which saw her lured to Scotland with the promise of farm work then sold as a slave into a sham marriage.
Judge Lord Beckett said in his sentencing statement: "Such crimes are utterly repugnant.
"They involve the degradation of other humans, treating them as if they were objects or animals to be transported and sold for exploitation."
Detective superintendent Fil Capaldi, head of Police Scotland's human trafficking unit, said: "Today's sentence is a vindication for those women who were victims of this criminal gang and of their bravery in telling us about their horrific experiences.
"It also serves as a warning to traffickers operating in Scotland: make no mistake, you are not welcome here.
"We will work with our partners nationally and internationally, and within our own local communities, to identify victims and to pursue the gangs who exploit and enslave people for financial gain, and bring them to justice."
Detectives last month revealed that it was a tip-off five years ago that sparked the investigation.
Operation Synapsis was set up in a bid to smash the gang bringing in impoverished women from eastern Slovakia to Govanhill to sell to men, mainly from Pakistan, who were seeking EU citizenship so they could live and work in Europe.
Another six people are currently on trial in Slovakia in relation to the case.
And police have promised further action in Scotland to arrest those involved in the trafficking operation.
Officers were first tipped off to a crime gang working in Govanhill in 2014, prompting an inquiry that would see the National Human Trafficking Unit work with the Slovak police force.
In 2017, after three years of investigation, the accused first appeared at court in Glasgow.
After a seven-week trial which led to a further week of deliberations by the jury, ringleader Gombar was found guilty of 13 charges involving eight women.
His step-daughter Sandorova, was convicted of six charges involving two victims.
Her partner, Adam, was convicted of seven charges involving three victims while Wagle, originally from Nepal, was found guilty of four charges involving one woman.
All four found guilty were remanded in custody until today's sentencing.
Court papers named 14 women as victims of the traffickers. Some have returned to Slovakia while others remain in Glasgow.