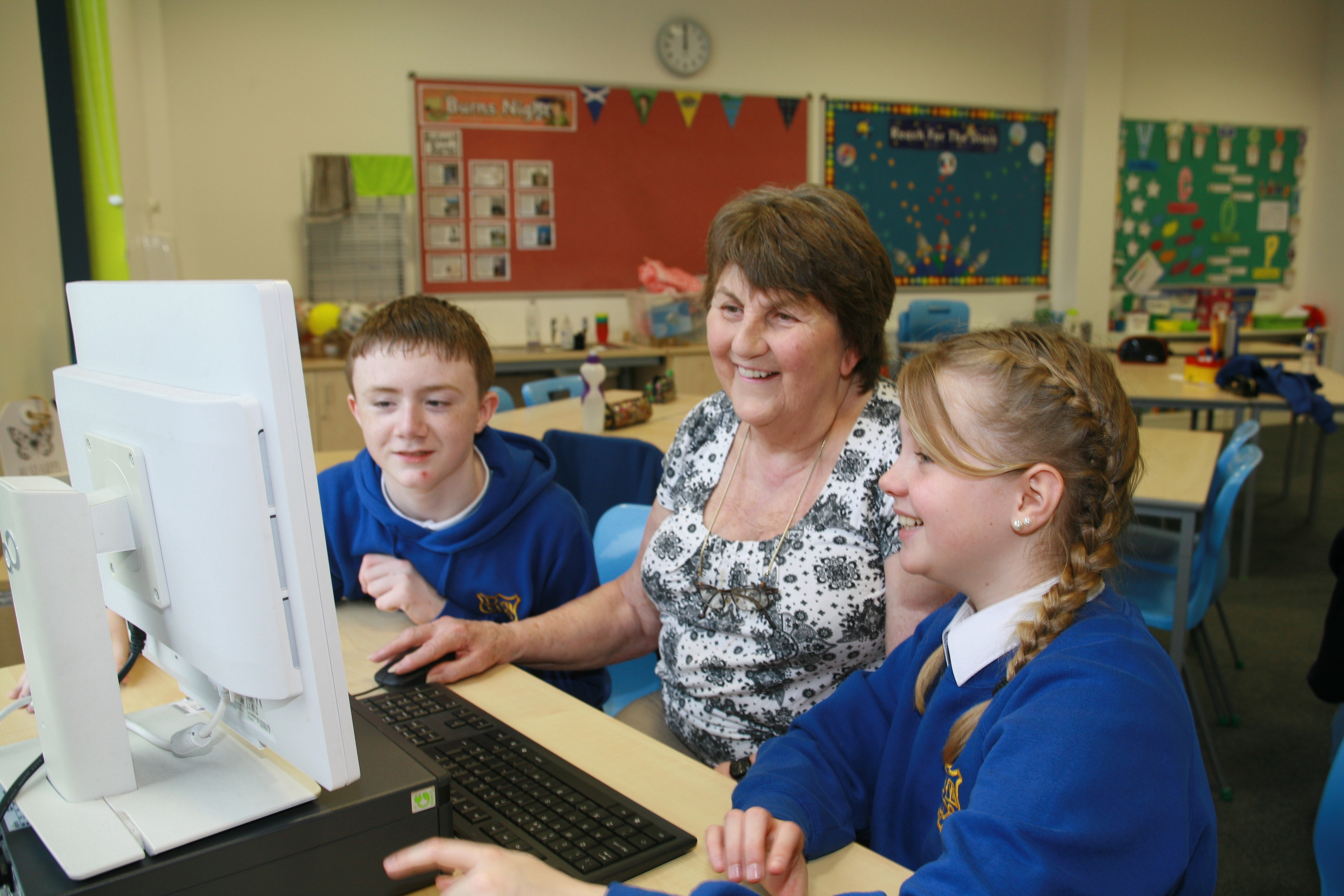 PENSIONERS who struggle to tell their mouse from their Firestick are being taught the mysteries of IT … by children.
The retired folk of a Highland village are learning all about the latest gadgets in classes taken by pupils.
The generation-bridging lessons are being held at Caol Primary, near Fort William.
Primary seven youngsters explain anything the older pupils want to know, be it how to send a picture by text message on their phone or how to install a Firestick into the back of a television.
And the lessons are proving a hit with mature pupils who often haven't seen the inside of a classroom in years.
Great-granny Anne Ferguson, 77, last sat at a school desk more than 60 years ago.
"So it was quite a novelty to be behind a desk again," said Anne, from Spean Bridge.
"I want to learn how to surf the net and contact relatives in Australia online.
"When I worked for my family's haulage business I refused to learn to use the computer.
"I thought I would be landed with all the online work. But I really regret it now and this is my chance to catch up.
"I want to become a silver surfer and make contact with the rest of the world online."
The lessons are held in the picturesque school which lies in the shadow of Ben Nevis.
Two pupils who have turned teacher say they are thrilled to take classes, and they even made their own PowerPoint presentations to teach.
"I was a bit surprised how much older people didn't know because sometimes it seems they know everything," said Aidan Fordham, 11, from nearby Lochaber. "The hardest thing to teach them was to use a mouse.
"I never thought being a teacher could be so good.
"When I grow up I want to be a football coach or join the army and teach."
Classmate Faith Easson, 11, said pupils loved teaching the pensioners how to email and surf the net.
"It felt a bit different standing in front of a class for a change," she added. "But after 10 minutes it was like we did it all the time. It's made me decide that I want to be a teacher when I grow up."
Head teacher Steven Hamilton, 44, said there were two children to every adult in lessons that last 90 minutes.
He said: "The class is supervised by teachers and the lessons end with a chat where the grans and grandpas turn teacher and help the pupils with history research.
"Everyone benefits. Retired folk learn IT, pupils soar in confidence and then meet people who have lived through their history lessons."
The idea came from Care Lochaber, an organisation which supports elderly people.
Manager Lara Van Der Peer said: "We are delighted with the success and are over the moon over how well the kids have embraced this.
"We have had plenty of inquiries and have a waiting list."