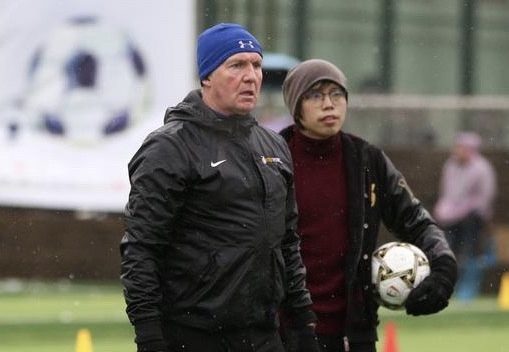 Young footballers released by clubs due to the coronavirus crisis are to get a free shot at winning themselves a US scholarship.
Recruitment agency FirstPoint has made the offer of fee-free support to any players who find themselves searching for new employers over the next few months.
"Basically what we are talking about is a second chance for kids, at a time when they are at their lowest," said former Stranraer, Clydebank and Queen's Park defender Kenny Brannigan, who is now events manager for FirstPoint USA.
"We take a look at them and allocate them a star rating which gives the First, Second and Third Division University teams, also Community College sides, an idea of what they are dealing with.
"If you are talking about a kid from Rangers or Celtic, for example, they might get five stars, which would likely make them a target for the top First Division universities.
"The ones at the other end of the scale, might aim for someone with two or three stars and potential to kick on.
"What we aim to do is to make sure to match the right players to the right schools so everyone is happy.
"I spent several years working in Princeton, North Carolina and Canada at the level, so I know the standard over there really well, knowledge you need for this to work.
"I am also a scout for Hamilton Accies, again which helps. Brian Rice or George Cairns, the academy director, will often say to me, 'We have a kid here who isn't going to make it, but might be perfect for an American university'."
Brannigan believes the move offers not just a football opportunity, but also a life experience.
"We are potentially changing a kid's life, long-term," said the 54-year-old.
"They go out there to play for the love of the game. But they get the chance to do so in what are often terrific facilities, and to study for a degree.
"At the end of four years, they can reassess what they want to do. But I would argue they are often in a better placed in terms of their readiness to plot their future than they would have been if they stayed put in Scotland.
"I say that because there is not a huge amount of money kicking about with our smaller clubs.
"One of our best examples of what is possible would be Chris Edwards.
"We helped him after he got released by Partick Thistle. He went to America, played for a university team, met his wife over there and he is now a full-time coach on the circuit.
"Not every move is going to work out as well as that one, but it does show what is possible."