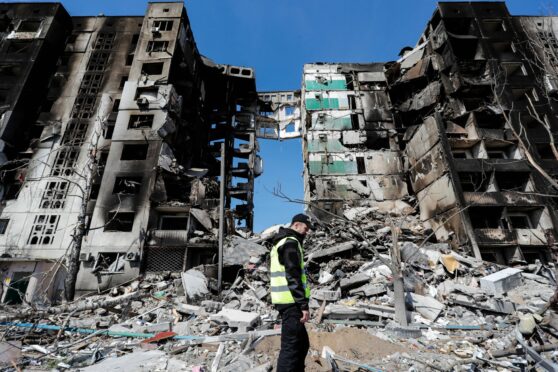 There is no end in sight to the war in Ukraine but a deal will eventually have to be done with the Kremlin despite the atrocities of Russian troops, according to Lord Robertson.
The former head of Nato, who spent four years dealing with Vladimir Putin, said the West will need to accept an agreement if the conflict is to end despite the war crimes committed and Russia's current pariah status.
He said: "When all of this is over, Russia will have to become part of the international consensus again if we're going to be able to deal with issues like terrorism and climate change.
"There's going be a lot more fighting and a lot more blood spilt before the point where both sides start talking about the future. There has to be a peace agreement at some point, but it must be based on Russian troops getting out of what is a sovereign independent nation state."
Despite Russia suffering humiliating losses in Ukraine, including the sinking of Moskva, its Black Sea flagship last week, Robertson said a coup or a popular uprising against Putin is unlikely. He said: "I can't imagine the Russian people will eventually think the loss of Russian lives and cash resources was a good thing, but they don't have open free elections, a free press or freedom of speech. But Putin can't live forever. Biology is a more significant factor than militaries."
Russia's invasion of Ukraine was partly intended to stop its neighbour from joining the western military alliance and last week Russia also threatened repercussions if momentum towards Sweden and Finland joining gathers pace.
But Putin himself once wanted a closer relationship with the West and even floated the idea of Russia joining Nato, according to Robertson.
The two men met nine times when former defence secretary Lord Robertson was head of Nato from 1999 to 2004. They first met in February 2000, just three months after he was appointed secretary general of Nato and two months after Putin had assumed the role of acting Russian president following the resignation of an ailing Boris Yeltsin.
At their first meeting in Moscow, Putin asked Robertson when Nato was going to invite Russia to join. He said: "I think he wanted to put on record that it was something that was on his mind. I told him that Nato doesn't ask people to join, they apply to join.
"He said, 'We're not standing in a queue with a lot of countries that don't matter.' I said let's build a relationship between Nato and Russia and see where it takes us, and that's what we did."
In 2002, the Nato-Russian Council was formed with the aim of fostering close co-operation between Moscow and the Brussels-based military alliance.
Robertson said: "Non-proliferation, crisis management, counter-terrorism, search and rescue at sea were all on the agenda. It wasn't just rhetoric or platitudes. There was a lot of common work taking place.
"We got very close to building a relationship, and who knows where it would have led to if it hadn't been derailed by Putin. He started to take a view of Russia's place in the world that was disproportionate to where it is. I think he began to become delusional about Russia, Ukraine, Nato and the European Union, and began to see threats where threats did not exist.
"He built in his mind a view about Ukraine being a threat to Russia and became determined that it would become part of Russia.
"That derailed any idea of deepening the co-operation with Nato that he had embarked upon at the Nato-Russia summit in Rome in 2002."
At one of their meetings, Putin reminisced with Robertson about visiting a bakery in Prestonpans as part of a trade delegation to East Lothian in 1991 when he worked in the office of the Mayor of Leningrad.
Robertson gave Putin a book, The Jacobites And Russia 1715-1750. "Putin didn't say anything about it at the time, but a weeks later the Russian ambassador came to see me at my office at Nato and brought with him a signed copy of Putin's autobiography. It's a book no one I know has ever seen or heard of. It must have been a very personal copy."
Robertson said he struggles to reconcile the man he knew with the Russian president who has ordered the invasion of Ukraine, triggering the death of tens of thousands of civilians and the displacement of millions of women and children.
"He has changed from being somebody that I did business with and who was level-headed about Russian interests and the need for co-operation," Robertson said.
"He has turned into a monster who is visiting huge violence against a sovereign independent nation state that has done nothing to him."
Robertson said that Putin has now moved into "the realms of Stalin".
"Something has happened to him that has given him a messianic view that Ukraine must be merged with Russia."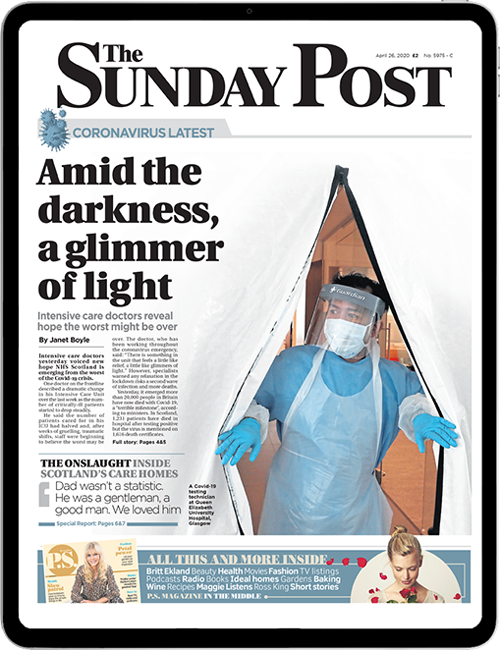 Enjoy the convenience of having The Sunday Post delivered as a digital ePaper straight to your smartphone, tablet or computer.
Subscribe for only £5.49 a month and enjoy all the benefits of the printed paper as a digital replica.
Subscribe