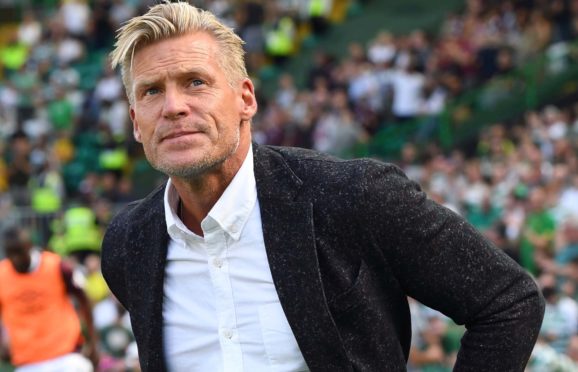 Johan Mjallby has opened his heart on his plans of working with Henrik Larsson in the UK.
And the former Celtic defender revealed he feels no ill will towards Tommy Johnson after his former team-mate U-turned on joining the Swedes at Southend United, joining Blackpool instead.
Johnson's decision meant that the plug had to be pulled on the ex-Hoops trio moving to the League One side as their new management team.
Mjallby was on his way to Stockholm Airport to fly into London when he received the news that the deal was off.
Naturally, he was disappointed, but is certain another opportunity will arise in the not-too-distant future for him and Larsson to work together for the first time in management.
Mjallby told The Sunday Post: "As you would expect, Henrik and I have kept in touch over the years and we trust each other fully.
"Our recent conversations have been about how we'd both like to work abroad, maybe in the UK. And that included doing something together.
"I think Henrik has the ability and mentality to be a top manager, I really do.
"So a few weeks ago I got a phone call right out of nothing from Henrik, asking me if I'd be interested in being his assistant manager.
"Conversations were taking place with Southend United, and we also had Tommy Johnson as part of our set-up.
"Tommy knows that level of English football very well, and he was an important part of the move.
"I met with Ron Martin, the Southend chairman, and I was happy with things from my point of view.
"I love football and love a challenge. And going to Southend was going to be a major challenge, but one that I was up for.
"We felt we could improve things and get the team up the league table, away from danger.
"But it all broke down in the dying seconds.
"Tommy decided to accept something elsewhere, and we had to take a step back.
"We felt we needed Tommy because of his knowledge of that level of English football.
"Had we been in the Southend job six or seven weeks, then it would have been fine for him to go.
"But we didn't want to go for it without him.
"The Southend chairman wanted the three of us as a package, and that was understandable.
"But I don't have any bad feelings towards Tommy.
"I was disappointed and frustrated at the time but I respect he has to look after his family and his career and do what is best for him.
"I don't know exactly how Henrik feels about the whole situation. You would need to ask him. But he may also feel frustrated by Tommy's decision.
"Now we just sit back and wait. I hope Henrik and I get the chance to work together and will see what offers come our way.
"It's important to accept an offer you feel comfortable with, and at a club you believe you can improve.
"You can't just take any job for the sake of getting back into the game.
"I've done that once or twice in the past and it's the wrong outlook. You need to choose carefully. I know that for sure.
"We all know that football is unforgiving, and that the management business can be ruthless.
"You might just get once chance in the UK and you need to give yourself the best possible chance of being successful.
"I had a good insight into it when I was at Bolton Wanderers with Neil Lennon.
"We had four really good years at Celtic before it felt it was time for something different.
"Bolton presented us with an exciting challenge, and we got the club away from trouble in the first season.
"We really wanted to build on that. But we didn't have the funds to make changes to the squad, so it was time to go."
Lennon is now back at Parkhead and it was felt Mjallby would join him again.
That hasn't happened, but Mjallby has been back in Glasgow a number of times to see Lennon and watch the team in action.
He feels the club is on the right track to deliver nine-in-a-row and also progress in the Europa League.
Mjallby said: "I was at the Lazio game and enjoyed the whole experience.
"To come back from a goal down was superb and they showed they have real character in the squad.
"They also have pace and ability, and play quick football, the way Neil likes it.
"There is talent all over the team, and I'm particularly pleased to see Fraser Forster back at Celtic.
"I don't know what happened to him at Southampton but their loss is Celtic's gain.
"He makes really important saves and is an inspirational figure.
"When I worked with him at Celtic six or seven years ago, I felt he was one of the best keepers in Europe.
"I think he can get back to that again and also force his way back into the England squad.
"At the other end, I'm delighted to see James Forrest still being so consistent. He is so brave on the ball and the amount of goals he has added to his game makes him priceless.
"As Celtic fight on all fronts, they are going to need these guys to be on top of their game every week.
"Neil knows he can trust them to deliver. That is so important.
"It goes without saying that I hope Neil gets the success he deserves and the fans crave. He is a brilliant manager and is desperate to do well for Celtic.
"He will give everything in the next seven months.
"But it is not going to be easy, as I have said all along.
"This will be tight as Rangers have improved, and know how to grind out victories when the going gets tough.
"However, Celtic possess that touch of extra quality and that should shine through in the end."