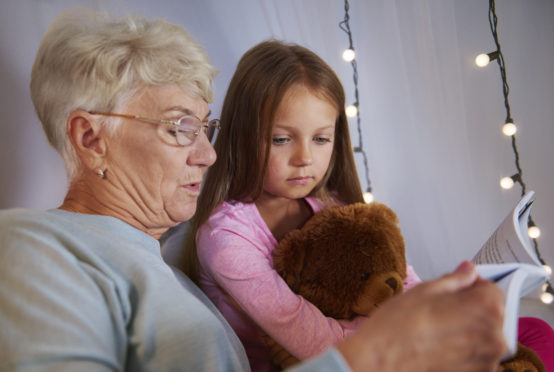 Whether slipping sweeties into sticky fingers behind mum's back, or letting little ones stay up way past their bedtime, grandparents have always been the rule-breakers children gleefully look forward to visiting.
But, according to a number of recent studies, this special bond between granny, grandad and child does more than just create loving memories for both generations to treasure.
From improved energy and fitness to a reduced risk of Alzheimer's, research has shown there are many benefits to spending time with young offspring.
For many retirees, babysitting could be the true fountain of youth, and experts agree that keeping active with kids could help to delay some of the health risks associated with later life.
Adam Stachura, head of policy and communications at Age Scotland, said: "The older you get, the quicker you start to lose muscle density and strength – if you don't move it, you lose it. If you're looking after young children it's very unlikely you will be sitting around the whole time, so it can be great for fitness.
"Just having different conversations and learning something new is also good for the brain, as it gets different parts firing and keeps the mind fresh. And different types of media, such as watching TV and reading books with children, can be good for changing up someone's routine.
"Looking after children is quite stimulating, so you can see how it can also boost mental health, which in turn leads to people being willing and wanting to do more."
He added: "Spending time with grandparents or older people can help to normalise relationships between the generations, so it's great for the kids, too."
Here, we look at the areas of health and wellbeing that can be improved by playing, reading, laughing, running and learning with your wee ones.
Living longer
A 2017 study involving the Berlin Aging Study found babysitting grandparents had a 37% lower mortality risk than adults of the same age who didn't take on such duties.
Published in the medical journal Evolution and Human Behaviour, the study looked at 500 adults aged 70 or older who described themselves as care-giving grandparents, non-caregiving grandparents or non-grandparents. Researchers concluded: "All helper groups had higher survival probabilities than the respective non-helper group.
"This pattern suggests that there is a link not only between helping and beneficial health effects, but also between helping and mortality, and specifically between grandparental care-giving and mortality."
Another study in 2016 also found that older people enjoyed as much as five extra years of life if they spent time caring for children.
Reduced risks
Post-menopausal women who look after grandchildren could benefit from a lower risk of developing Alzheimer's disease and other cognitive disorders, according to a 2014 report by Australian researchers.
The Women's Health Aging Project found those who looked after their grandchildren at least once a week had the greatest cognitive ability of the subject group – but any more than four days a week had a possible negative effect on mental sharpness.
Better mental health
The unconditional love between children and grandparents creates a warm glow in our hearts – and strong happy feelings in our heads, too. Boston University conducted a long-term study into the closeness between adult grandchildren and their grandparents, and the 2016 results showed the relationship protected against depression on both sides.
Improved fitness
Government guidelines recommend fit and healthy over-65s should ensure they get 2.5 hours of moderate aerobic exercise a week, but the NHS estimates older adults spend an average of 10 hours or more each day sitting or lying down, making them the most sedentary age group.
Running around after kids could help towards this goal, with 58% of grandparents reportedly enjoying sports, exercising and gardening with their young relatives.
---
Irene's story
For two decades, Irene Kitson has experienced the joy that comes with helping raise grandchildren.
The 74-year-old regularly spends time with her son and daughter's children, Cameron, 20, Rory, 17, Isla, 10, and Evan, seven, taking them on days out, treating them to dinner, and hosting sleepovers.
Not only does retiree Irene, from Edinburgh, cherish the special relationship she has with each of her grandkids, she also believes spending time with them has helped keep her physically and mentally fit.
"Being a grandparent definitely keeps you going, there's no doubt about it – you can't slow down with wee ones around," she explained.
"And as well as keeping you physically active, they keep you going intellectually as well because they are so curious about everything.
"Just this week we went to Glasgow Science Centre, which was great. My older grandkids keep me up to date with what's going on in the world.
"I think you would be right out of the loop otherwise – and the wee ones teach me new things.
"In terms of technology, they are the ones who teach me, never mind the other way around. They'll say things like, 'Oh you've pressed the wrong button, granny!'
"They bring so many things to your life that otherwise might bypass you."
Irene also admits being a grandparent is completely different to being a mum, as there isn't the added pressure of being a strict disciplinarian.
She said: "It's absolutely a special relationship, as you don't have the same responsibility you did with your own kids.
"You can be there to do the fun things, and if they are told they can't have something, secretly they might get it from me. Of course, then I get a row! The kids certainly know when they come to my house they will get things they don't get at home."
With her older grandchildren now grown up and looking after themselves, Irene loves that she is getting to experience looking after children all over again, and says being around the younger generation has changed her outlook on life.
She said: "I just love being around young people. I definitely think it keeps you young in outlook, and you don't get stuck in a rut to the same extent.
"I know folk who do have grandchildren and don't spend as much time with them as I do, and they really are missing out on so much.
"It's hard work and you have to be on the ball, but it's worth every minute."
"It really is lovely being able to spend so much time with them.
"You get so much love and affection."
---
Fuel for the heart and mind
Author Megan Cox explains the health benefits of reading aloud
Millions have seen the video of a Scottish granny collapsing with laughter as she reads to her grandson.
Cuddling the toddler, Janice Clark cracks up as she tries to read the Wonky Donkey rhyming book.
She's having a lovely time, and we see the baby is enthralled as his eyes widen in amazement each time his gran turns a page.
What we can't see is the real miracle.
A kind of alchemy takes place when one person reads to another, one that converts the ordinary stuff – a book, a voice, a place to sit, and a bit of time – into fuel for the heart, the mind, and the imagination. When we read aloud we do more than entertain people we love.
We are building brains, deepening connections, and fostering social and emotional competence.
A 2010 survey found that elderly adults who joined reading groups reported better concentration, less agitation, and an improved ability to socialise.
The social and physiological benefits of reading aloud can't be overstated.
The Enchanted Hour: The Miraculous Power Of Reading Aloud, Megan Cox, published by Little Brown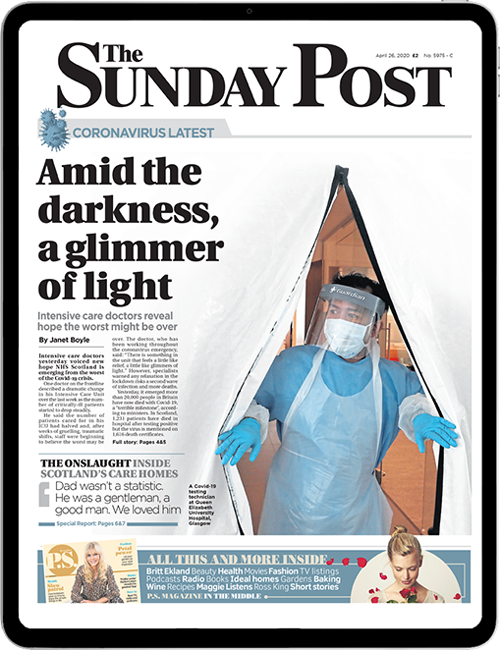 Enjoy the convenience of having The Sunday Post delivered as a digital ePaper straight to your smartphone, tablet or computer.
Subscribe for only £5.49 a month and enjoy all the benefits of the printed paper as a digital replica.
Subscribe