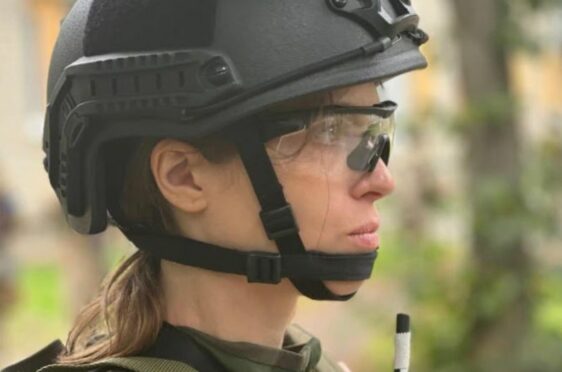 Three days after Christmas, social media posts from Ukraine revealed another casualty on one of the fiercest frontlines. Vladislava Chernykh – Vlada for short – was just 28 and I recognised her instantly.
It was both hard – and terribly, tragically easy -–to believe that, just a few weeks before she was killed by shrapnel during heavy shelling near Bakhmut, I had met the young woman now being grieved by her family, friends and comrades.
I was reporting for The Sunday Post from near the Russian border, spending the day with her drone unit, a small team operating from trenches left behind by the occupying forces as they searched for targets. Ignoring the cold and the danger, they would stay well into the dark night before returning to a city being pounded by missiles.
Of all of them, Vlada was the most serious, the least inclined to chat. I watched her assemble small bombs in a dugout as the sun went down, assault rifle propped against the wall, a knife and medic's scissors strapped to her bulletproof vest. Long brown hair tucked into her scarf, a pretty silver earring just visible.
She seemed in a world of her own, so intensely focused on the task of taping and gluing an attachment to the bomb which would allow it to be carried over enemy lines by a drone and dropped on to Russian positions.
The plan didn't work out that day – the attack on Kharkiv scuppered drone flights – but she was by then an experienced drone pilot as well as trained medic with many missions under her belt and more ahead of her.
Extraordinary achievements for someone who, just a few months before, had so little experience that she struggled to get into the army as Ukrainians from all walks of life enlisted to fight the Russians.
A Kharkiv volunteer unit called Khartia took her on as a medic in May. Commander Vsevolod Kozhemyako said he personally went to pick her up, as her home north of Kharkiv was difficult to access because of the fighting.
"She was proudly escorted by the whole family," he wrote in a tribute to Vlada. In mandatory infantry training her skill was quickly noticed. Kozhemyako saw her on the firing range hitting a target with a grenade launcher from the first shot. "Everyone understood that this was a serious fighter," he said. "She will forever remain our sister."
Last week, another of the drone team I spent time with, codename Lego, spoke to me from the front, the signal cutting out occasionally due to shelling damaging the satellite transmitters. "She was a serious person, she knew exactly what she wanted to do," he said, and trailed off, upset. "I'm sorry, it's hard remembering her."
Lego was often on rotation with Vlada, whose codename was Aida. They were on the road a lot. She liked to sleep with the car window open, he remembered. They moved eastward: Kupyansk, Svatove, then to the area around Bakhmut, where the most intense fighting is now taking place. Both sides are suffering heavy losses as artillery pounds troop positions – and drone operators are the number one target. Vlada was unfazed.
"About a month ago we came under fire from a KA-52 helicopter – me, Vlada, and an American called Chem," Lego recalled. "His arm was torn off at the elbow and he was hit in the chest in three places. Well, Vlada dealt with it perfectly, treated him and we got him out."
Though she was deeply serious and thoughtful, they found ways to make her laugh. Lego sent me a video of his little son, just learning to talk, practising the names of his dad's team. "Uncle Kim, Uncle Vadim, Aunty Vlada…" He was on rotation with Vlada at the time he got the video, and it "really moved her, she loved it".
A graduate student of the National Pharmaceutical University, Vlada had been working in laboratories and wanted to focus on virology after the war. Another Khartia comrade, codename Aeneas, described her as "very motivated. She couldn't sit at home, she felt she was needed on the frontline."
Much of the dangerous night-time work – bombs, mines and drones – he did with Vlada, and was always glad if she was there, because her diligence and reliability meant everyone felt safe.
Praised for her skills with weapons, Vlada was the first woman in Khartia's field section. She probably didn't make much of it, said Aeneas. "She doesn't really think about what roles women and men do. She always just does what she wants to do."
Despite the enormous danger, he "never saw her very scared. A brave woman." Aeneas, who in normal life is a property entrepreneur in the capital, Kyiv, travelled to Kharkiv on December 30 for Vlada's funeral.
"When I saw her parents I understood why she's so strong and brave," he told me. "Her mum is very wise, very strong. I said to her, 'I'm sorry we couldn't keep her.' And her mum replied – 'but you couldn't stop her.' I think that characterises both Vlada and her mum."
The funeral in Kharkiv was big. Her coffin, white with small golden angels at each corner, was carried by her friends in the brigade, led by a man carrying a large framed photograph. More soldiers knelt at either side of the procession, heads bowed, holding flowers and flags.
Poet and novelist Serhiy Zhadan was there and later described it, writing: "All these rituals at the funeral of the dead, which are hard to get used to – the guard that shoots into the cold December sky, the flag on the grave, the anthem sung in hoarse voices that are not used to singing…"
Zhadan also noted how young so many of the mourners were: "You realise that for most of them it's the first personal goodbye to a loved one who died."
And that's what everyone says: the youngest and best are dying in this war. The most motivated, skilled and committed Ukrainians.
In the air: A day on the road with Ukrainian specialist drone unit near Russian border
Recent weeks have seen a flood of commemorative posts, jarring in Facebook feeds full of Christmas dinners and festivities. Director Victor Onysko, game designer Volodymyr Yezhov. Theatre director Oleh Bobalo.
Weather presenter and journalist Anton Kolomiets. Football coach Oleh Tymchenko, who worked with the famous Dynamo Kyiv club. Twenty-six-year-old Vitaliy Ihorovich Nevinskyi. Boxing champion Vladyslav Vakulenko, 21. Yehor Beila, 22. Hennadiy Afanasyev, who had only returned to Ukraine from Russian captivity months before: killed on December 21. Many, many more.
But Vlada Chernykh's friends couldn't emphasise strongly enough how she saw this fight – for freedom, for her country's future. She was determined to fight, and wouldn't give in.
Serhiy Zhadan, summing up the feeling at the funeral of this bright, determined young woman, concluded: "We must remember each person lost, and support everyone who continues to hold the line.
"Because we stand on our land…cold, frozen, but ours."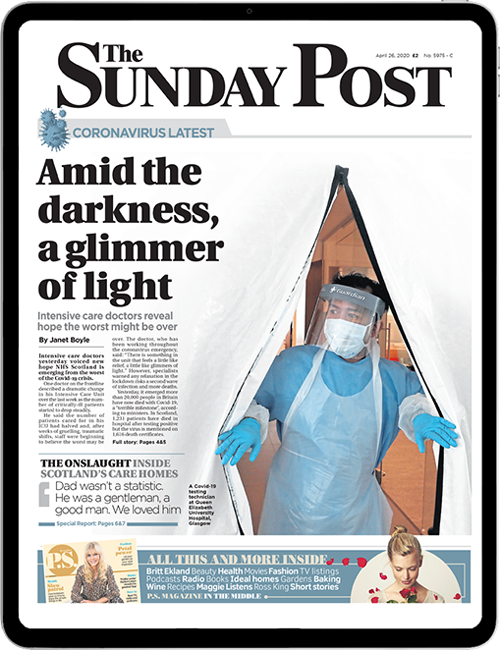 Enjoy the convenience of having The Sunday Post delivered as a digital ePaper straight to your smartphone, tablet or computer.
Subscribe for only £5.49 a month and enjoy all the benefits of the printed paper as a digital replica.
Subscribe