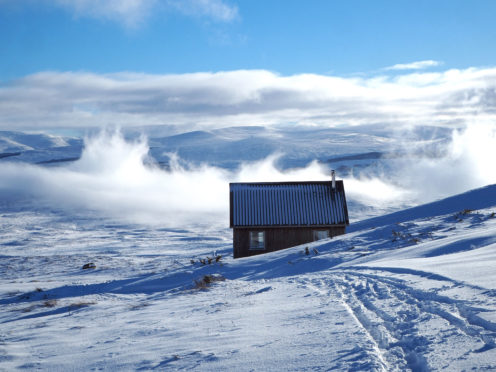 They are safe havens, weathered-stone refuges peppered across Scotland's spectacular landscape.
But bad behaviour at bothies means hikers and hillwalkers may have to book a berth rather than enjoy a traditional open-door welcome.
Visitors to Peanmeanach Bothy in Lochaber, for example, must call in advance as the Mountain Bothies Association has blamed a "small minority" of users for been responsible for a series of incidents at the shelter. These include leaving large quantities of litter and cutting down trees for firewood.
The popularity of bothies has risen in recent years but not all outdoors enthusiasts have welcomed the rise in visitors.
Geoff Allan has helped popularise bothies and today sees the release of the second edition of his best-selling book, Scottish Bothy Walks. He believes the refuges are a vital part of Scotland's landscape, and should ideally be free for everyone to enjoy.
"Bothies encourage people to go out and enjoy nature," said Geoff. "It's a celebration of Scotland and the beauty of the countryside. Plus with all the headlines about mental health, you would imagine visiting them is good for the mind, too.
"I've been 'bothing' since I came to Scotland as a student 30 years ago and for me it is about connecting with people.
"I've met some really interesting people and that adds a power to the experience – that's what I write about."
Geoff, originally from Sussex, says the atmosphere in shared bothies is generally good – although he has witnessed a few incidences of bad behaviour.
"I've met a few drunken heathens but nothing too bad," he said. "I've only once experienced an anti-English attitude. I'm kind of used to that but it's about your own social skills.
"As long as you're not antagonistic, you behave inclusively with other visitors and make sure to offer people a drink you won't get into those situations where things can kick off."
The recent change in status of Peanmeanach from free-to-use to access by booking only can be blamed on weekend visitors, according to Geoff.
"Peanmeanach is a special case," he said. "People don't dig holes when they go to the toilet. I'm in the luxurious position of not going to bothies at peak times – at the height of summer or at weekends when they're at their busiest.
"I just don't do them on Friday or Saturday nights any more – that's when you're more likely to get people heading up after work .
"It's all about respect. Respect other users and bothies will be fine. Treat the place as you'd want your home to be treated.
"It's a simple contract you want people to follow. Perhaps people are forgetting the numbers rule. There's supposed to be a top number of six to a bothy, according to the Mountain Bothies Association, but that's not always respected.
"Bigger groups are discouraged and so is one group 'taking over' the bothy. There's sometimes a problem with people staying longer than a weekend. You're not really supposed to do that."
According to bothy guru Geoff, beauty spots becoming popular may just be an inevitable consequence of the tourist industry.
"The popularity issue is complicated, but it may just be an indictment of the tourist industry in general," he explained.
"If you discover something amazing and tell people and they visit, it's going to be changed.
"It's like the fairy pools of Skye. When I first went there I didn't know they existed – now there's a car park and an ice cream van.
"That's a microcosm of what's happening with bothies."
---
Bothies aren't the place to party but a few drinks help
People need to relax if they want to love the countryside, according to Gabriella Bennett.
The author of The Art Of Coorie: How To Live Happy The Scottish Way suggests must-see lists and guidebooks urging visitors to march from spot to spot are for the birds. In recent years travel guides which focus on listing attractions have risen in popularity.
However, according to journalist Gabriella, working your way down a list may not be the best way to experience Scotland's gems.
"You can get a bit of palette fatigue with these things. To me, they just provide ideas you can decide to act on or not in the future," she said.
"I don't collect experiences like that. There's a danger listicles can be reductive.
"That fits with the idea the only way to enjoy nature or the outside has to come from earnest discovery achievement. I don't believe in that at all.
"Since I wrote my book, I find I'm using nature and the outdoors less for recovery, which is interesting since that was the reason I wrote it.
"I just try to enjoy these places purely on their own merit. The list format is great but it's not something I adhere to when it comes to checking them off.
"I love Pete Irvine's Scotland The Best. Ultimately with these kinds of books you are trusting the author's taste, so it's about finding an author whose views yours align with."
And, she said, a live-and-let-live attitude can see you through some long nights in bothies in the remotest areas.
"You aren't going to get the comfiest night's sleep in a bothy but the joy of being able to sit down and have something to eat is what it's all about," said Gabriella.
"Recently a friend stayed in one who said her fellow bothy guests wanted to talk all night.
"I think there's an unwritten rule to stick to the sleep wishes of the person who wants to go to bed earliest, especially if they don't want to socialise, which is fine.
"Bothies aren't necessarily places to party – you want to feel well enough the next day to complete your walk but you also want to have fun and make the most of the experience.
"You aren't going to get the best night's sleep, but you just have to roll with it. I hear a few drinks help."