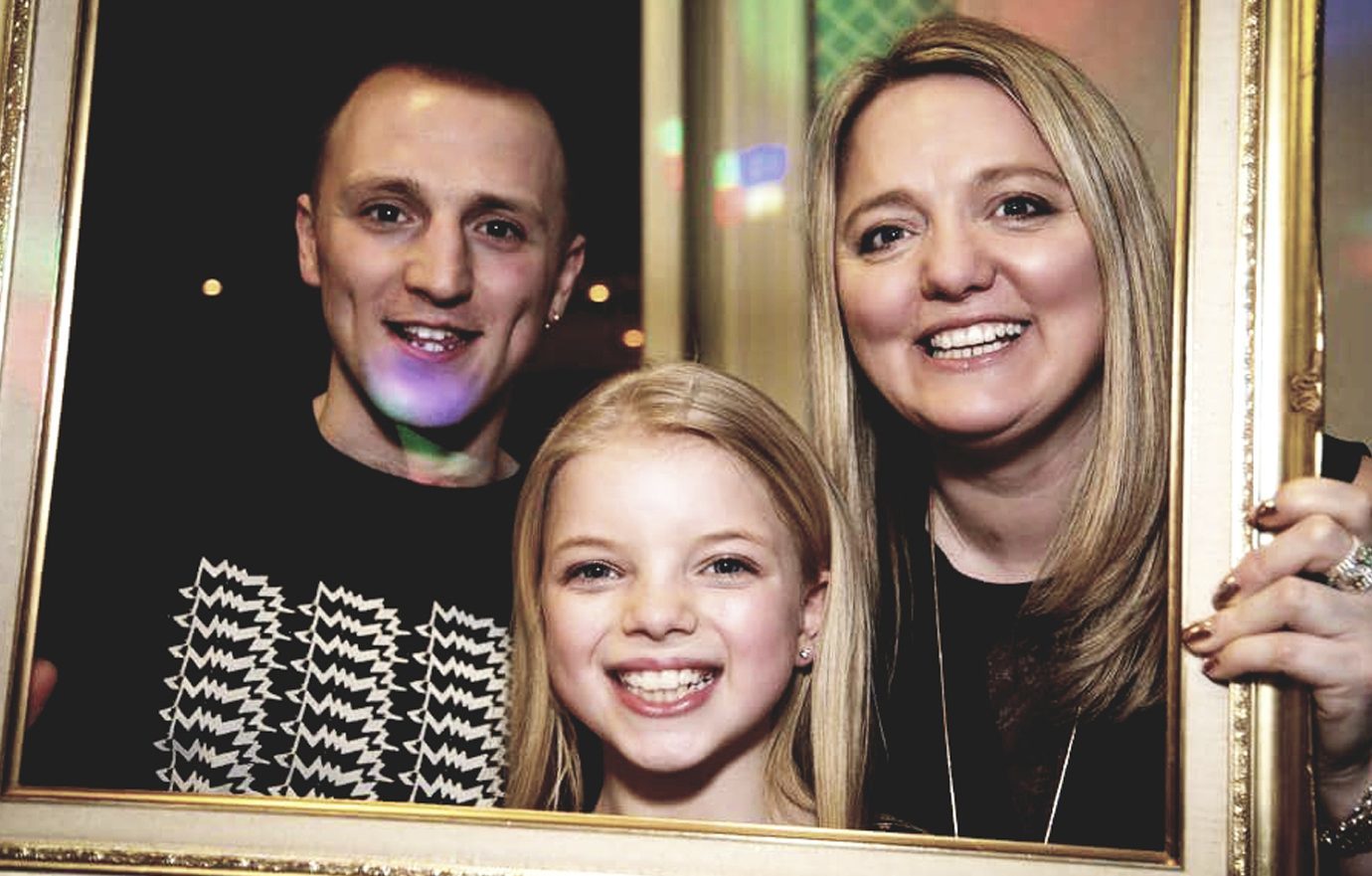 NINE-YEAR-OLD Lily Douglas is bright and beautiful, bursting with talent; an aspiring dancer who has won countless trophies and performed in professional theatre productions.
Lily's mum took her to the doctor's a couple of weeks back with a suspected dance injury – a sore lump on her shoulder, no other symptoms, no warnings of anything more sinister.
After being rushed through tests her family got the devastating news last week that Lily has Stage 4 Ewing Sarcoma cancer.
In her first interview, as her daughter begins treatment this week, we talk to Lily's mum about how they're coping, how the community in Perth has rallied to raise thousands of pounds in just a few days, and how they'll face the future.
---
JANE DOUGLAS is exhausted, physically, psychologically and emotionally. But she manages a smile. "I have to stay upbeat for Lily," she says.
Mother and daughter are back at home in Perth for a brief stay after tests at Edinburgh Sick Kids Hospital.
Lily will return there this week to begin chemotherapy treatment for the rare bone cancer Ewing Sarcoma, which is at its most severe.
She may also face surgery to have the bone beneath her knee removed and replaced with a metal plate.
Jane sighs: "Lily does not understand about the treatment. She does not want to lose her hair. And she still wants to go dancing."
Until recent weeks, she showed no symptoms of the illness.
But the little girl with 80 dance trophies and a string of Scottish, International and World class titles under her belt, had unknowingly been dancing on a fractured leg.
The day after her diagnosis and in a cruel twist of fate, the budding ballerina was invited to audition for a place with the Scottish Ballet's prestigious dance school. "It's next week," says Jane. "I'll have to phone them to say she won't make it. It's a stab in the heart."
The St John's Academy pupil will also miss the UDO European Street Dance Championships in Germany, for which she qualified earlier this year.
But despite the blows little Lily faces the future with astonishing courage.
"She is so strong," says Jane, a manager at Primark in Perth. "She performed at a recent party for my mum and dad in Dundee. None of us knew she had a fractured leg; she didn't complain once.
"The doctors cannot believe how strong she is. She knows she has cancer and is disappointed about what she is missing but she's still smiling. If anyone is going to fight it, it's her."
Jane, who says her family is living in a surreal 'bubble', relives the moments when, piece by piece, their world came crashing down. "Lily woke up in the middle of the night with a sore leg. We thought it was growing pains and it went away.
Then on the weekend of April 7th, Lily and I were coming back from a dance competition and she had a sore lump on her shoulder. It didn't look right."
She was taken the next day to the GP surgery and later referred to the paediatric department at Dundee's Ninewells Hospital.
Friday the 13th? It's the best day I've ever had! Brave Lily finds out she's free from rare cancer
Jane – who also has a son, civil engineer son Leon, 24 – says: "I let my mum take her because I was working and I thought it was just a cyst."
But she was called to attend and doctors revealed Lily had a tumour which would need further investigation in Edinburgh.
"Even then I thought it would be benign. People were saying 90% of tumours are benign," she reveals.
Lily then went with her mum and dad Scott Robertson to the Edinburgh hospital for two days of scans and biopsies on April 24th and returned last Friday for the results.
Jane and gas engineer Scott – who parted before their daughter was born – were called into a private room to be given the news every parent dreads.
Jane holds her anguish in check as she reveals: "The doctor said she was very worried. It (the cancer) was in Lily's lungs, and in her shoulders and in her bones.
"Before we got the diagnosis, I had thought we were going in to be told she had cancer but that it was just in the lump and it would be OK. I was worried about her losing her hair. I never thought there was a chance she would not survive this.
"At this point I didn't care if she lost every hair on her body. I just wanted her alive.
"I was sobbing and begging the doctor to save her. We were devastated. The doctor was marvellous.
"She said the intention was to cure. We are so grateful that they did not send her away and have said they could treat her." The couple were advised to take a breather and decide whether or not they wanted the medical team to break the news to their little girl, or if they wanted to do it.
Brave Jane knew that the terrible task had to be hers and hers alone.
"I had to try to hold it together for Lily but she asked, 'Mum why are you crying?" I sat her down and told her, 'You know how we thought you had cancer?' and she immediately said, 'Do I have it, Mum?'
"I said, 'Yes you do and you are going to be fine.'"
"She asked, 'Will I lose my hair?' and I said,'Yes you will but you will get medicine and it will make you better and get you dancing again'.
"That is what the doctors told us to do, give her hope."
And hope is what they cling to. Jane says: "Lily was playing with little girls in hospital who were having chemo and that helped her."
But Jane says it is her family, friends, and the kindness of strangers that has been her greatest comfort.
Jane faces nine months off work to be at her daughter's side. She and Scott also want to be able to finance treatment overseas should all options here fail. And they are raising awareness for more funding for research into the condition.
Lily's ballet and tap dance school Inspire has set up a page for donations and JGN Dance attic is also involved, with one parent shaving his head for the cause. Jane says: "I have a great family and we have so many supportive friends, even customers at Primark have been asking about us. Lily's pals have been giving their pocket money. It's been hard to look at the fundraising page. I feel guilty people are giving their money but then I tell myself it's for Lily.
"We have one of the best hospitals in the world and the doctors are wonderful but it's good to know we will have the price of a flight to get treatment elsewhere if all else fails here.
"There's the peace of mind of not having to worry too much about finances when you're fighting cancer. We are so grateful to everyone who is supporting us. "
She is deep in thought for a moment, then smiles. The ray of sunshine that is Lily has appeared.
Lily played Tessie in the musical Annie with the Dundee Downfield Musical Society last year and was part of the junior cast in Pitlochry Festival Theatre's Christmas show Scrooge.
Jane says: "Lily wants to be on the stage when she grows up. She has always wanted to be the best at everything she does, at school, in dance class and in drama. Now she will want to be the best at beating cancer. She will dance again."
You can find out more and donate to help the Douglas family at gofundme.com/ support-our-lily
Ewing Sarcoma
Ewing sarcoma is a rare type of bone cancer.
Only 600 cases are diagnosed in the UK each year.
It most commonly affects young people in the 10-20 age range and develops in the hip, thigh or shin bone.
But it can also be found in soft tissues surrounding the bone or joint.
Symptoms depend on the size of the cancer and where it is in the body.
The main signs are pain in the affected area that grows worse, along with swelling and tenderness.
Other possible, but less common symptoms include: a high temperature, or fever, severe tiredness and weight loss.
There may be no symptoms at all, but as the tumour grows it could weaken the affected bone, increasing the risk of fracture.
The exact cause of Ewing sarcoma is unknown, but one theory is it may be related to rapid growth spurts that happen in puberty.
These may in some way make bone tissue more susceptible to cancer.
Treatment usually involves a combination of chemotherapy, surgery and radiotherapy.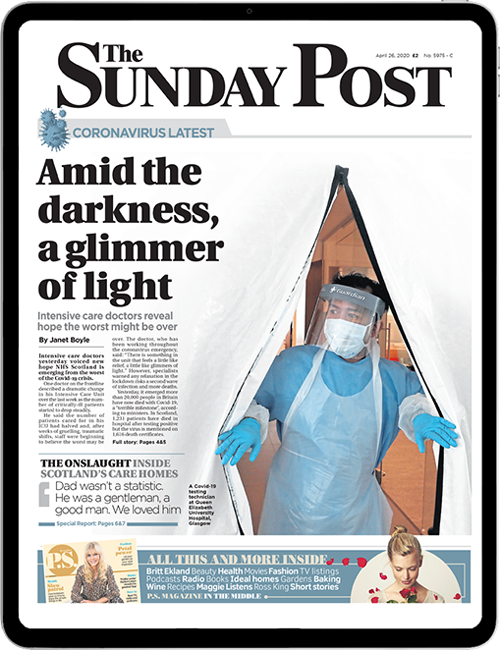 Enjoy the convenience of having The Sunday Post delivered as a digital ePaper straight to your smartphone, tablet or computer.
Subscribe for only £5.49 a month and enjoy all the benefits of the printed paper as a digital replica.
Subscribe