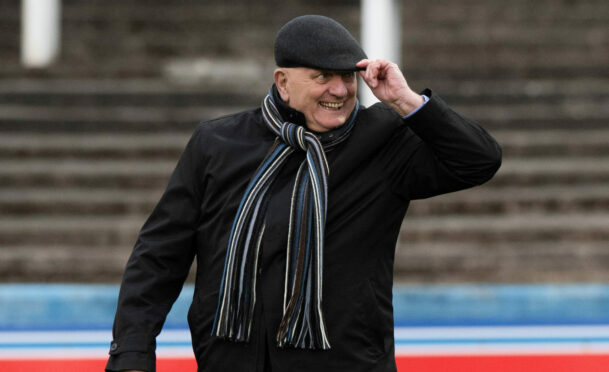 It certainly would not have been on his mind, but Dick Campbell last week unwittingly had his Arbroath side achieving a feat akin to Kim Kardashian becoming the US President.
The Lichties manager said that having tried to play down talk of winning the Championship all season he could no longer hide from it.
And in a clear link to one of sport's most-astonishing underdog stories, he pondered aloud what Claudio Ranieri said eight games from the end of what proved to be a title-winning campaign with Leicester City.
The 2015-16 triumph of a side who, a year earlier had looked certainties to be relegated from the English Premier League only to pull off a last-gasp escape, was hailed as the miracle of miracles.
Bookies infamously quoted them as 5,000-1 shots at the start of the season, odds put into context by the fact they viewed it as likely as the socialite Kardashian ending up in the White House.
They had never been England's champions before and their success stunned a provincial city that up until then had been best known for the quality of its cheese.
That Riyad Mahrez, the shiniest of their unlikely collection of stars, admitted that prior to signing he had thought Leicester City was a rugby club, said it all about their wider reputation compared to the likes of Liverpool, Manchester United and Arsenal.
It is little wonder the Leicester legend is in Campbell's thoughts – he makes no bones of his view that his part-time team winning the title would be a "miracle".
The 68-year-old, a cancer survivor, has kept good company in his all his years in the game and is able to quote a good one when referencing Sir Alex Ferguson's message to him on the subject: "Miracles happen son, miracles happen."
They do that and Campbell's logic is more about the resilience and stickability his players are showing in the long term than what they do on any given weekend.
In a league where everybody is beating each other, he would rather have his group than any of their rivals. The chance to make history, he argues, can pick them up after any setback – even yesterday's 3-0 defeat away to Inverness Caley Thistle.
A quick check of the archives reveals the answer to Ranieri's thoughts with eight games to go were actually remarkably similar to those the Scot has been having now.
Then, he acknowledged the need to stay calm and keep playing "our football" was paramount at a time when people not just in Leicester but around the world were talking about his team.
So late in the campaign it was all about points not performances.
The wily Italian got it done. Leicester were confirmed as champions on May 2, 2016, winning the title by 10 points from Arsenal and 11 from Spurs, for so long their biggest threat.
From an Arbroath perspective, what is interesting is what the success did for the Foxes in the longer term.
The club is substantively bigger now than it was then.
Players train in a state-of-the-art, £100-million training complex that includes 14 full-size pitches and its own nine-hole golf course.
Obviously, that is not going to happen with Arbroath. For a start, there are too many excellent places to play golf nearby.
Likewise, as tempting as it is to imagine promotion to the Premiership resulting in a transformation of Gayfield into a weatherproof arena to play and watch football, that would not be on the cards.
The ground is the closest to the sea in Britain and the wind and rain that whips in during games in the winter, and sometimes during other seasons, is a significant distraction to opposition teams. What would be on the cards would be a change in the way they reward those players who have trained their bodies to regularly deal with the sort of conditions that would have made Ernest Shackleton blanch.
Because as much they have shown it is possible for a bunch of part-timers to excel in the Championship, asking them to do it in Scotland's top flight would be another matter altogether.
A shift at the day job followed by an even harder one at night trying to subdue the likes of Jota or Ryan Kent does not bear thinking about.
"If we were to go up, we would have to have a close look at our set-up and see what we would need to change and improve," said Arbroath vice-chair Ewan West at the end of last year.
The tone was slightly cautious. However, as Campbell and Claudio Ranieri will both testify, it is more important to deliver miracles than to promise them.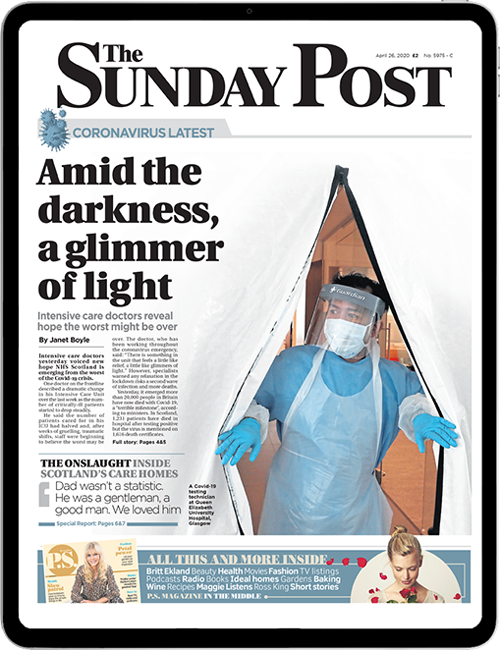 Enjoy the convenience of having The Sunday Post delivered as a digital ePaper straight to your smartphone, tablet or computer.
Subscribe for only £5.49 a month and enjoy all the benefits of the printed paper as a digital replica.
Subscribe