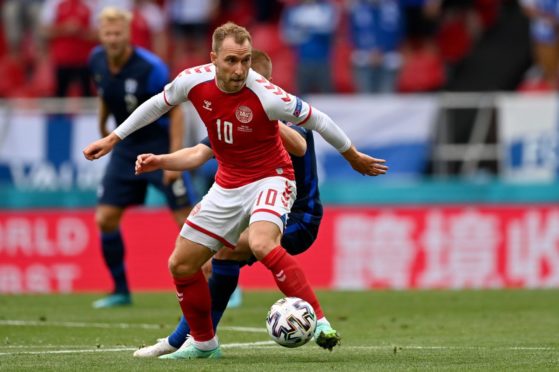 Millions of football fans watched in horror as a player was given CPR after collapsing on the pitch during Denmark's Euro 2020 game against Finland on Saturday.
Danish midfielder Christian Eriksen, a 29-year-old father-of-two, was treated by medics as his team-mates formed a circle around him. The player had collapsed, face-first, as he went to receive a throw-in close to the corner flag, near the end of the first half of the match in Copenhagen.
His partner, Sabrina Kvist Jensen, rushed to the pitch and was seen sobbing as she was consoled by members of the Denmark team. Commentator Jonathan Pearce said: "The pictures you are seeing here in the Parken Stadium in Denmark are terrible."
English referee Anthony Taylor immediately called medical staff on to the pitch and players and spectators were visibly upset as efforts were made to save Eriksen's life with CPR. Eriksen was then rushed to hospital where his condition was stabilised and it was reported that he was awake and awaiting tests.
As he was carried from the pitch on a stretcher, both teams supporters chanted his name and it echoed through the stadium in a touching show of unity.
Finske fans: "CHRISTIAN"
Danske fans: "ERIKSEN"
❤️❤️❤️ pic.twitter.com/aDvZ1gA8JJ

— Jonas Høy Bruun (@JonasHoyBruun) June 12, 2021
Uefa president Aleksander Ceferin said: "Moments like this put everything in life into perspective. I wish Christian a full and speedy recovery and pray his family has strength and faith. At these times, the unity of the football family is so strong and he and his family carry with them the good wishes and prayers of everyone. I heard fans of both teams chanting his name. Football is beautiful and Christian plays it beautifully."
Denmark's fixture with Finland resumed after an almost 90-minute delay with the teams welcomed back onto the Parken Stadium pitch to warm applause. Finland went on to win 1-0.
UEFA said it had been decided to restart the match after both players from both teams had requested to do so.
Football together ❤️🇩🇰

The moment Denmark returned to the field after Christian Eriksen collapsed on the pitch.#bbceuro2020

— BBC Sport (@BBCSport) June 12, 2021
Peter Moller of the Danish Football Association said some of the players had been able to speak to their team-mate in hospital. He told Danmarks Radio: "We have been in contact with him and the players have spoken to Christian. He is doing well and they are playing the match for Christian".
Saturday's other Group B match between Belgium and Russia, scheduled for 8pm, took place as scheduled. Belgium striker Romelu Lukaku, team-mate of Eriksen at Inter Milan, paid tribute by running to a TV camera, shouting, "Chris, I love you" after scoring the opening goal.
Last night the world of sport, politicians, celebrities and the public used social media to send messages of support to Eriksen, who used to play for Tottenham Hotspur. Fabrice Muamba, the Bolton Wanderers player who himself suffered a cardiac arrest during a game in 2012, tweeted: "Please God."
Muamba's heart stopped for 78 minutes and he was lucky to survive and make a good recovery, although the incident meant he could never play competitive football again.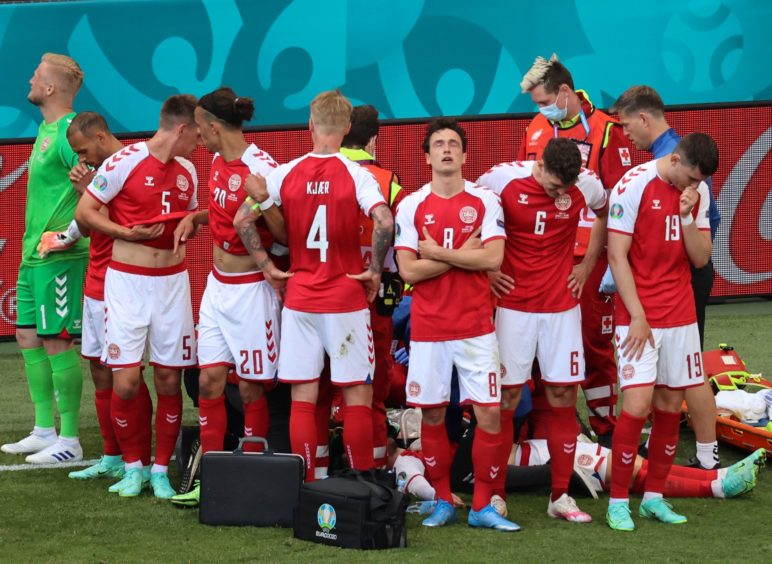 Inter Milan tweeted: "Forza Chris, all of our thoughts are with you!" The English Football Association said: "Our thoughts this evening are with Christian Eriksen and his family, and all connected with the Danish Football Union."
England manager Gareth Southgate later said: "We are encouraged by the update from the Danish Football Association this evening. On behalf of the FA, our players and staff, we send our very best wishes to Christian and those close to him.
"We pay tribute to those who went to his aid with such care to give the support he received. Our thoughts remain with Christian and his family tonight."
"Chris, Chris… I love you!" ❤️

Romelu Lukaku gives #BEL an early lead over #RUS – before delivering a message of love for club team-mate Christian Eriksen 👏#ITVFootball | #Euro2020 pic.twitter.com/AJsMrQloyu

— ITV Football (@itvfootball) June 12, 2021
But there was criticism of the BBC for continuing to show coverage of events on the pitch – including the attempts by medics to revive Eriksen. SNP MP Gavin Newlands tweeted: "Devastating scenes in Copenhagen. I'm sure we're all sending our best wishes to Christian and his family. We have to hang on to hope. (Uefa), the host broadcaster & the BBC should take a look at themselves. As soon as it was clear what had happened the cameras should've cut away."
Last night the BBC issued a statement apologising to anyone offended by its coverage. It said: "We apologise to anyone who was upset by the images broadcast. In-stadium coverage is controlled by Uefa, and as soon as the match was suspended, we took our coverage off air as quickly as possible."
And BBC football pundit Gary Lineker added his own apologies, tweeting: "I understand some of you would have been upset with some of the images shown."
Lineker and pundits Cesc Fabregas, Alex Scott and Micah Richards all appeared in shock when footage cut back to the studio with Scott visibly emotional.
Former Scotland star Pat Nevin, who was commentating on Radio Five Live Sport while Eriksen collapsed, said the image of him collapsing on the field, and his team mates trying to save him, would be all anyone would now remember of the match.
He said: "Nobody will be reading the Sunday papers to find out about the scores. They'll be looking to read about one thing."
Last night one of the doctors who treated Muamba said medical specialists would need to whether Eriksen had suffered any permanent injury as a result of the cardiac arrest. Dr Sam Mohiddin said: "It sounds like he has had successful CPR and he has regained normal cardiac rhythm because of defibrillation but there are other things that will have to be worked through."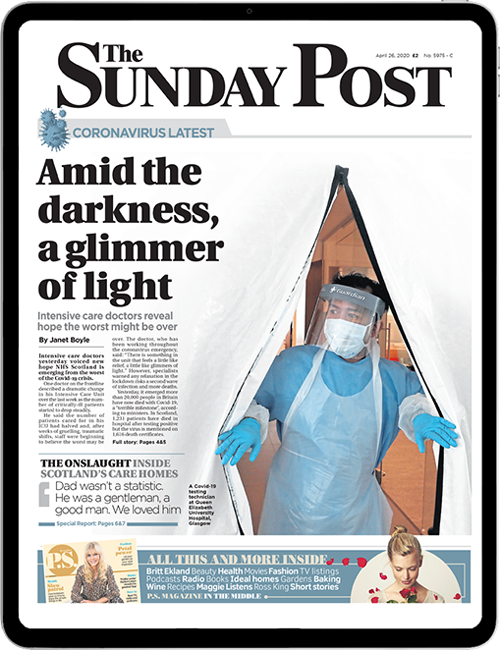 Enjoy the convenience of having The Sunday Post delivered as a digital ePaper straight to your smartphone, tablet or computer.
Subscribe for only £5.49 a month and enjoy all the benefits of the printed paper as a digital replica.
Subscribe