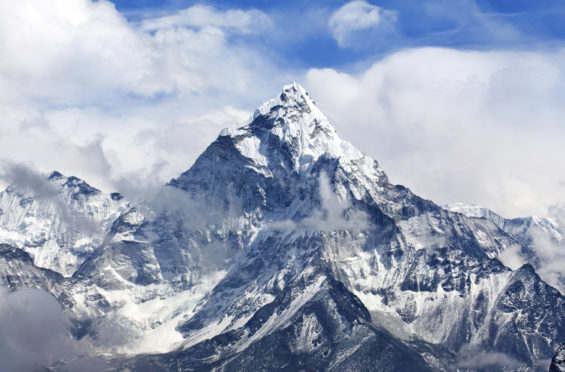 An adventurer has carried the humble clootie dumpling to new heights – the top of the world.
Estelle Nicols has taken the traditional Scots dish on a Himalayan hike, powering herself towards Mount Everest's base camp with specially-made portions of the much-loved pud.
Estelle, 52, is currently working her way back down to earth after reaching base camp at 17,598ft, following a charity trek to raise funds for Marie Curie nurses.
The Auchterarder-based trekker, who works as a change implementation manager with Lloyds Bank, arrived at the peak this week – and celebrated by serving her fellow travellers a specially-made whisky-laced clootie, made by small Abernethy manufacturers Clootie McToot.
Speaking to The Post ­during her mammoth trek, the married mum of one said: "It's been an honour to carry a little bit of traditional Scotland to Everest base camp.
"I hate protein bars, so I packed individual slices to have as snacks. I knew they would keep well with the temperatures we'd be enduring. It's perfect energy food for his sort of thing, and is slow release."
But in a twist on the ­traditional recipe – Maw Broon, for example, would use ingredients like beef suet and raisins before steaming the pudding in a tea towel – Estelle has been keeping her protein levels up thanks to an unusual ingredient used by the manufacturers in a special dumpling.
Clootie McToot founder and chef Michelle Maddox, said: "We made her lots of different dumplings, including one we call Eco-Eat which we make with cricket flour – made from roasted milled crickets and we made the traditional clootie dumpling using that flour, which is very high in protein.
"It's popular with ­people who need to build muscle, and it's also being used in nursing homes where older people aren't maybe getting as much protein as they could.
"Many people believe we'll be eating insects in years to come to help protect the environment."
The company, which was established in 2017, specialises in low-sugar dumplings inspired by cooking methods adopted during war-time rationing. They produce up to 400 dumplings a week and include Scottish whiskies and liqueurs as well as seasonal fruits in their dumplings.
Michelle said: "We're confident our dumpling has been the highest a clootie dumpling has ever been taken by hand thanks to Estelle reaching Everest base camp. We can't imagine anyone has carried traditional cloth-cooked clootie dumpling any higher.
"We also gave her a really big dumpling to share with the other walkers. We've no idea how she carried it but we're glad she did."
Estelle's fundraising drive has helped raise £65,000 for the Marie Curie charity, a cause close to her family's heart after nurses from the organisation provided her mother with palliative care.
She said: "My mum begged us to die at home when she was poorly with renal failure 10 years ago. We were surprised as didn't realise Marie Curie supported other palliative care illness other than cancer.
"We couldn't have fulfilled her dying wish it hadn't been for them. What they do is priceless and I decided to raise funds so that other families can benefit in the way we did.
"The amount we've raised is enough to pay for three full-time nurses for a whole year."
The fundraiser, who helps Michelle sell the dumplings at festivals around the country, added: "After days of everyone eating Sherpa stew and noodles, it was great to share clootie dumpling with everyone at the celebration dinner in Kathmandu on Friday night."
---
Ingredients
● sunflower oil or butter for greasing
● 175g fresh white breadcrumbs
● 175g self-raising flour, plus extra for dusting
● 175g beef suet
● 100g dark soft brown sugar
● ½ tsp salt
● 1 tsp mixed spice
● 2 tsp ground cinnamon
● 1 tsp ground ginger
● 1 tsp bicarbonate of soda
● 100g currants
● 175g sultanas
● 2 tbsp black treacle or golden syrup
● 150ml milk
● 1 large egg
Also: two lengths of baking parchment, a large tea towel, a baking cloth or square of muslin, and string
---
Method
Wet your tea towel or cloth and baking parchment under the tap then squeeze out the excess moisture. Spread out the towel on the work surface then place two pieces of parchment (the length and width of the tea towel) in a cross on top and lightly oil or butter them. Put a very large pan of water on to boil with an upturned plate in the base.
Tip the breadcrumbs, flour, suet, sugar, salt, bicarbonate of soda, spices and dried fruit in a large bowl and stir to mix. Whisk the treacle or syrup into the milk and egg using a fork until well blended, then stir the mixture into the dried ingredients with the blade of a cutlery knife to make a soft dough.
Dust the paper generously with sifted flour then place the dough in the centre of the cross and shape into a round with your hands. Bring the paper up round the pudding and tie at the top with string. Trim off the excess paper with scissors then wrap in the cloth and tie in the same way. Lower into the pan of simmering water, cover with a lid and boil for 3 hours until firm. Check the water level every now and then and top it up if necessary.
Heat oven to 180C/fan 160C/gas 4. Tip the pudding into a colander to drain and then carefully peel off the cloth and paper. Place the pudding on an ovenproof dish and bake for 15 mins to dry it off and produce the classic skin. Serve sliced with custard, cream or ice cream and a dram of whisky.
---
From bbcgoodfood.com