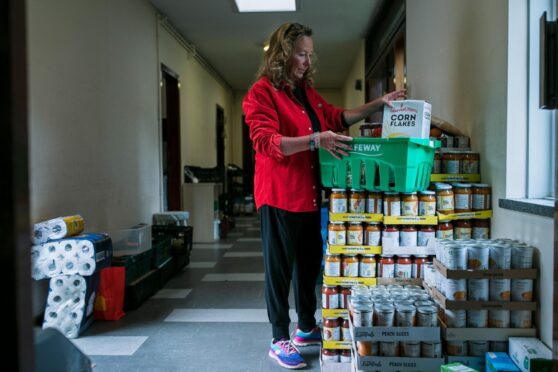 As the cost of living crisis worsens and winter bites, Scots are finding crucial life-changing help far from official channels as a new kind of emergency service delivers support. Here, we speak to just three of them.
Volunteers at a vital community foodbank say that demand is surging with low-paid workers increasing reliant on it to make ends meet, writes Russell Blackstock.
The facility at St Gregory's Catholic Church, in Wyndford, Glasgow, is staffed entirely by unpaid helpers and is open five days a week.
Unlike other foodbanks, St Gregory's does not require users to provide a referral from an agency.
It distributes free bags comprising up to 20 items including cereal, pasta, canned soup, tuna, tinned fruit, long-life milk and eggs. Toiletries, washing powder and washing-up liquid are also available.
Co-ordinator Eileen Low said the number of people seeking help had soared by more than 30% since the pandemic's peak while in the week before Christmas volunteers distributed a record number of bags.
"We have just had our biggest ever week with 219 basic bags being handed out to help more than 500 individuals and families," she said. "It is a grim new record to end the year with for us."
Low said that the foodbank's clientele had also changed since the cost of living crisis started to bite this winter and many more working families were now seeking help.
"When we started out five years ago, we were distributing between 30 and 40 bags weekly and it was usually to the most vulnerable people such as refugees, single pensioners and those with mental health or addiction issues," she explained.
"But now we are seeing more and more parents who have low-paid jobs such as cleaners and hospitality workers coming to us for help because they can't pay the bills and feed their kids at the same time.
"The working poor is a growing sector in our area and the government seems unable to do something constructive about it, so that's where community-based charities come in. We are another safety net for people who are struggling financially and the authorities seem happy to let the likes of us pick up the slack.
"It is obscene that this is happening in this day in age. At times we feel as though we are providing a new frontline service."
Ingrid Mitchell, who lives locally, has been volunteering at St Gregory's for the past three years. She helps to shop for staples and hands out and delivers bags to foodbank users.
The mother of two is a senior cabin crew member with a large airline, serving meals and drinks to passengers on transatlantic routes. She has been shocked by the surge in families seeking assistance from the foodbank.
She said: "Many people feel embarrassed to ask for help but some have no other choice and they now rely on us. I have always been community minded and it is awful to see ordinary people in this situation. Sadly, I can't see this crisis easing any time soon."
---
'We are warm and can offer a respite to what is going on'
No longer just a place to borrow books or study for exams, libraries are introducing a range of activities, clubs and groups to create "warm and welcoming spaces" that people can utilise during the cost of living crisis, writes Alice Hinds.
From movie matinees and craft groups to mindful colouring-in sessions for adults and regular coffee mornings, library leaders say such innovative services provide a vital lifeline for people in the community who would otherwise struggle to find warm, comfortable and, importantly, free places to spend time during winter months.
Ray Pattie, library adviser at Edinburgh Central Library, says the centres have always provided support for communities but new groups have become increasingly popular for people who may feel isolated or worried about spending money while socialising.
"Our users see libraries as safe and reliable spaces," he explained.
"People just don't have the disposable income now for sitting in Costa for hours and hours – that can turn into an expensive week, so they are looking for other things to do outside of the home.
"That's why we're providing things like Knit And Natter, a weekly craft group, and adult colouring-in sessions, too.
"The activities give people an opportunity to still come out and spend time with other people in a warm space but it's more affordable than visiting a cafe. It's an opportunity to meet new people as well. Since I've worked in libraries, it has very much been all about the community."
As well as introducing social groups, many of the Scottish capital's libraries have also added social spaces to encourage people to visit for as long as they like. Replicating a living room with plants, comfortable seating, warm lighting and coffee tables, the areas also have free-to-use jigsaws and board games and a number of libraries have also included self-help guides on topics such as energy and money saving, and cooking on a budget.
Hana Mackechnie, lifelong learning service manager for libraries in Edinburgh, said: "Some of our libraries are open 52 hours a week and you don't need to come for a particular reason.
"We're finding that people want a space where they can spend a little bit longer, and somewhere they can also find signposting to benefits they might be entitled to, or get advice on how to access particular services. If you are a reader, you probably already feel like you're welcome in a library but there's so much more going on and we're trying to introduce more activities."
Every weekday during winter, libraries across Edinburgh are also hosting movie matinees with free teas, coffees and refreshments, giving people another way to keep warm for a few hours.
Acting library supervisor Natasha Gibson added: "We were already providing or about to introduce these initiatives but the situation now has brought more of a need for them and highlighted just how valuable they are for the community.
"People are becoming more aware that, yes, libraries are also a place to come and be social and have a few minutes of respite from whatever is going on in life.
"People do come to the library specifically to chat to people or get a change of scenery and at the moment it's a much-needed place away from home that's warm – both in terms of the physical surroundings and the people that are here."
---
'It is sad to see so many people struggling'
Demand for free furniture, school uniforms and even haircuts is on the rise at a community-based initiative in south-west Scotland, writes Russell Blackstock.
The Furniture Project in Stranraer was originally set up to recycle, repair and provide refurbished household goods at affordable prices.
But the charity, which has more than 20 volunteers and runs two shops, has also turned to providing household items and services for free to families struggling with the cost of living crisis.
"We started running Freebie Friday events that are proving to be hugely popular," said boss Paul Smith. "These include giving away items like furniture and household appliances and demand has been high.
"So many low-income workers who wouldn't normally be struggling are now coming to us because the price of everything has risen so much that they simply can't make ends meet.
"I suppose we are doing what the likes of parish organisations and local authorities might have done in the past."
Other popular services provided by the charity include organising free school uniforms and haircuts for children whose parents are struggling to get by.
"A new school blazer alone can cost between £40 and £50 and if you have three kids in the house, that is a big expense for any family," said Smith. "People can come to our shop and discreetly get a school uniform for nothing, and we run this service all through the school year. We have also started a project involving local hairdressers so that kids can get haircuts for free because, again, this can be expensive if you have a number of children in the house.
"We try to help to make sure that these kids don't feel any different from friends at school who come from better-off backgrounds.
"It is sad to see so many people struggling financially at the moment but I grew up on
a housing scheme that was regarded as being poor and we had to put up with hand-me-downs, so I know what that is like."
The organisation also recycles bicycles and gifts that would usually go to landfill, and sells them cheaply to people once they have been refurbished.
Also, it provides a mentoring service that enables retired people to pass on skills and knowledge to youngsters so that they can find jobs in areas such as warehousing and customer services.
Smith said even middle-income families were now using the project to inexpensively replace big-ticket household items such as fridges, cookers and furniture as the cost of living crisis deepens.
He added: "Previously, you could almost categorise those using services like ours as being among the most vulnerable in our community but the financial pressures are now adding up for people right across the board.
"We are now increasingly helping the sort of folk that we normally wouldn't expect to see."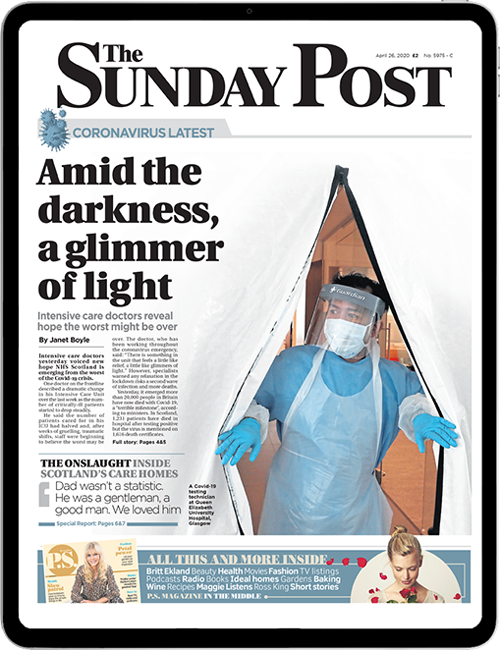 Enjoy the convenience of having The Sunday Post delivered as a digital ePaper straight to your smartphone, tablet or computer.
Subscribe for only £5.49 a month and enjoy all the benefits of the printed paper as a digital replica.
Subscribe