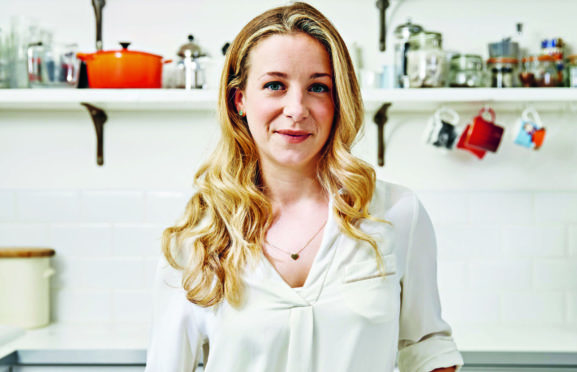 If you invite Rebecca Seal around to your house for dinner, chances are, she'll take a photo of the meal before she even lifts her fork.
But, unlike most devoted foodies, she isn't simply trying to frame the most perfect picture for Instagram.
Instead, the writer documents every tasty, tempting morsel that passes her lips, filling her phone with pictures of brightly coloured curries, glistening pastas and simple salads, which she then uses as inspiration for her cookbooks – including the latest, Happy Fast Food, created alongside restaurant chain, Leon.
"In my day-to-day life I take photographs of the things I eat, whether in someone's house or in a restaurant," explained Rebecca, who has written eight cookbooks and regularly appears as a food expert on TV shows such as Channel 4's Sunday Brunch.
"But they are definitely not for publication or posting – I take really poor pictures, and my husband is a food photographer, so I leave that stuff very much to him – but I like to gather a visual record.
"Then whenever I come to write recipes, I have six months' worth of flavours collected.
"It helps for starting a conversation with myself. I'll think, 'So broad beans and mint were really good together in that dish' or 'I wonder if that restaurant-y starter could be turned into a pasta dish?' or 'So, that was made with butter but maybe I could use olive oil and pasta water for a silky sauce'. It's an on-going process."
Having previously worked on a number of cookbooks with Leon, including the popular Fast Vegan guide published in 2018, Rebecca's latest collection of recipes focuses on the nourishing comfort food we usually enjoy from our favourite restaurants, gourmet food trucks, and independent eateries.
From juicy burgers and stuffed tacos to creamy pasta and thin-crust pizza, the dishes are just the type of food we have all been craving in lockdown, albeit often with a fresh twist that elevates each meal and proves fast doesn't have to mean unhealthy.
And Rebecca admits it's been "quite a privilege" to help bring joy to people's lives through her recipes, which have ultimately been created to make the diner feel happy in a hurry.
She said: "Fundamentally, the ethos that Leon and I share is that we want to make people's lives better, easier and healthier.
"And I think we all agree that eating joyful food is the way into that mindset – we are always looking for food that makes people feel nourished in all the senses of the word."
Each recipe in Happy Fast Food is also labelled with a clever key, outlining whether the recipe is suitable for those with dietary requirements, such as gluten-free, dairy-free, vegan or free-from nuts, and often include suggestions for easy substitutions.
What's more, there's lots of handy kitchen hacks to make cooking easier, which Rebecca describes as her "little cheats", such as using roasted peppers from a jar or pre-cooked pulses to speed up the process of getting food from pan to plate.
And while Rebecca describes creating recipes and writing about food as an amazing dream job, she does admit there are some pitfalls when it comes to developing a new cookbook – something her husband, Steve, knows only too well.
"When we're in the development process, sometimes we have to make the same things over and over again, so it can be a case of, 'Oh great, sweetcorn burgers… again,'" she laughed.
"My husband photographs the food for the books, too, and with the curry book (Leon Happy Curries, 2018) we went almost immediately from me developing the recipes to Steve photographing all the dishes made by food stylists.
"So, there was a four-month period where we really didn't eat anything except for curries. We did get to a point where we were like, 'OK, actually, I need to have a little bit of a break'.
"But we try to avoid food waste and share leftovers with friends and neighbours, which I think they appreciate!"
Leon Happy Fast Food by Rebecca Seal, Jack Burke & John Vincent, published by Conran Octopus, £16.99, is out now.
---
Super fast pizza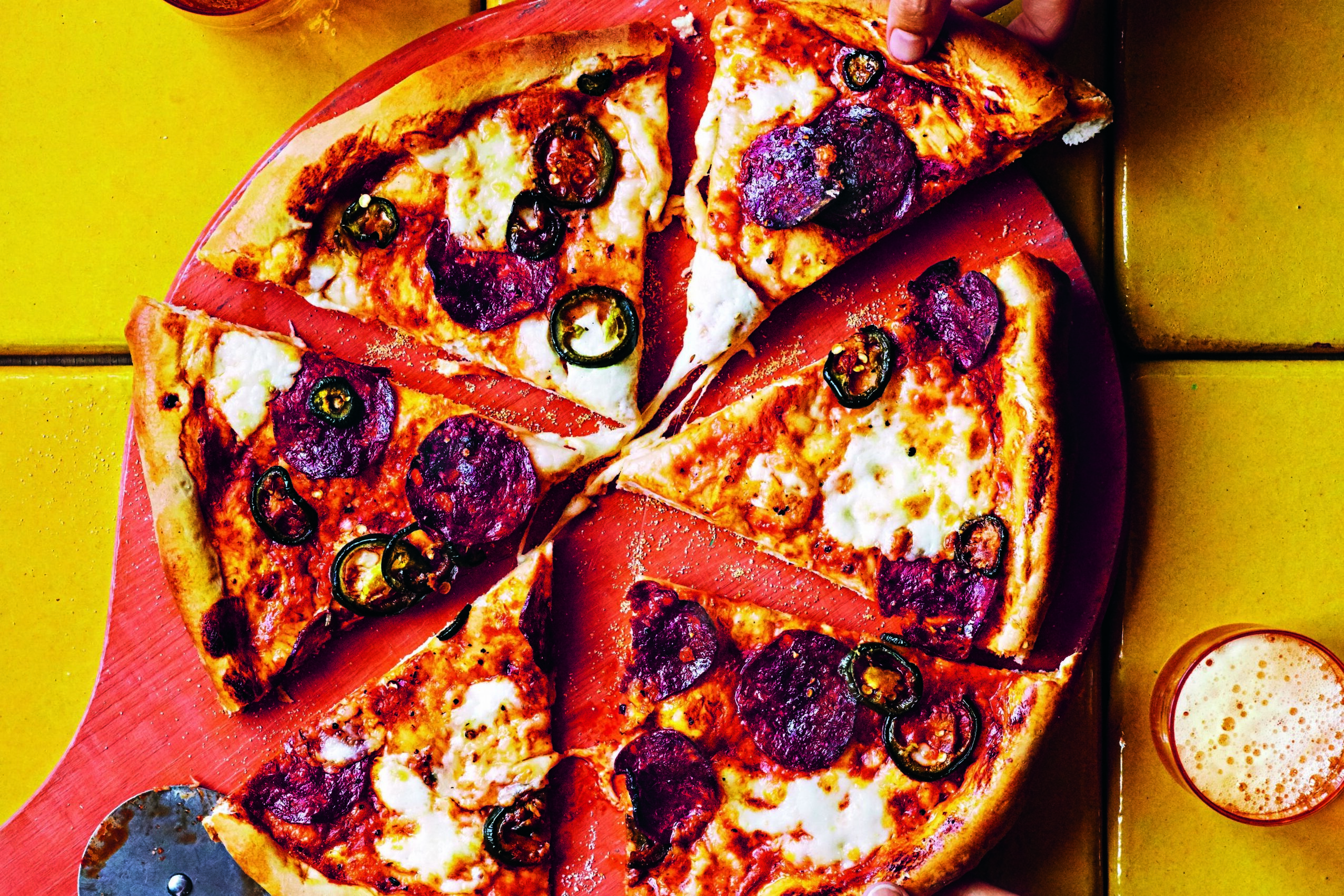 When we heard about pizza with a 10-minute rise, we were dubious, but this really works. The trick is to use fast-acting easy-blend (or instant) dried yeast.
Makes: 2. Cooking time: 20-28 mins.
You'll need:
175ml passata
1 clove garlic, crushed
2 tspn olive oil
Pinch of salt
Pinch of dried oregano
2 balls of mozzarella, drained and sliced or torn into small chunks
Toppings of your choice: sliced chorizo or pepperoni and pickled chilli peppers; goats' cheese with walnuts; artichokes (from a jar) with capers
Polenta/cornmeal, for dusting
Extra-virgin olive oil, to serve
For the dough:
250g plain flour, plus extra for dusting
250g "00" pasta flour
2 tspn fast-acting easy-blend dried yeast
1 tspn caster sugar
1 tspn salt
250ml warm water
1½ tbsp olive oil
Method:
As early as possible, heat oven to its highest setting and place a pizza stone or a couple of upturned baking trays in to heat up.
Mix together the dough ingredients with a spoon in a large bowl. Then knead with your hands for 5 minutes, into a smooth, elastic dough. Place back in the bowl and set aside somewhere warm for 10 minutes. It should feel slightly puffy when ready.
Make the sauce by mixing together the passata, garlic, olive oil, salt and oregano. Prepare any toppings.
When ready, divide the dough into two equal balls, then either stretch one out, using your knuckles under the dough to gently shape and thin the dough, or roll out into a 30cm disc (rolling means less to no crust, so stretching is better, but requires practice; ours are often a bit wonky).
Remove the hot stone or one of the baking trays from the oven and dust it with polenta/cornmeal. Slide the dough base on to the stone using your hands and a large spatula.
Working fast, use the back of a spoon to smear 3–4 tablespoons of sauce very thinly over the base (too thick and the base will be soggy). Dot the cheese sparingly over the sauce and add any remaining toppings over the top.
Cook for 10–14 minutes.
Remove from the oven and check the base is firm and pale gold. Transfer the pizza to a board, before repeating with the remaining dough and toppings.
The crust may be crunchy, so we like to brush it with a little extra virgin olive oil before serving.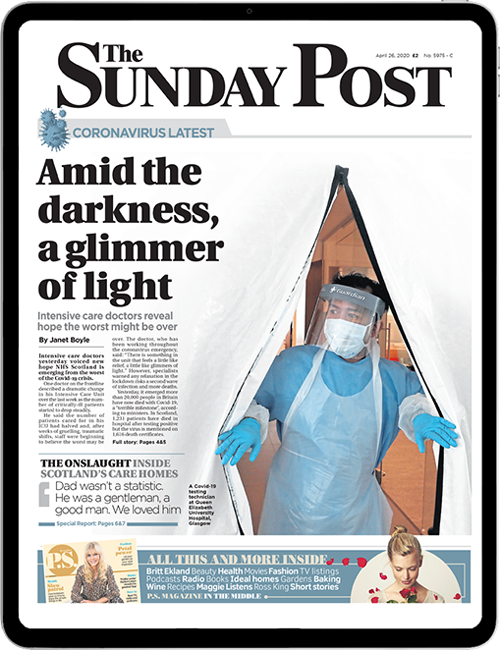 Enjoy the convenience of having The Sunday Post delivered as a digital ePaper straight to your smartphone, tablet or computer.
Subscribe for only £5.49 a month and enjoy all the benefits of the printed paper as a digital replica.
Subscribe