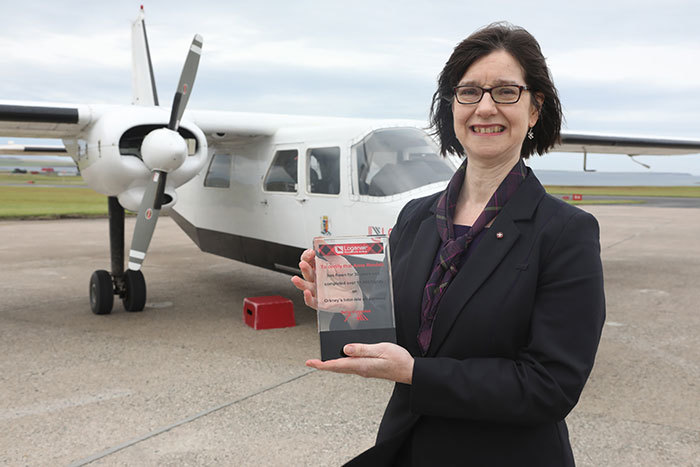 Every week Royal Bank of Scotland flying banker, Anne Rendall, embarks on a whistle-stop tour of Scotland's islands, bringing vital services to the country's most remote communities.
It's a busy Monday morning, and Anne Rendall is waiting at one of Scotland's smallest airports to begin her first shift of the week.
The Loganair flight from North Ronaldsay to Papa Westray will be the first of many for Anne. Over the coming five days she will ping-pong between islands at the very northern fringes of British Isles, stopping for a few hours here and there to meet Royal Bank of Scotland customers and deliver their banking needs.
Over the course of a typical week, Anne – the UK's only full-time "flying banker" – will hop on one of Loganair's eight-seater Britten-Norman Islander flights at least nine times, to take her unique services to the most remote areas of the country.
"I don't think of the journeys in terms of miles," she says, eyes scanning the skies for the arrival of her morning flight, taking her the short journey from North Ronaldsay to Papa Westray in a mere eight minutes.
"The distances between the islands are short, so getting from place to place doesn't take too long."
Indeed, Anne's shortest trip is the briefest flight in the world, according to the Guinness Book of Records. The 1.7 mile distance between Westray and Papa Westray officially takes two minutes, but if the wind blows in their favour, Anne's flight touches down in 47 seconds.
Anne has been doing the job for 30 years and notched up 11,000 flights, bringing a vital banking service to customers living and working in the country's most distant locations.
"Customers are very grateful that I keep coming out to see them in their own communities," says Anne, 59. "I've been able to get to know people well and help them face to face with their banking needs.
"I've been doing it for so long, that I now see people's children and their grandchildren too!"
A typical week sees Anne dart between a chain of northerly islands. On a Monday she heads to Longhope on South Walls via ferry, flies from Kirkwall Airport to Stronsay on Tuesday, Westray on Wednesday and Sanday on Thursday before finishing off the week on the mainland at Orkney's Stromness.
Today's jaunt to North Ronaldsay and Papa Westray is her 'once a month' drop in, to help locals with deposits, withdrawals, and banking support – from delivering foreign currency to offering help with online services.
On each island she serves around 40 to 50 customers, from crofters to fishermen, plus those serving the tourist industry by running B&Bs.
"The service has changed a little over the years thanks to the onset of online and phone banking," says Anne. "But it's important for customers to receive the 'personal touch'.
"They can come to me and pay in some cash or withdraw some, and I can give them change, advice and answer any queries.
"I really enjoy having this personal link with customers, and they really appreciate the service."
The job has its perks too, she adds. "I regularly look out of each of the island bank office windows to see a family of seals playing in the waves, or stretched out sunbathing on the beach, something that is special and unique to the mobility of my role."
The flying banker role was launched in 1969 by Mary Muir, who did the job for almost 20 years before handing over to Anne in 1988.
It seemed almost right that she took on the role – years earlier her great-uncle skippered the island's floating bank service, taking the teller from port to port to carry out his duties.
Anne's work in helping islanders bank led to her receiving an MBE in 2010, and more recently she received a specially engraved glass plaque commemorating her many flights, from Loganair pilot Colin McAllister.
"I've thoroughly enjoyed the last 30 years hopping across the islands," she adds. "Every day is different and the views on my daily commute never get old.
"It really is a privilege to be the UK's only flying banker and take a commute like this to work each day and help so many people and communities."
The flying banker service is just one of many ways Royal Bank is meeting the needs of its customers. The bank has appointed a team of Community Bankers who travel to towns and villages across the country, bringing banking services to libraries, coffee shops and community centres.
Royal Bank are committed to bringing banking services, support and advice to people who might not otherwise be able to reach a branch – its 21 mobile branches stop off in dozens of rural locations every day.
It's all in addition to the bank's market leading app, online service and many other ways to bank.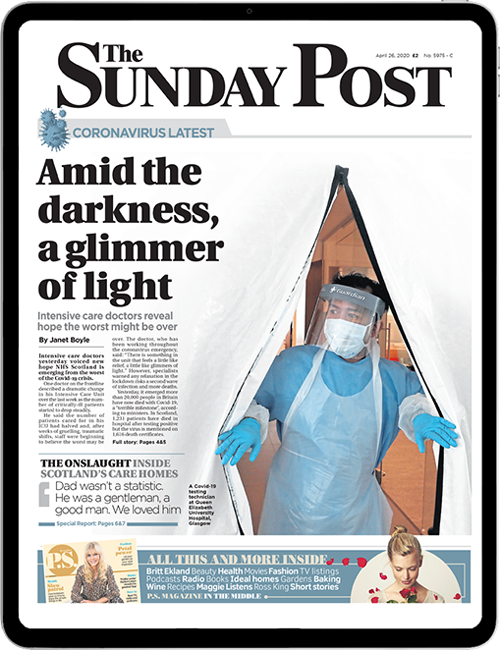 Enjoy the convenience of having The Sunday Post delivered as a digital ePaper straight to your smartphone, tablet or computer.
Subscribe for only £5.49 a month and enjoy all the benefits of the printed paper as a digital replica.
Subscribe