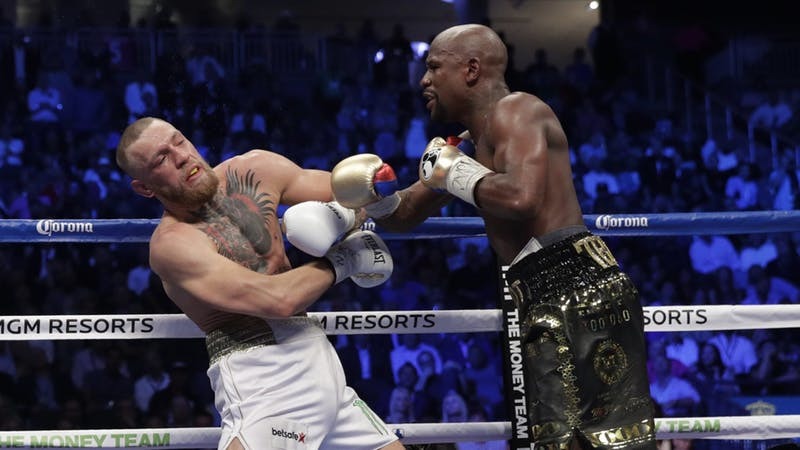 FLOYD MAYWEATHER won for the 50th time in his decorated career when the fantasy fight with Conor McGregor proved a mismatch and he stopped the Irishman in 10 rounds in Las Vegas.
The American has long vowed this would be his final fight, but even at the age of 40 and after almost two years of inactivity he showed few signs of decline in outclassing McGregor, who at the T-Mobile Arena was making his professional debut.
As had always appeared almost certain to be the case when interest in a match-up between the highest-profile figures from boxing and the UFC began building over a year ago, McGregor simply proved levels below perhaps the finest fighter of the modern era.
https://www.sundaypost.com/sport/floyd-mayweather-praises-conor-mcgregor-after-beating-ufc-fighter-in-las-vegas/
He remained game and began with confidence, but as with Mayweather's opponents in his other 49 fights, swiftly learnt his skills were hugely inadequate as he became the first fighter to be stopped by him since Victor Ortiz in 2011.
McGregor's greatest chance of success came in using his superior size and weight – he was 3.5lbs heavier at Friday's weigh-in and bigger still in the ring – to smother Mayweather, set a high pace and deny him the time and space with which he excels.
A potential awkwardness at not having boxed professionally could also have threatened the American's ability to read and time him as quickly as he had so many others, but that never proved the case and by the fourth he was taking control.
Beyond a reasonable left uppercut in the opening round as Mayweather chose to analyse his unusual opponent – who repeatedly switched his stance – the punches he threw proved how unsuited he is to boxing at this level and how the two should never have shared a ring.
A recurring theme throughout the fight began in the second, when referee Robert Byrd had to warn McGregor for punching behind the head. Mayweather's defence nullified any potential sting in the Irishman's punches and then responded with two sharp right hands of his own.
Fans who stayed up for Mayweather v McGregor were made to wait just a little bit longer
McGregor's renewed aggression at the start of the fourth was swiftly turned against him as Mayweather began to read him, landing another big right on the counter after ensuring another remained out of range.
Thereafter, uncharacteristically he turned aggressor, attempting to walk his opponent down in a way he last regularly did while fighting at a far lighter weight.
In a farcical sixth-round moment Mayweather was turned and McGregor again went without punishment for punching behind the head, but by its conclusion he was showing significant signs of fatigue and unravelling amid numerous further right hands.
Any respect the American may have had for his opponent's threat disappeared at the same rate McGregor tired, his sense of distance ensuring the biggest question became how long the 29-year-old would survive.
https://www.sundaypost.com/sport/lennox-lewis-says-conor-mcgregor-has-nothing-to-be-ashamed-of-in-defeat/
A low blow in the ninth on Mayweather also went unpunished, but he then similarly took advantage of McGregor's lack of form to continue landing with the jab and right to leave him desperately clinging on.
The inevitable conclusion followed in the 10th when, with the stumbling McGregor unable to avoid Mayweather's sharp accurate right hands, Byrd finally showed some conviction to rescue the resilient Irishman and wave the action over after one minute and five seconds.
Stars of UFC, boxing and WWE were full of praise for Conor McGregor despite his defeat
With victory, Mayweather's record surpassed that of the great Rocky Marciano by improving to 50-0.
He has earned so much money that, particularly with the minimum £78million he is reportedly guaranteed from defeating McGregor, he should never need to fight again.
McGregor's minimum reported purse of £23million also represents his biggest day, but even despite this one-sided defeat his popularity within UFC means he can swiftly fight within it again.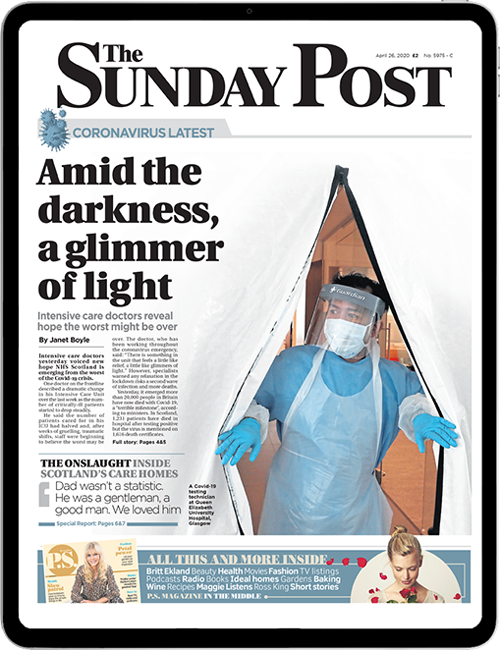 Enjoy the convenience of having The Sunday Post delivered as a digital ePaper straight to your smartphone, tablet or computer.
Subscribe for only £5.49 a month and enjoy all the benefits of the printed paper as a digital replica.
Subscribe