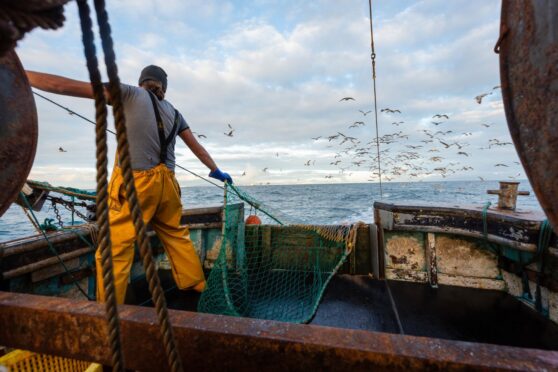 One year after Brexit, Scotland's fishing industry is still mired in chaos, leaving many businesses fearing for their future as deliveries to Europe continue to be snarled in costly red tape and delays.
When Britain left the European market last January, increased customs bureaucracy caused massive tailbacks at ports, leaving fish rotting in lorries and pushing smaller firms close to the brink.
Embattled business ­owners and industry leaders warn that, 12 months later, they were still being throttled by administrative costs.
In the wake of Brexit, the British and Scottish governments joined with industry leaders to set up the Scottish Seafood Exports Taskforce, but Scottish Government minister Mairi Gougeon, who was involved in the group, has admitted its efforts had been futile.
Allan Miller, director of AM Shellfish, near Aberdeen, said exporting costs to the EU for lobsters, clams and crabs have ballooned, leaving his business struggling to stay afloat.
"Brexit is continuing to cost us a fortune," he said. "Increased customs and health checks saw our transport costs soaring to more than £5,000 a week and we had to invest tens of thousands of pounds just to keep up with the changes.
"This is money we and many other businesses who had to do the same will never get back.
"We have only survived through ingenuity and hard work and if we hadn't done that we would have been finished.
"The whole exporting process needs to be streamlined and costs brought down or many smaller seafood businesses will have to stop delivering to Europe altogether."

Jimmy Buchan, chief ­executive of the Scottish Seafood Association, said Brexit had hit smaller firms hard. "Deliveries to Europe are now flowing well and more salmon has been exported than pre-Brexit and Covid levels," he said. "But, while larger firms have been able to absorb the extra costs, many smaller businesses are struggling to cope."
Prior to Brexit coming into effect, between 2016 and 2019 three-quarters of all Scotland's seafood exports went to the EU, equating to up to £700 million in sales.
Prime Minister Boris Johnson's government claimed Brexit would benefit the UK fishing industry by more than £148m by 2026 – but analysis by a former lead negotiator for the UK during the EU fishing deal with Norway suggested the sector would be worse off by £300m over the same period.
Westminster promised an extra £23m to assist with fishing industry "teething problems" that were worsened by the Covid-19 pandemic. And, last month, Scots firms were promised a "bright future" with the announcement of a £75m investment by the UK Government aimed at modernising the industry across the four nations and attracting more people into skilled jobs.
It was the latest instalment of a £100m UK Seafood Fund, which is designed to create more opportunities for coastal communities across the country.
However, Donald Maclean, managing director of Hebrides-based seafood exporters Barratlantic, said exporting costs needed to be brought down significantly. He explained that his firm had to open a distribution office in Boulogne, France, to co-ordinate deliveries to customers on the continent.
Increased red tape means every box of fresh seafood and salmon must be offloaded from lorries and inspected by vets before they leave Scotland, a process that can take hours.
"The new export systems mean it doesn't make economic sense to send smaller individual deliveries to Europe like before, as these now cost the same as large consignments to process," he said. "As a result, we now bundle smaller orders together in the same consignment then have our new office in France take care of getting the goods to customers from that end. The costs of Brexit are ­astronomical and I feel for smaller suppliers who are struggling."
Fishermen's leaders and wholesalers have warned that European customers will simply take their business, worth more than £1 billion a year to Scottish firms, elsewhere. Their warning was yesterday confirmed by one Barcelona-based seafood importer.
Luis Beaus, international buyer for Spanish wholesale fish company Arofish S L, told The Sunday Post that a reduced supply from exporters in Scotland had impacted his orders from the UK.
The company, which ­supplies restaurants, supermarkets and hotels, is importing 800kg per week of crayfish from Scotland – slightly less than before Brexit.
"Brexit has not helped as it slows things down with messenger services and it does create more bureaucratic problems," Beaus said.
Scottish salmon disappeared from the menu at Amicis Restaurante in Madrid last year as a result of Brexit chaos – and has not returned.
When Brexit threw supplies from Scotland to Europe into chaos, owner Maria Maisey started to look elsewhere to buy her fish. "It is mainly just cost now," she said. "Scottish salmon is much more expensive and Norwegian salmon is good quality and cheaper."
Angus MacNeil, MSP for Na h-Eileanan an Iar, covering the Outer Hebrides, called for urgent action to protect the fishing industry. "Our seafood exporters are still facing a wall of bureaucratic nonsense to get their goods to Europe," he said. "It is a nightmare for the smaller firms and many are just clinging on. Some have told me that their export costs have trebled in the past year.
"We need greater digitisation of our export checking systems and have them working together instead of against each other."
The Scottish Government pointed out that it provided support through the Seafood Producers Resilience Fund to more than 800 vessels and 26 aquaculture businesses impacted by Covid-19 and Brexit. It also contributed to an industry taskforce, which has now disbanded.
Rural Affairs Secretary Gougeon said, however, that efforts had been in vain. "We have done all we can to mitigate the impact of Brexit, which was pursued, despite the Covid-19 pandemic," she said.
"The UK Government, with their bad Brexit deal, chose to impose these extra burdens on business at a time of unprecedented challenge.
"Salmon Scotland reported losses of at least £11m in January 2021 as a direct result of the changes brought about by Brexit, with an estimated £200,000 a month spent on extra paperwork alone.
"In spite of businesses ­ putting in huge amounts of preparation for the new export health certificates introduced this year, there remains uncertainty surrounding the level of certification needed to ensure valuable seafood exports enter the EU without delay.
"We continue to press the UK Government to resolve these issues with the EU Commission as a matter of urgency."
She added: "The Scottish Seafood Exports Taskforce, which was led by the UK Government, met between February and July 2021. Despite our efforts, it was futile but we still pushed for it to continue to ensure we could still hold the UK Government to account on these issues."
The Department for Environment, Food and Rural Affairs insisted it would continue to support the seafood and fishing sector to resolve ongoing export challenges.
And UK Government Minister for Scotland Malcolm Offord, who chairs a new Scottish seafood industry action group, last night said it was committed to ensuring the seafood sector could "maximise the opportunities presented by our new status as an independent coastal state".
"Fishing is a touchstone ­industry in Scotland and its products, hard-won from our pristine waters, have a global reputation for quality," he said.
"I know from extensive engagement across the full range of the sector – from deep-sea to inshore, from scallop and langoustine boats to salmon farmers, trawler crews, to processors – that this is an industry which innovates and adapts. We are determined to help them get their products from port to plate both here in the UK and further afield."
Fisherman: Buyers in Europe are crying out for our seafood but can't get it. It needs sorted out
Langoustine fisherman Kirk Doig started doing home deliveries after exports to Europe crashed following Brexit.
The 33-year-old trawlerman from Anstruther, Fife, set up Carisma Seafoods after the costs of exporting to the continent soared.
"We had a very good market in Europe, then the costs of customs checks, fuel and insurance went up dramatically," he said. "As a result, I started the home delivery business but that marketplace has now become crowded.
"I am back exporting again to Europe, but with the extra costs involved we are just scraping by when we used to make a good living," he said.
Doig said another problem was that in the wake of Brexit, fish processors are struggling to find suitable workers from Europe. He explained that seafood prices are also down significantly because Covid has reduced demand, with fewer people dining out on the continent. "Our prices are down by about 25% so profits just now are very low," he said. "Customers in France and Spain are crying out for our stuff but they are having difficulty getting it on time which is leading them to look elsewhere for supplies."
Doig said that the knock-on effects for other local businesses were also of concern, especially in Scotland's coastal communities. "For every one man at sea, there are five back on land who are dependent on him," he said. "There isn't really any other industry where I live so this situation is affecting a lot of livelihoods.
"We need this to be properly sorted out – and quickly.'
Our industry will survive but we are navigating choppy waters
by Donna Fordyce, Chief executive of Seafood Scotland
What has become clear is that no part of the industry has been left untouched by the Brexit changes.
The added effects of the pandemic have created a perfect storm, from labour shortages to new export processes, almost every individual and organisation involved in Scottish seafood has been hit hard.
Further changes to export health certificates came into force this year, creating further challenges. These require the majority of salmon products to be signed off by a veterinarian before the consignment can be approved for export, but there is already a shortage of vets – and we don't yet know how this gap can be filled.
Increased costs are also a burden; packaging has increased by 50% since Brexit. As a result, smaller companies, already hit the hardest by the additional costs, have had to refocus on the domestic market.
Labour shortages remain one of the biggest concerns for Scottish seafood providers. Before Brexit and the pandemic, Eastern Europeans represented 52% of the overall Scottish seafood workforce. Rural communities with limited local populations relied even more strongly on imported labour, with up to 92% of the workforce coming from the EU. Since Brexit, the number of EU citizens coming to work in Scotland's seafood sector has also been on a downturn, compounded by others going home because of Covid. And the UK Government's strict immigration policy post-Brexit is stopping new arrivals. As a result, we are seeing an average of 20-25% vacancies left unfilled throughout the industry.
Thankfully we have been told that the shortage occupation is to be reviewed this year, and we are working hard as a sector to have seafood processing added. That would have an enormous, positive impact on our ability to bring people into Scotland.
Ultimately, we know the Scottish seafood sector will survive the challenges brought by Brexit and Covid.
With vital support from both the public and private sectors, we must focus on accelerating new processes, including automation, while maintaining the same high-quality seafood as before.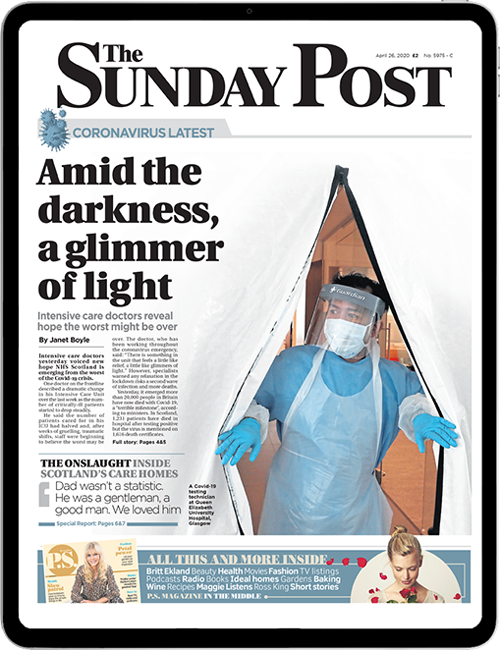 Enjoy the convenience of having The Sunday Post delivered as a digital ePaper straight to your smartphone, tablet or computer.
Subscribe for only £5.49 a month and enjoy all the benefits of the printed paper as a digital replica.
Subscribe