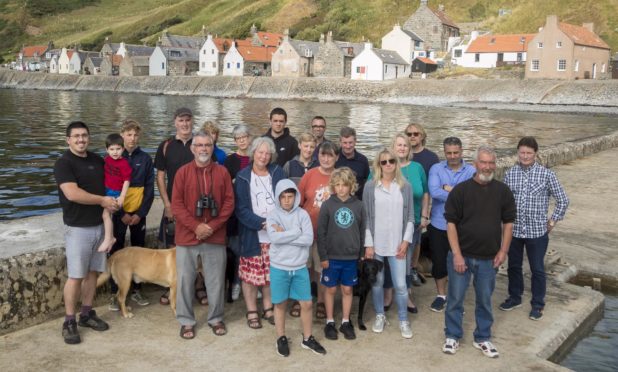 Coastal villagers left reeling after their only access road was closed for a year have revealed their pier has also suddenly been shut.
The tiny conservation coastal village of Crovie on Aberdeenshire's Dolphin Coast is up in arms after the Queen's Crown Estates Scotland (CES) closed its historic pier as officials say it is "too slippery".
Residents say the pier is cleaned regularly, but officials from Crown Estates swooped without warning, bolting barriers into the stone pier described by residents as "the beating heart of the community".
The move comes just months after the road finally reopened in October last year and just a few years after CES paid civil engineering firm George Leslie £292,000 to repair the pier.
Contractors wrote shortly after that they had "restored a dilapidated, derelict, Crown Estates facility back to full use."
Sea plane instructor and adventure flyer, Hamish Mitchell, who has landed his aircraft close to the pier near his holiday cottage, said: "This is almost too stupid for words.
"Are they going to close all the beaches in Scotland because the rocks are too slippery?"
Holiday home resident Ruth Blanksby added: "The situation is so disappointing.
"They are spoiling the village for residents and tourists."
Crovie Preservation Society chairman Darren Wiseman said: "A lot of people use the pier, and not just for boats. The sheer amount of tourists who use it is staggering.
"A lot of folk fish from it, people go down for a photo, and to watch the amazing sunsets. The pier makes the village."
A spokesman for CES said: "An increased health and safety risk arises out of evidence that suggested people were using the pier coupled with increased algae growth, making the surface dangerous to walk on.
"We will continue to monitor the condition of the pier and in the meantime we're happy to discuss the future management of the pier with any party interested in taking on responsibility for day-to-day management."