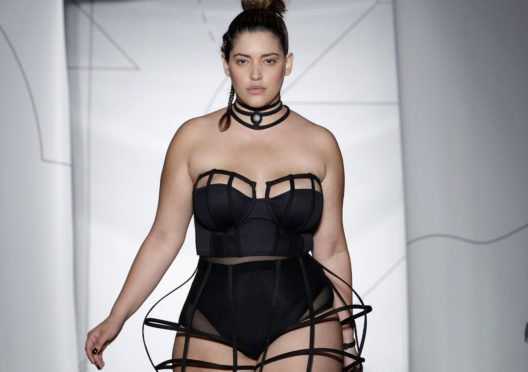 A new exhibition at the National Museum of Scotland will examine and explore alternative ideals of beauty in the modern age.
The first of its kind in the world, the exhibition will look specifically at how today's fashion industry is challenging perceptions and championing different ways of looking at beauty on the catwalk, in advertising, editorial and behind the camera.
Body Beautiful: Diversity on the Catwalk will explore how fashion creatives are embracing inclusivity and body positivity by looking at five key themes including size, gender, age, race and disability.
Visitors will learn how the industry is calling into question existing practice, and why it must address diversity from the inside out to reappraise contemporary ideals of beauty.
Recent fashion seasons have seen the most racially diverse, size diverse and gender-inclusive fashion shows in history, with brands like New York's Chromat leading the way.
In London, Teatum Jones chose not to stage a runway show at all for its spring/summer 2019 Round Table not Runway presentation, and instead brought fashion leaders and activists together for a discussion on the industry's responsibility to better reflect society.
On display will be catwalk ensembles from designers including Ferragamo, Pam Hogg, Ashish and Jean Paul Gaultier, brought to life through film, photography and fashion publications.
Highlights include a camel coat and matching hijab from Max Mara's AW17 collection which were worn on the catwalk by Somali-American model Halima Aden. She was the first hijab-wearing model to walk the international high-fashion catwalks.
Also on display will be a bustier from Chromat's SS15 collection. The piece was modelled by Denise Bidot, who made history as the first plus-size model to open a straight-size show at New York Fashion Week.
When Belgian designer Dries Van Noten showcased his 100th collection in March 2017, he staged a reunion of 54 models of all ages who have walked for him from 1993 onwards. A look from this collection will be on show, contextualised by original catwalk imagery, provided by pioneering fashion photographer Chris Moore, who is still working at the age of 85.
Georgina Ripley, Senior Curator of Modern & Contemporary Fashion & Textiles at National Museums Scotland said: "Diversity has become a key talking point in the fashion world in recent years, and Body Beautiful will be the first exhibition to examine the various ways in which the industry is addressing body positivity.
"With more and more designers incorporating ideas around inclusivity into their work, attitudes are shifting, making this a particularly exciting time in fashion."
---
Body Beautiful: Diversity on the Catwalk, National Museums of Scotland, 23 May – 20 October 2019