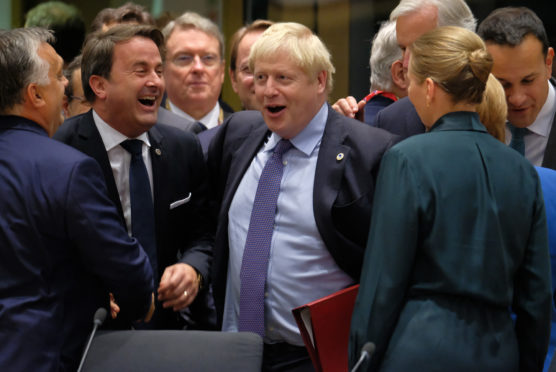 Political opponents and Remain campaigners yesterday welcomed the added time to scrutinise Boris Johnson's proposed Brexit deal.
First Minister Nicola Sturgeon said his "contradictory" promises to both Labour MPs and hardline Tory Brexiteers in the European Research Group could now be "subjected to real scrutiny".
Johnson had hoped his deal could be drive through the Commons yesterday after he confounded critics by securing a deal with Brussels on Thursday.
But after MPs voted to delay approval until all necessary legislation was in place, the Prime Minister now faces having to ask the EU for a three-month delay to Brexit. He previously said he would rather "die in ditch" than ask for an extension.
After the result was announced at Westminster, First Minister Nicola Sturgeon tweeted: "Excellent – Johnson's losing run continues and, more importantly, his contradictory promises to the ERG and Labour rebels, and his bad deal
overall, can be subjected to real scrutiny."
She added: "PM sounding deflated and defeated – he knows this is a severe blow to his plan to bludgeon his bad deal through."
Labour's Shadow Scottish Secretary Lesley Laird said:"Today MPs have given a clear signal to Boris Johnson that they don't trust him or his Brexit deal. He must now obey the law and seek an extension to Article 50.
"Time and time again, we have been told that the best way to get Brexit done is to vote for a deal. That is a false choice and by voting for Boris Johnson's deal, we would have opened the door to a decade of negotiations leading to deregulation and a trade deal with Donald Trump.
"This deal was a sell-out that would lead to a sell-off."
But Scottish Conservative leader Jackson Carlaw accused the SNP and Labour of "shameful and short-sighted tactics". He said: "People will be furious that opposition MPs have again conspired to frustrate this process.
"They don't care about respecting the will of the people – they give the clear impression that they are motivated simply by their own particular political ambitions. MPs need to knock their heads together and vote for the legislation next week which will ensure the UK leaves the EU in an orderly way and on October 31."
If Johnson's Brexit deal is passed, it will mean that the UK will no longer be tied to EU regulations on workers' rights. On Friday night, he tried to secure the support of Leave-minded Labour MPs by promising a workers' charter.
But Scotland's trade unions have warned that his Brexit deal would have a devastating impact on the future of their members.
Theresa May's rejected deal agreed to maintain EU standards on workers' rights, environmental standards and consumer protections, but was rejected by parliament three times.
Johnson's non-binding deal, which can be changed at a later date, only promises to "uphold the common high standards applicable". The reference to "non-regression of labour and social standards" in May's agreement has also been removed from Johnson's deal.
STUC deputy general secretary Dave Moxham said: "There is little doubt that Boris Johnson wants to reduce environmental protections and take away hard-earned employment rights.
"Many rights are at risk including health and safety rights, properly-paid holidays, protections for agency workers and protections from some forms of employer discrimination.
"Johnson has said he wants to create a low-regulation tax haven. In this, he will find a willing ally in the US President. As the true impact of Brexit unfolds, we will need a complete reversal of Tory austerity. This will entail massive investment to drive forward growth and a campaign to protect and improve workers' rights."
Louise Gilmour, GMB Scotland's senior organiser for manufacturing and commercial services, said: "Workers are being asked to trust that the Tory government have honest intentions on these rights which include protection from discrimination, working time rules and holiday benefits.
"The reality is that attacking these rights is one of the key objectives of the hard-right's pursuit of Brexit and this is not a Prime Minister, or a government, that workers can trust. GMB Scotland has said consistently there is no good Brexit for Scottish workers, and on workers' rights Johnson has simply made a bad deal worse."
The vote by MPs yesterday was welcomed by the Scottish Chambers of Commerce.
Chief executive Dr Liz Cameron said: "We must not come out of the EU without a deal on October 31. But nor can we continue in this endless cycle. More delay hurts business
planning and confidence and is, frankly, damaging to the UK's reputation on the global stage.
"Nevertheless, as frustrating as it would be to many in business, a short extension to unlock a comprehensive solution and a smooth transition is still infinitely preferable to an overnight economic shock on Halloween.
"We urge parliamentarians to find their resolve and seek a consensus quickly. Unless there is an answer to this three-year Brexit mess, companies and the economy will
continue to suffer."
---
We must get it done and move on

Shoppers in Glasgow yesterday
As MPs put the brakes on the Prime Minister's drive for a deal, shoppers at the Italian Centre in Glasgow's Merchant City said enough was enough.
Jen McAdam, 30, a lecturer from Lenzie, said: "I was against Brexit but we have made our bed and now we have to lie in it.
"I think most people are frustrated by the whole process. It needs to be concluded so we can move on."
Fiona Shepherd, 50, an early years practitioner, of Galashiels, and husband Graeme, 50, a police officer, both felt frustration at the lack of a conclusion.
Fiona said: "I did not want Brexit but it was a fair vote. It has taken so long and I think a lot of people have lost faith in politics as a result.
"I don't think there should be a vote and then politicians just push for the decision they want."
Mark Evison, 58, a chef of Partick, Glasgow, said: "I think many people voted for Brexit without really knowing what it was.
"I think there should be another vote, a people's vote, as I think removing ourselves from Europe would be a big mistake. I think a second vote would put things to bed."
Donald Macdonald, 68, a retired computer programmer of Stornoway, said: "I approve of Brexit and my feeling now is that we need to get it done.
"Some say we didn't know what we were voting for but I thought it was a no-deal Brexit.
"Let's bring negotiations to a head."
Maddy Miller, 43, a tour guide from Glasgow's West End, said: "Things need to be concluded one way or another.
"With every date that passes it undermines what people voted for and it undermines democracy."
---
You can ask….but you might not get, warns Leo
The Irish Taoiseach Leo Varadkar yesterday warned there was no guarantee the EU would grant an extension after Boris Johnson postponed a vote on his proposed deal.
In a statement, Varadkar said: "The EU and UK agreed a Withdrawal Agreement on Thursday that defends Ireland's interests. The Commons voted today to defer a decision on whether or not to ratify that agreement. To date, no request for an extension has been made by the UK Government.
"Should that happen, President Tusk will consult all 27 heads of state on whether or not we will grant one. Extension can only be granted by unanimity."
The EU urged Boris Johnson to explain what he will do next after defeat in the Commons.
The EU Commission said: "It will be for the UK Government to inform us about the next steps as soon as possible."
The EU's Brexit co-ordinator Guy Verhofstadt said his Brexit steering group would be considering the implications of yesterday's vote.
Polish Prime Minister Mateusz Morawiecki said yesterday's defeat in the House of Commons simply delays the approval of Johnson's deal, and he tweeted: "We will support a positive approach on EU level to Boris Johnson government proposal.
Avoiding chaotic, no-deal Brexit should be our top priority."
The Prime Minister of the Czech Republic Andrej Babis urged the UK to "clarify further steps as soon as possible".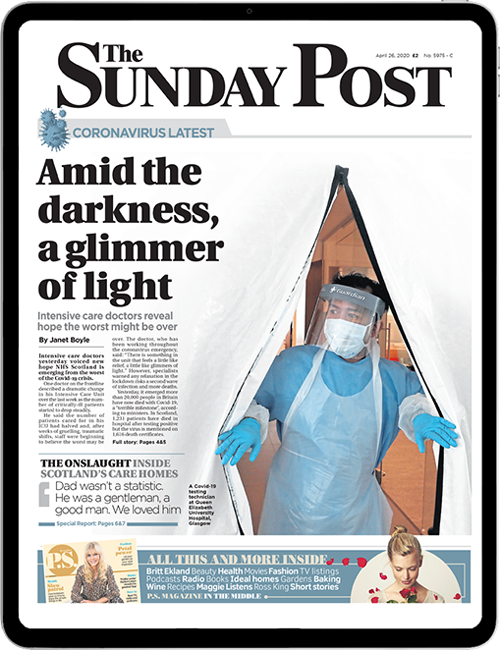 Enjoy the convenience of having The Sunday Post delivered as a digital ePaper straight to your smartphone, tablet or computer.
Subscribe for only £5.49 a month and enjoy all the benefits of the printed paper as a digital replica.
Subscribe