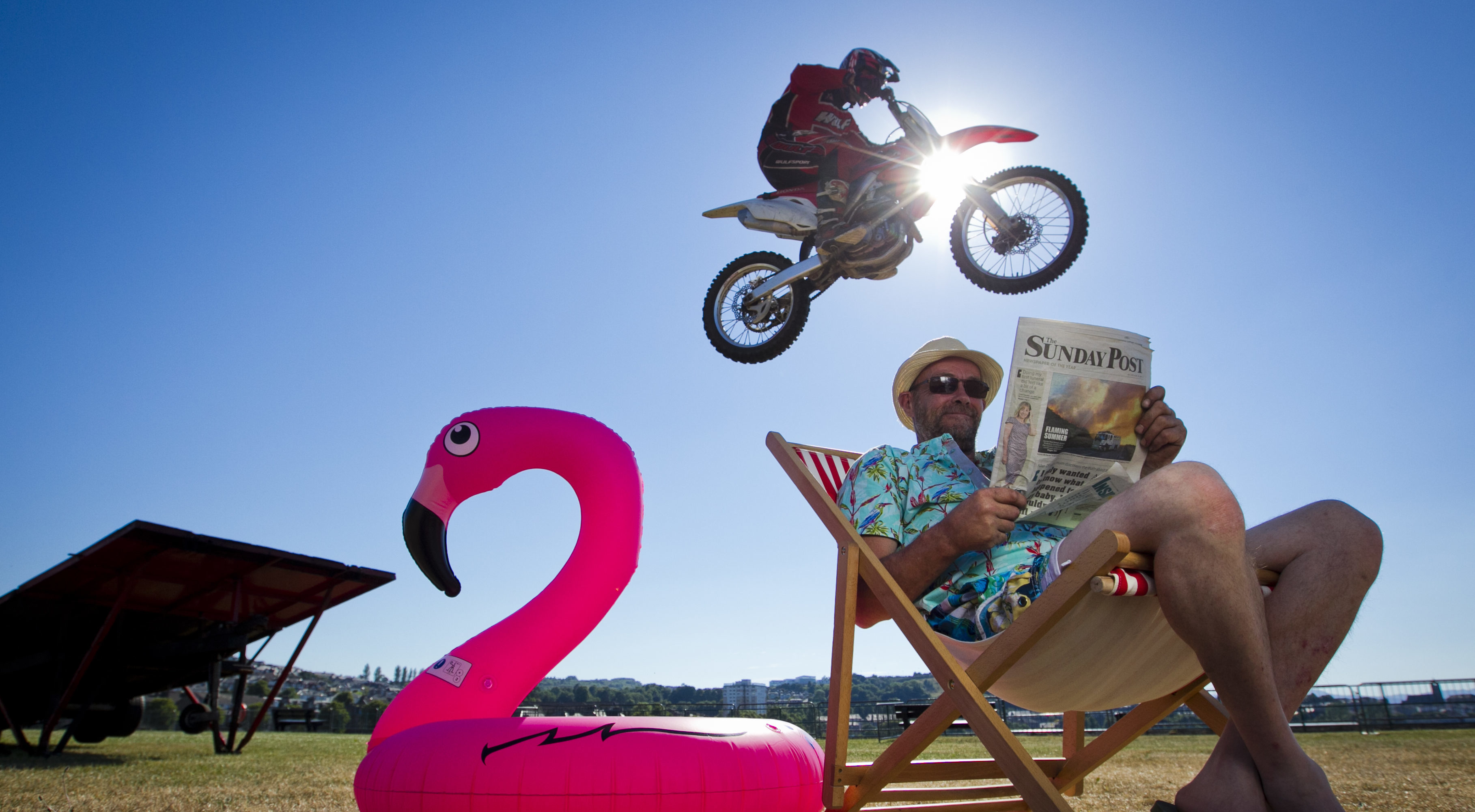 MIKE Abernethy goes to work every day and sets himself on fire.
But the stuntman is boiling mad – about Scotland's heatwave.
Mike has been performing with Scott May's Daredevil Stunt Show for the past decade.
The ex-soldier's act includes a "full-body burn" – being drenched in petrol and set alight.
But Mike has been unable to handle the recent hot spell.
"I actually hate the heat. This weather can be a nightmare for someone like me," said Mike.
"I'm wearing seven layers of protective clothing, including a firefighter's suit.
"It got very hot at our last show and I ended up with heatstroke.
"I ended up lying awake with a migraine until 2am afterwards, it was horrible! I had to tell the boss I was taking a day off after that. Sometimes it's just too hot, even for me."
Mike is touring Scotland until the end of the month with the stunt show, performing his daredevil stunts including the "full-body burn" and another trick which sees him set on fire and dragged around a car park by a vehicle.
"If you've seen the scene in Raiders Of The Lost Ark where Harrison Ford is dragged along by a truck, it's a bit like that. Except, unlike Indy, I'm on fire!"
Although he wears fireproof clothes, Mike admits that it's still a dangerous affair – and he has the
scars to prove it.
"I've been injured a few times," he explained. "One time my protective glove came off and I burned my hand.
"Another time my visor popped open. It was just one of those things that happen for seemingly no reason."
It wasn't until the age of 40 when he changed careers that Mike got into performing flaming feats. "When I was younger I was into mucking around with motorbikes and driving cars round woods like a lot of boys are," he explained.
"I craved a bit of excitement, which is why I joined the Army.
"I was with the Royal Engineers for six months, but I left and after that joined the TA with The Black Watch.
"That's where I got a real taste for pushing myself. I got a real buzz out of the training, and I got into the adrenaline of it all.
"I'd left the Army and had worked in factories and was doing deliveries, but I didn't like it.
"I went to see a small stunt show and I liked the look of that.
"It took a while but eventually I started working as a driver for Scott May's Daredevil Stunt Show.
"The guy who did fire stunts left and I asked to have a go."
Mike has seven grandchildren, but at 51 he has no plans yet to retire.
"I'll keep doing it for the foreseeable," he said. "I still enjoy it, so why not."