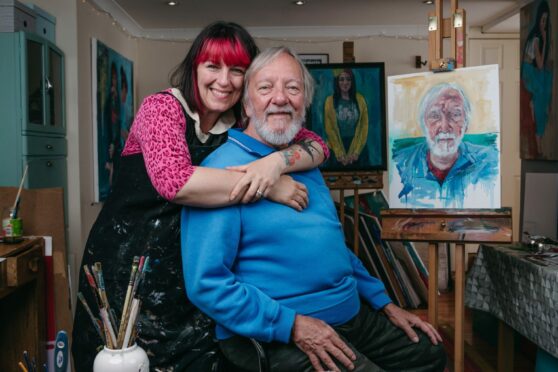 In the summer of 1974, a man and woman met for the first time on an evening out in the seaside town of Morecambe, Lancashire.
They spent the night together, parting the next morning never to see each other again. Nine months later, a baby girl was born and she would make it her life's mission to seek out her long-lost father.
Now after decades of heartbreak and disappointment Kelly McNeill, 47, has finally come face-to-face with her dad, 69-year-old Jim Porter Reynolds, after tracing him via a DNA ancestry website. In April Jim travelled from Australia – where he emigrated a month after Kelly was conceived – to spend time getting to know the daughter and family he never knew he had.
"It was like all my birthdays had come at once," said Kelly of their first meeting at Edinburgh Airport.
"I was like a little girl and I was holding up a big sign I had made that said, 'Dad'. I hugged him so much I wouldn't let go."
Kelly lives in Dunfermline with husband Mick, children Connor, 19, and Skye,14, and nine-year-old step-children, twins Rufus and Orlaith.
She is an award-winning portrait artist and supplements her career working part-time for the NHS with the children's immunisation team. She uses her maiden name Kelly-Anne Cairns for her professional art and appeared in Sky series Portrait Artist Of The Year in 2020.
Throughout her artistic career, Kelly has woven her story into her paintings. Being able to paint her father's portrait now completes the circle.
Kelly said: "It's looking into my dad's eyes – that's the thing I have longed for – to see a connection that is so real. I'm so grateful as an artist to be able to paint him."
Despite the euphoria of Jim's visit to Scotland, Kelly's remarkable tale is fraught with difficult twists and turns. She grew up believing her mother's estranged ex-husband, Frank Cairns, was her father. But when she was 14 she began to quiz her mum for more information.
She said: "I started to ask questions about the man I thought was my dad.
"Mum didn't deal with that very well. So I went through the phone book, trying to call Frank saying, 'Sorry, wrong number' each time he wasn't there. Mum was angry with me and said I 'wasn't to go messing up his life' and, besides, it was either him or a guy she'd had a fling with."
Kelly realised this wasn't the time to continue her search. It was also the final year of the 1980s and tracing a complex family tree was a lot harder than it is now.
Aged 16, she moved with her family to Aberdeenshire. Working as a florist for more than a decade, Kelly pursued her love of art by attending college classes. This paid off when she received an offer to study at Gray's School of Art in Aberdeen.
But when she fell pregnant, at 26, with her first child, her desire to find her biological father grew. She eventually managed to trace Cairns, who has since died, but a DNA test showed they were not related.
Kelly said: "He was so proud I'd taken his surname for my art. It was lovely meeting him.
"But there was no match and I was completely floored. In fact Frank said he couldn't have children.
"I was completely gutted."
It was after this revelation that Kelly began joining ancestry websites which analyse DNA submitted by members across the globe, scanning and matching samples that are related.
For around 15 years, no close matches were found. Then, last summer, an Australian cousin, Kevin Magee, messaged Kelly and later contacted Jim on her behalf.
Jim, who was born and raised in Belfast, takes up the story: "For months before finding out, I was having thoughts about that night.
"I met Kelly's mum at the Morecambe Bowl. We went back to my hotel, had a few drinks, and in the morning, we parted, never to see each other again.
"The big secret about that night was I was a 21-year-old virgin. I kept wondering, 'Has anything come of that?'. It was like I was being prepared for it.
"Kevin came to my place on October 17. That date is very special as it was my girlfriend's birthday and she had passed away. He said I should sit down and he told me I might be a father. Straight away I was able to say it was me."
Experts call on ancestry websites to be upfront about data as privacy and ethics fears grow
Jim explained he was in Morecambe visiting family and saying his farewells before emigrating to Australia when he met Kelly's mother.
He has never been married and has no other children. In that instant, he became a father and a grandfather.
Having journeyed so far, Kelly continued to prepare for the worst, only this time she wasn't going to be disappointed. Her quest had ended. She had finally found her father – and he wanted to talk to her.
Through Kevin, Kelly and Jim were able to set up a video call. Jim explained: "When we saw each other for the first time and heard each other's voices, I knew Kelly was still somewhat up in the air about whether I would accept her.
"We looked at each other for a few moments and then I said, 'I see a lot of me in you'. And she realised, 'Here's my dad, he accepts me' and we just loved each other right away."
Her eyes filling with tears, Kelly added: "I had emotions pouring out of me. It was the biggest moment of my life, apart from having my children. That sudden acceptance, love and feeling wanted."
Jim arrived in Scotland a few days before Kelly's birthday. They travelled to places such as Lancaster, Aberdeen and Belfast sharing their pasts.
Kelly hopes her family can visit Australia next year. She said: "All my life I felt half of me was missing, now I feel complete."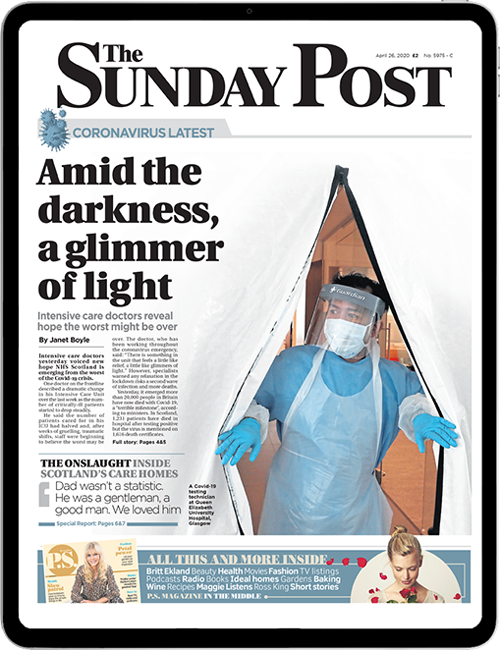 Enjoy the convenience of having The Sunday Post delivered as a digital ePaper straight to your smartphone, tablet or computer.
Subscribe for only £5.49 a month and enjoy all the benefits of the printed paper as a digital replica.
Subscribe