Every local authority area in Scotland has been assigned a tier which will set the type and level of Covid-19 restrictions in place for businesses and residents in that area.
The Scottish system ranges from the highest tier, level four – which would impose tough measures but stop short of the nationwide lockdown in March – to the lowest, level zero, which is as close to normality as possible, with most businesses open.
This new lookup table is based on the tier which has been assigned to each area of Scotland. You can find your area by searching for your local authority.
At a glance, you can see how the rest of Scotland is tiered in our map below.
You can find a full break down of what each of the tiers mean, here.
The new tiered system of restrictions will come into force at 6am on Monday.
Nicola Sturgeon told MSPs that decisions to change the levels of each local authority area, if transmission of Covid-19 increases, will be put before Parliament on Tuesdays, with changes coming into force on the following Friday.
The decisions will be reviewed each week and the next review will take place on November 10, coming into force on November 13.
Areas in the Highlands and Islands have been placed into Level 1.
The First Minister told MSPs that Highland, Moray, the Western Isles, Orkney and Shetland local authority areas will be at the second-lowest level of restrictions.
Ms Sturgeon has said that the ban on meeting indoors will continue for the time being, however she hoped that would be able to be lifted at the November 10 review.
No local authority areas will be in the Level 0 tier, the lowest proposed by the Scottish Government.
Aberdeenshire, Aberdeen, Fife, the Borders, Dumfries and Galloway, Argyll and Bute, Perth and Kinross and Angus will be in Level 2 of restrictions.
Speaking in the Scottish Parliament, the First Minister said there was a "finely balanced" decision made to put the Borders and Argyll and Bute in Level 2 rather than Level 1, which she said was due to their proximity to areas where the level of coronavirus was higher.
Ms Sturgeon said: "In both cases one of the key factors in reaching our decision was the interconnection with neighbouring areas – particularly with health services in Lothian and Greater Glasgow and Clyde.
"We have also considered the impact of travel from nearby areas with higher prevalence of Covid-19.
"As a result we have decided to take a cautious approach by applying Level 2 to both areas. We will, however, consider this decision very carefully at the next review point."
Scotland's central belt, Dundee, Inverclyde and Ayrshire have been placed into Level 3.
Ms Sturgeon said that those areas, which includes Glasgow and Edinburgh, will be in the second highest restrictions from Monday.
It was hoped Edinburgh and East Lothian could move to Level 2 "at a very early review point", she added.
North and South Lanarkshire were being considered for Level 4 earlier this week, according to a letter from the Scottish Government to local authority body Cosla, however the decision was made to put the council areas into Level 3.
The First Minister said: "There is evidence in recent days that the situation is stabilising. That is undoubtedly down to the compliance and sacrifices of local people.
"And the local councils, NHS Lanarkshire and the police believe they have strong partnership plans in place to maintain that progress under current restrictions.
"For these reasons – and given the severity of Level 4 restrictions – we have decided that North and South Lanarkshire should remain in Level 3 at present.
"However, I want to be very clear that this has been a borderline decision and it is one that we require to keep under review – not just weekly, but on a daily basis."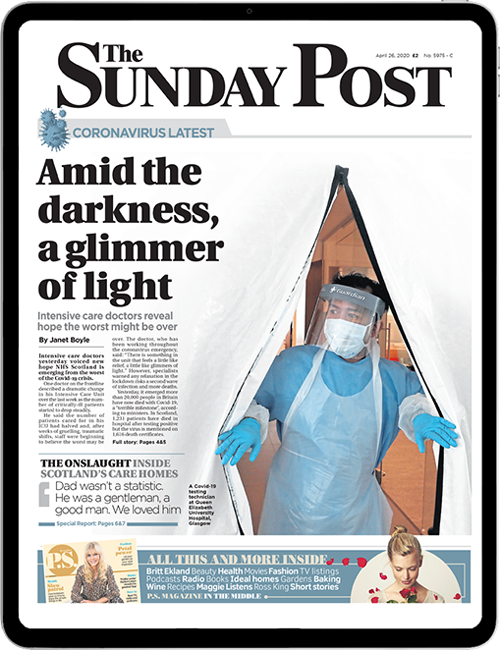 Enjoy the convenience of having The Sunday Post delivered as a digital ePaper straight to your smartphone, tablet or computer.
Subscribe for only £5.49 a month and enjoy all the benefits of the printed paper as a digital replica.
Subscribe