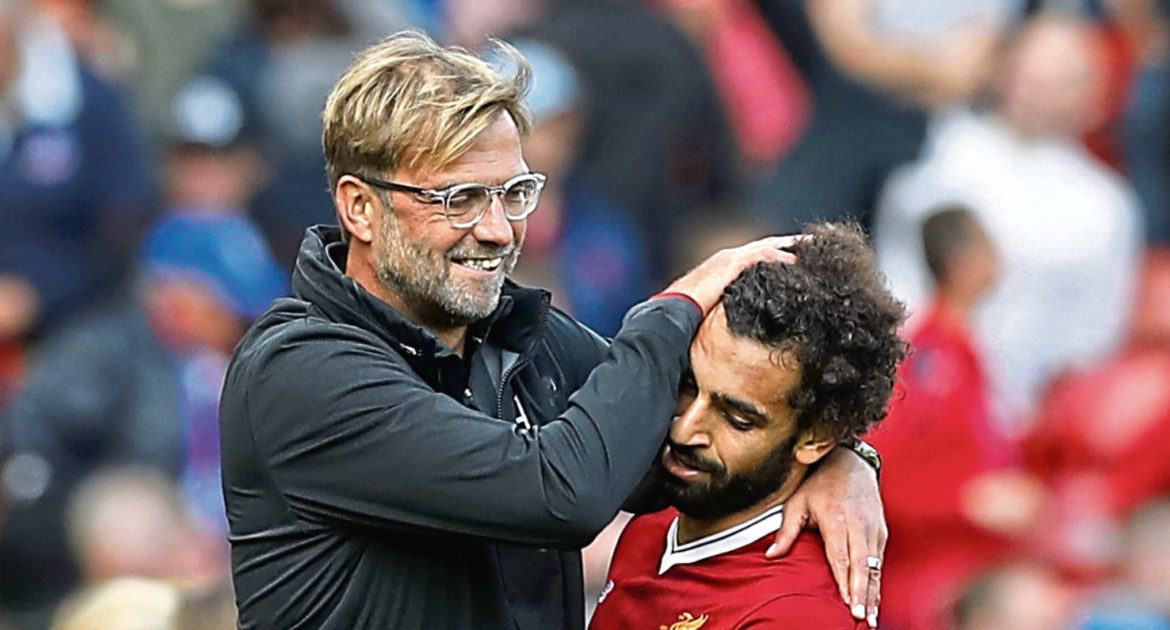 JURGEN KLOPP has put Mo Salah's incredible season into perspective, by drawing a stark comparison with the man whose crown the Egyptian seeks to steal next Saturday.
Salah has just set the record for the most Premier League goals in a single campaign, and has 44 in all ahead of the Champions League Final in Kiev.
But he'll be going head-to-head with the competition's all-time record scorer – and four-time winner – Cristiano Ronaldo.
Klopp stresses that his player has a long way to go to catch the undisputed king of the Champions League.
"Mo has played a fantastic season, but Cristiano has played 15 seasons like that," said the Liverpool boss.
"He has scored something like 47,000 goals! Crazy numbers.
"Which would I choose? Having both in the same team wouldn't be bad, would it?
"Ronaldo and Lionel Messi have dominated football for a few years, even though there are so many other good players.
"They are in the final moment very often in the right position to score a goal, and that's the most difficult thing to do.
"That's why the Ballon d'Or is always between them.
"But it's not about having the better individual. It's about playing the better football, and for that to happen, you need all the others."
The clash between Salah and Ronaldo is a microcosm of a more general mismatch in the Olimpiyskiy Stadium.
Liverpool may be five-time winners, but there's been a 12-year gap since their last appearance. Ronaldo and his team-mates have won three of the last four finals and are 12-time Champions.
"Yes, Real Madrid are more experienced," admitted Klopp. "They are the highest quality, and they can make it three in a row.
"In world football, there have been three dominant clubs in the last few years – Madrid, Barcelona, Bayern – and we face one of them in the Final, so who should be the favourite?
"Madrid know everything. They could write the script for the Final, because this is four times in the last five years.
"Real have almost exactly the same line-up from winning it before. A lot of their players won the last two finals. That's really rare.
"This has been the Real Madrid Champions League generation and they will want to do it again.
"I have no problem with the situation but it's not that I want to be the underdog because I don't feel like an underdog.
"We are Liverpool and that's something not to forget. They are so good – but we are good as well.
"In the end, it will be a test. What's bigger, the desire to win a third one in a row, or the desire to win the first one for some years?"
As Borussia Dortmund manager, Klopp lost his only Champions League Final to Bayern Munich at Wembley five years ago, though he admits that he blotted out the pain for exactly a year.
It only really hit home when he was lying on a sun lounger at a Las Vegas poolside, and heard the sound of fellow hotel guests cheering as the goals went in during Real Madrid's defeat of city rivals, Atletico.
"I really tried to ignore the match, because it was still painful," the German recalled.
"I was kind of annoyed by hearing the noise and, in that moment, you think: 'What's that?'.
"I didn't watch and had no clue who had scored. All the voices were Spanish and I was thinking that one year previously it was different because all the voices were German.
"I didn't think about it a lot over the year. I have never watched the game back.
"Losing that final didn't change my life. It's not that I wake up every morning and think: 'Wow, that was a big chance'.
"That time in Vegas was the last time when I really suffered. But if something is really important for you, you have to be ready for suffering.
"There are no guarantees. If you want guarantees, then don't qualify for a final. Stay at home or go on holiday.
"Most people try their whole life but don't go to one final.
"Being there is a big thing and I will always try again. One of the rules is that the more you try, the more likely that you will do it."
Klopp insists there will be no change from Liverpool's usual front-foot style just because their opponents have the advantage of recent Champions League Final experience.
He says: "If I was to ask the boys now: 'What do you want to do in this game?', they would say: 'What we always do'.
"In football, you always have to try to create a plan to deny the qualities of an opponent. But you also have to bring through your own qualities.
"It's not that we will go there, run like crazy and they will have no clue how to defend against us.
"I know the day will be very special. I would really love to bring the Liverpool people the trophy."