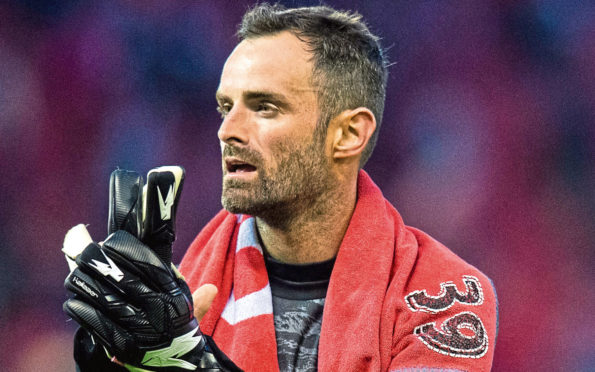 Joe Lewis says Aberdeen's flying start to the new campaign proves the Granite City club not only can, but will go toe-to-toe with Celtic and Rangers in the season ahead.
The Dons smashed Georgians Chikhura 5-0 last Thursday night to progress from their Europa League qualifier, and set themselves up for the visit of Hearts today in the clubs' Premiership curtain raiser.
And the man who has replaced Graeme Shinnie as skipper says, despite the big spending in the West, no-one should be in any doubt that Aberdeen's focus is on silverware.
"Our goal has to be win something, absolutely!" said the shot-stopper.
"This club has a rich history of winning trophies, but it's been five years, I think, since the last one.
"We certainly want, as a club, to get to those group stages in Europe and go one better by winning a Final. We've been there and had that losing experience a few times. I have, especially.
"That heartache of losing Finals is a sore one and, hopefully, we can use that as a motivation to go one better.
"It's going to be tough to get there and, in my opinion, the league is getting stronger and stronger. So it's not going to be an easy task but it's something we must aim for."
The 31-year-old Englishman accepts that, on all fronts, is going to mean having to be able to stand up to the Old Firm.
"Both of them have spent a lot of money. They've got the big budgets and they can do that," said Lewis.
"But it is down to teams, like ourselves, to make sure that we are better in every other department that is non-financial.
"We can have the best team spirit in the league, we can work harder and show our qualities and consistency as much as possible.
"So I don't think it's necessarily the case that they've spent a lot of money and we just accept that they are going to go clear.
"It has got to be the case that, while we can't control how much money they spend and the players that they bring in, what we can control is how hard we work, what we do in making sure our consistency is right, making sure we are doing everything in our power to win as many games as possible.
"We'll worry about Rangers and Celtic, or whoever else is at the top of the league, whenever we are playing against them. But we won't be too concerned about them for the rest of the season."
Instead, Lewis argues, Aberdeen have to focus on the strength of their squad and management team.
"The early signs look very good," said the former Peterborough United man.
"We seem to have got a couple of really exciting signings and look like we've got a real threat going forward, which is obviously exciting for the team.
"Hopefully we can build on a solid foundation from the back and keep plenty of clean sheets.
"I feel if we keep clean sheets we are always going to score goals, especially with a couple of new lads in addition to what we've already got going forward."
The Dons keeper is especially bullish about the qualities of Derek McInnes, as the Aberdeen manager prepares to embark on his seventh league season in charge at Pittodrie.
"He's the best I've played under. What he's done for my career is fantastic. I am grateful for that," Lewis continued.
"I think it's really important to have that stability at a football club. For him to be able to build the club, on and off the pitch, and have that influence going forward. He's a fantastic manager and I think all the lads enjoy playing for him.
"He obviously commands respect, he's got the backing from the Board and the chairman. And you feel that everyone is pulling in the same direction, which is important.
"I've been at a lot of football clubs where that isn't the case. You feel there is a 'them and us' attitude. You don't get that feeling that you get at Aberdeen. That feeling of a family.
"A club that is ambitious and driven to a common goal, which is important."