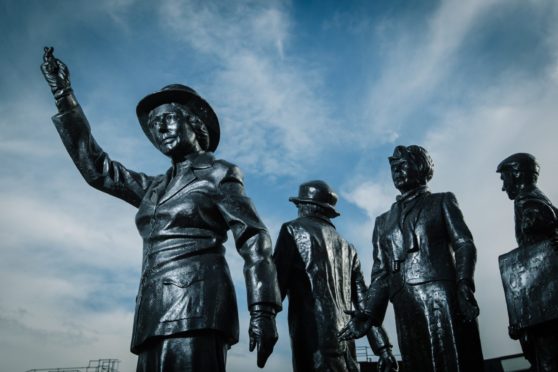 From poets and protesters to pirates and political activists, they are the Celtic warrior women who blazed a trail still being followed by girls today.
Now the feisty and fierce women of Scotland, Ireland and Wales are being celebrated in a new "her-story" of Scotland.
Mairi Kidd, the Gaelic-speaking head of literature, languages and publishing at Creative Scotland, is rewriting the past and settling old scores. She is shining a light on the often unknown but extraordinary Celtic women who have, over the centuries and against all odds, made their mark on the world.
They are from Scotland, Ireland and Wales but all, according to Mairi, are "feisty and fiery and fierce badass women to live your life by" – women, she hopes, that will inspire today's young girls.
Edinburgh-based Mairi told The Sunday Post: "A lot of these women have become invisible for a very long time. There is that alarming fact we have more statues in Edinburgh of named animals than we do of women. We don't memorialise women. Part of the aim of the book is to name them and talk about them in my 'herstories'.
"I would want young women to take from this book self-confidence. It is a tough time to be a young woman. Young girls and women today navigate all sorts of worlds my generation didn't have to. We didn't have to navigate a digital world, we only had to navigate a physical one.
"Social media has resulted in a world in which there is tremendous pressure on young women. I would hope they would take some strength from the fact women have always had it tough, but that lots of women have really changed the world and have fought their way through. I hope it helps inspire some of the readers to feel they can make change."
Mairi, whose mum Moira is a ­history teacher and whose dad Jim is a historian, said: "Growing up, my mum's mission was that children in Scotland should be taught Scottish history because, prior to that, there was a lot of history that taught the Tudors and not the Stuarts. Mum was a feminist from the 1960s and she was passionate about telling women's stories. My granny was in service and my dad's mother was a jute spinner in Dundee, so they grew up in an era that was hard for women. I grew up knowing about those challenges."
The book features 39 women. Among the most notable for the author is 16th Century African-Scot Elen More. Thought to have been a slave, she went on to become a lady-in-waiting in the Stuart court, a role held by members of the elite.
Mairi said: "The whole point is that our history has been much more mixed ethnically, and for such a long time. Elen is invisible because Scotland doesn't tell the story of its African history. And she is also invisible because the broader story of black people in the UK in these eras has been told about England."
But the author reckons women haven't always been missing from the picture. There is evidence to suggest that, in pre-history, they had some power, and that success was measured by community survival and wellbeing. Then, she says: "Pre-history gave way to history", with militarisation and male strength becoming the key to success linked to conquest and expansion.
"Since history is written by men for men, and by victors for victors, the history of the British Isles has tended to favour the story of the males of England," she writes in the book. "The end result is that most citizens of Ireland, Scotland and Wales know each other's histories less well than they know the history of their larger neighbour in the middle.
"This book aims to right that wrong in a small way."
---
Joanna Crookston
This statue of Joanna "Jack" Crookston in Civic Square in the East Lothian village of Tranent is a rarity, as few statues to named women stand in Scotland.
Born in Gladsmuir in 1768, she lived at a time when many British soldiers were losing their lives on the battlefields of Europe. When the Militia Act was passed in 1797 to allow a conscription ballot to take 6,000 Scots – many of them men from poor families who needed them for their economic survival – the miners of Tranent resisted.
A recruitment squad sent to the village was met by a defiant and brave 29-year-old Jackie, beating a drum and chanting: "Nae militia", a band of protesters behind her.
As the troops tried to disperse the crowd she is said to have declared she "didna care a pin though she were cut in halves, she wad hae nae militia." It was to be the last action of her courageous young life.
In what became known as The Massacre of Tranent troops mercilessly cut down men, women, and children – Jackie among them.
She is remembered in the memory of the town she gave her life to defend.
---
Mary Barbour
Mary Barbour was a heroine of political activism. She spent her life campaigning for housing and healthcare for impoverished Scots.
Born in Renfrewshire in 1875, the daughter of a carpet weaver, she became a carpet printer, wife and mother, later moving to deeply deprived Govan.
There she joined the Scottish Co-operative Women's Guild to push for policies such as maternity benefit, education, the right to vote and a national minimum wage.
When, during the First World War, unscrupulous landlords raised the rents of impoverished families, while their husbands and fathers fought in the trenches, she raised an army of thousands of women shipyard and engineering workers. Known as Mrs Barbour's Army they converged on the Sheriff Courts in Ingram Street to protest. Their actions led to the Rent Restrictions Act, which limited rent at pre-war levels.
She was a key player in the anti-war movement and became one of Glasgow's first female councillors. In 1924 she was appointed Bailie of the City, the first woman to hold the office, and one of the city's first female magistrates. Mary helped improve many lives before her death in 1958 aged 83.
---
Phoebe Anna Traquair
Phoebe Anna Traquair was born in Dublin in 1852 but she was to become a shaping force in the Arts and Crafts movement and in Scotland's Celtic Revival.
Phoebe, who worked in techniques from illuminated manuscripts to enamelling, came to Scotland after marrying palaeontologist Ramsay Heatley Traquair, with whom she had three children. Her time here saw her deliver many remarkable commissions from breathtaking murals in the chapel at Edinburgh's Hospital for Sick Children (later executing their removal, repair and extension to a new site at Sciennes Road) to a series of murals in the Catholic Apostolic Church on the city's Mansefield Place.
She contributed to the National Arts and Crafts Exhibition, becoming a major name in the international world of art.
A victim of sexism, she was turned down for membership of the Royal Scottish Academy, but was made an honorary member in 1920. The first woman associate member would not be allowed to join for another 18 years.
She died in 1936 and was buried with her husband in Colinton Churchyard, with a stone she designed herself.
---
Feisty And Fiery And Fierce by Mairi Kidd is published by Black & White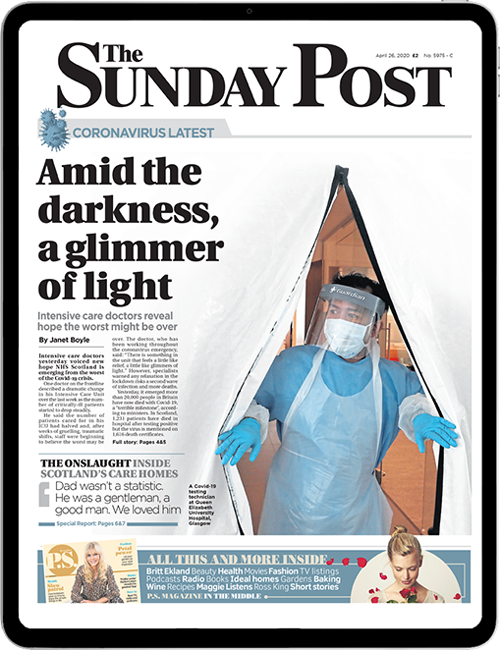 Enjoy the convenience of having The Sunday Post delivered as a digital ePaper straight to your smartphone, tablet or computer.
Subscribe for only £5.49 a month and enjoy all the benefits of the printed paper as a digital replica.
Subscribe