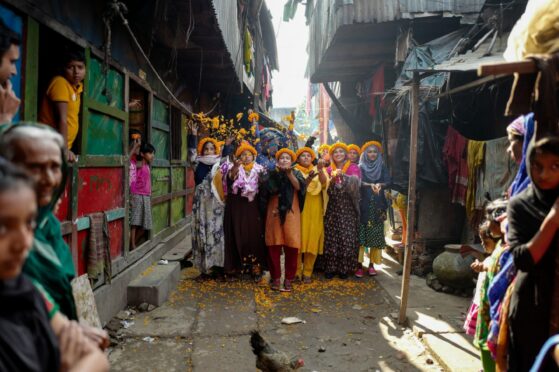 Women are the crucial but untapped resource in the fight to slow climate change but their voices are going unheard in Glasgow, campaigners warn.
International pressure group She Changes Climate are fighting for a 50/50 split in climate delegations to future summits and is calling for more women to have policy-making power in governments and boardrooms.
Leaders point to wide-ranging research suggesting women are more likely to forge agreement on effective international action on climate change but are massively under-represented at the negotiating tables.
The campaign was only launched 11 months ago but has already won backing across the board, from leading scientists to celebrities (including actor Dame Emma Thompson and musician Brian Eno), and organisers' presence at Cop26 will culminate in a She Changes Climate Action Day in the city's Pipe Factory on Tuesday when Emma Howard Boyd, chair of the UK Government Environment Agency, will be speaking.
Co-founder Bianca Pitt, who with partners Antionette Vermilye and Elise Buckle launched the action group, told The Sunday Post: "The climate crisis is on our doorstep and affecting us all but the perspectives on and decisions about how to tackle it have been made mainly by men who speak for only a fraction of the population.
"That's why we're calling for at least a 50% representation of women at the top levels of all future climate delegations.
"This under-utilised force hold the key to climate action. We know if we bring in women things will shift.
"I am often asked why should women be allowed to the table. That they are half of the population should be enough of a reason.
"Women are the largest under represented group on the planet and are missing from everything – from business to government, to international climate negotiation."
Monika Froehler: It is their world, their future. Of course, young people must be at the table
Research from around the world, the campaign claims, shows women have much to offer and can, and do, make a difference.
Pitt said findings from wide-ranging studies had revealed women were more likely to ratify international environmental treaties, create protected land areas and to have stricter climate change policies.
Research also found that countries where women enjoy greater social and political status produce fewer carbon dioxide emissions and have lower climate footprints.
One study, using panel data from a sample of 72 countries between 1971 to 2012, found that a single-unit increase in a country's score on the women's political empowerment index was associated with a nearly 12% decrease in the country's carbon emissions over the long term.
But despite this, she said statistics revealed that only a quarter of the world's parliamentarians are women and women are heads of governments in only 22 countries.
She points out the US has never had a female president and the UK only two women prime ministers. Only one woman – Angela Merkel – was at the latest G7 summit and only 7% of FTSE 100 companies has a female CEO, while only 16% of board members worldwide are female.
"Why are we at Cop26? We have spent already 25 years trying to change climate and reduce emissions, and yet emissions are still rising," she said. "We need to look at the leadership at these conferences. And it's here that we have the opportunity to change things.
"The current UK Cop leadership team – the directors – have only two women on board." She said while the organisation claims a 45% female representation on their leadership team, the majority are deputies. She said: "Look at the directors, those responsible for the summit and negotiating at the summit."
In a recent talk to the Energy Law Institute on the role of women in managing climate change, Howard Boyd, said: "Female leadership in local, national and international policy making is vital. If you are someone who wants to take climate action, I expect you would want to learn from those who are already delivering results.
"But women have to shout louder than men to be heard. And, in an emergency, this is a game-changing mistake."
She points to analysis of global online news between 2017 and now which shows women have held just 28% of the share of voice in news articles about climate change.
And she highlights The Climate Action Gender Gap report – from the 30% Club and the Oliver Wyman Forum – that she said showed companies can get ahead in the race to net zero by actively considering women as leaders, investors and influencers.
She said: "Women in leadership positions are often more open than men to changes that will drive climate action but are currently underrepresented in decision-making positions, especially in carbon-intensive industries."
She added: "Interestingly, the report also says that according to one study of 130 countries, women in government positions are more likely to sign on to international treaties to reduce global warming than men."
Pitt, a mother of two, said: "Given that we have shown the direct link between women's leadership and reduction in emissions action, we can see that women accelerate climate action, that's why we want them on board as leaders.
"They should be there anyway, but now it is particularly critical.
"We are not inheriting the climate from our ancestors but looking after it for our children.
"This is not a women's issue; this is humanity's issue. If we want to save humanity, we need the women."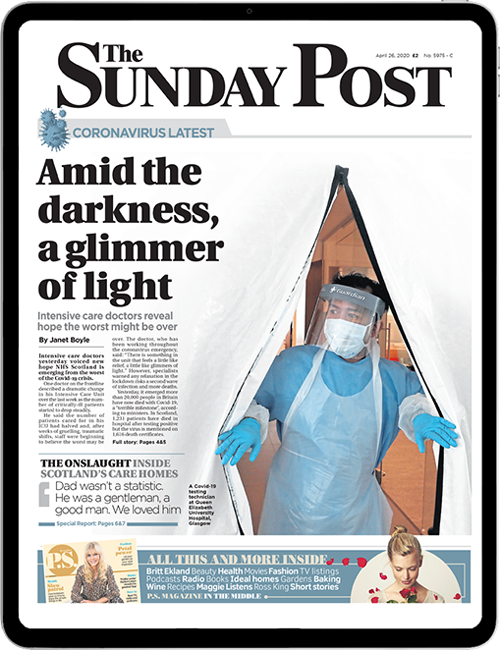 Enjoy the convenience of having The Sunday Post delivered as a digital ePaper straight to your smartphone, tablet or computer.
Subscribe for only £5.49 a month and enjoy all the benefits of the printed paper as a digital replica.
Subscribe