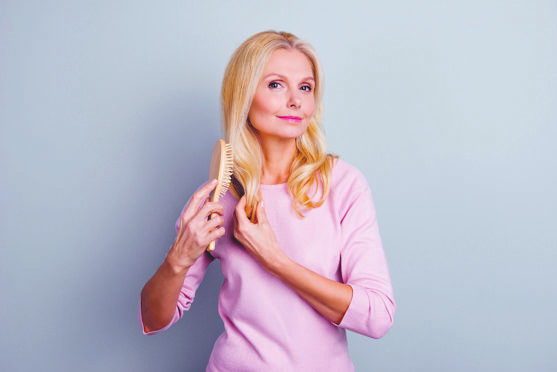 Male pattern baldness is almost expected in men, with those who hold on to their hair as they age seen as lucky exceptions to the rule.
But female pattern baldness is hardly spoken about and certainly not expected, despite studies showing that two-thirds of postmenopausal women experience hair loss, and that less than half of women reach the age of 65 with a full head of hair.
Unaware of how common it is, women who experience hair loss for the first time wrestle with a deep sense of shame and confusion as a result. They feel alone, and sometimes cannot bring themselves to open up about it.
"They often don't know who to speak to as they feel so embarrassed. Sometimes I might be the only person they have spoken to about it," explained award-winning trichologist Sara Allison, founder of UK wide trichology clinics Hair Today More Tomorrow.
"They feel very alone and that they are the only person who has gone through it. For a woman it is difficult as it makes them feel unfeminine."
The causes
Female pattern baldness (FPB) is hereditary and appears mostly in postmenopausal women due to the drop of oestrogen levels in the body, though it may occur in younger women if they have a condition that causes hormonal imbalances such as polycystic ovaries. However, other factors can contribute which, when combined with hereditary FPB, can accelerate the problem.
"That's where seeing a professional can help. I get a detailed history of their health and do blood tests so I can see what is going on," said Allison.
"They might have poor diet or have had an illness for a long time, or it might be prediabetes or a thyroid problem. Quite often there's lots of different causes – you'll find that on the surface there's one or two potential causes but often I investigate and find that there's actually three or four things at play, which is when there is a tipping point into hair loss."
Allison said that other than FPB, stress is one of the biggest causes of hair loss in women.
"There is another condition called telogen effluvium which is where you have an imbalance of the shedding and growing cycle of your hair," she added.
"Things like stress, poor nutrition or illness often cause this, but we have to remember that poor nutrition and illness might be the result of stress too. People over 50 tend to have high pressure jobs, look after children or elderly parents, and are starting to get health problems for the first time themselves. It can be a very stressful time."
Differences from men
Hair loss in women is different to that in men, with hair thinning over time rather than ceasing to grow completely. Women tend not to go fully bald unless they have a condition like alopecia, which means that if treated early enough, a substantial amount of lost hair can be encouraged to regrow.
"If a woman has experienced hair loss for several years it may be too late, but if it's in the early stages it is much easier. I work with patients on their specific causes and needs, and draw up a treatment plan. Sometimes it'll be tweaking parts of their lifestyle, sometimes it will be a complete overhaul," said Allison.
If you are noticing excessive amounts of hair shedding its important to speak to your GP or book an appointment with a trichologist for treatment. If you have not experienced hair loss but want to take steps to safeguard against it, Allison recommends the following: "Find a way to de-stress that works for you, like mindfulness or meditation.
"A healthy diet is important as is taking supplements that help boost hair health. Look after you hair and don't abuse it too much with heat styling and peroxide as it can be extremely damaging.
"Hair is a reflection of overall health, because it is often one of the first indications that there's other health problems going on."
Regrowth after holistic therapy treatment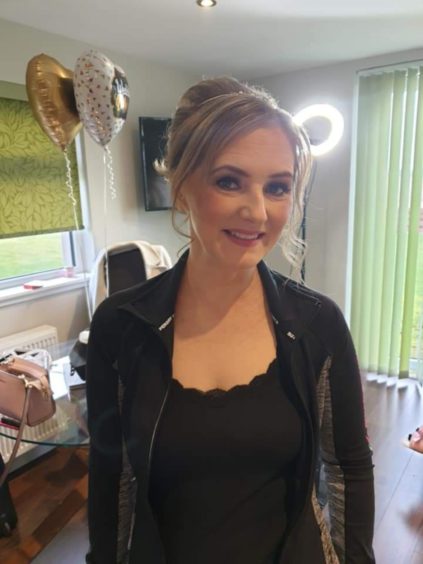 After her mother died, Angela Mitchell, 53, from North Lanarkshire, fell very unwell.
She was run down, losing weight and shedding large amounts of hair on a daily basis. "I had two bald patches on the back of my head. What was left was poor and there wasn't a lot of it. I was really quite distraught and didn't want to go out. It was an awful time," she revealed.
Angela's husband could see how upset she was and encouraged her to book an appointment at Sara Allison's Glasgow trichology clinic.
"She monitored my health holistically. She found I had problems with my thyroid, and other things that were a result of the menopause and hormone levels. I took them to my GP and I am now on levothyroxine and have a HRT patch which works really well," explained Angela.
Slowly but surely, her hair began to grow back and her overall health improved. For the first time in a long time, she felt happy and healthy.
"My mum suffered hair loss and at the time I didn't know what it was so I couldn't help her. I realise now it was hereditary, so I want to pass my knowledge on to the next generation so that they are forewarned and can arm themselves against it!"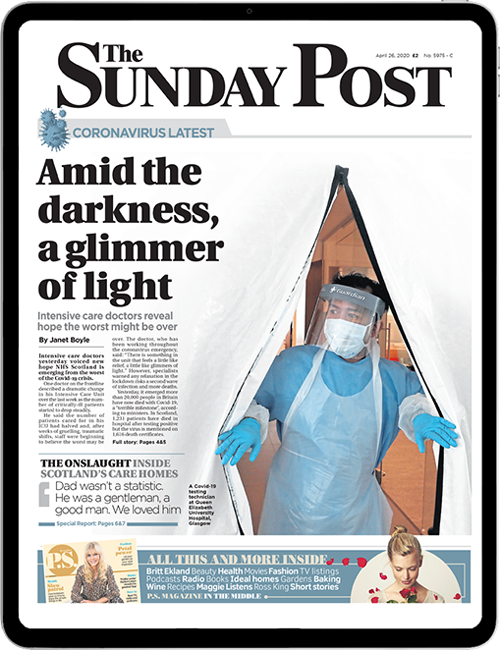 Enjoy the convenience of having The Sunday Post delivered as a digital ePaper straight to your smartphone, tablet or computer.
Subscribe for only £5.49 a month and enjoy all the benefits of the printed paper as a digital replica.
Subscribe