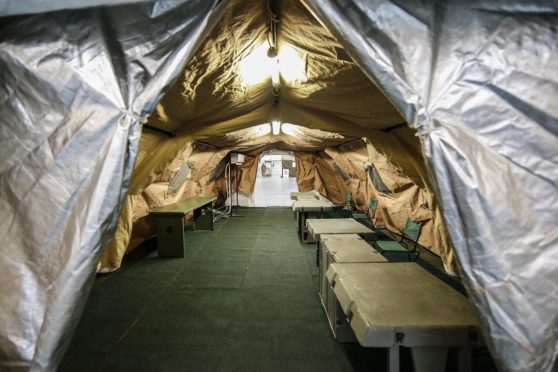 One of Scotland's most influential scientists has supported growing calls for an urgent public inquiry into Scotland's response to the pandemic.
Professor Dame Anne Glover said an inquiry should get under way as soon as possible to ensure crucial lessons are learned as organisations representing doctors, nurses and care homes joined the escalating calls for a public investigation.
She spoke after we revealed 20 leading charities representing some of the most vulnerable Scots had written to the First Minister – who had said an inquiry should wait until the pandemic was over – to call for hearings to begin as soon as possible. They highlighted a range of issues that potentially breached the human rights of Scots – from the supply of PPE and the transfer of NHS patients into care to students being asked to return to university and the heavier impact of Covid on Scotland's poorest postcodes. Scottish Labour leader Anas Sarwar, writing in The Sunday Post, also believes an inquiry should be launched as a priority.
Glover, president of the Royal Society of Edinburgh but speaking in a personal capacity, said both the Scottish and UK governments should organise inquiries now, adding: "The governments should have public inquiries as soon as possible to examine where we went wrong which resulted in so many deaths and long-term illness.
"I feel that lockdown and closed borders were not established for fear of harming the economy. Our governments watched images of intensive care units in Italy filling up with seriously ill Covid patients and failed to act quickly enough.
"A public inquiry must investigate why they faltered because we find ourselves as a rich country which now has the fourth or fifth-worst Covid death rate in the world. That tells us something went badly wrong.
"A public inquiry should focus on what our government failed to do to protect the population from the pandemic."
She added: "There is urgency for an inquiry as there may well be future pandemics and we need to learn quickly from the mistakes in the handling of this one, which is not yet over."
Last week, we told how a ­letter sent to the Scottish government by organisations including Amnesty International and Age Scotland said that, after a year of Covid, crucial lessons must be learned urgently.
There are also growing calls for an inquiry to be launched in England by the UK government, with doctors, government scientific advisers and a former civil service head calling last week on Boris Johnson to begin the process.
Susan Aitkenhead, ­director of the Royal College of Nursing, Scotland, also supports a public inquiry opening as quickly as possible: "The Scottish government should not wait for an inquiry to start learning lessons and must listen to the first-hand experience of health and care staff across Scotland as plans are being made for recovery and remobilisation.
"However, inquiries into the preparation and management of the response to Covid-19 are the only the way that governments across the UK, their agencies and advisers, will ensure they truly reflect and learn. These should be held as soon as is possible, with recommendations being made within an appropriate timetable."
Doctors For The NHS, a campaign group that represents doctors in hospitals and GP practices across Scotland, also stressed that it is important to have a public inquiry soon.
A spokesman said: "We must examine how to avoid a repetition and carry out the public inquiry soon and not delay it to a point where the main participants move on.
"Staff were using ­make-do PPE, lockdown came far too late and basic lessons in infection control were ignored.
"We must also investigate how to care for, and retain, our exhausted staff if we want to build a strong NHS. We cannot afford to lose them overseas or to the private sector. Other countries coped with Covid so much better with less than 1,000 deaths. Why couldn't we?"
Scottish Care, which ­represents 800 private care homes across Scotland, said the Scottish government should appoint an inquiry chair as soon as possible. Karen Hedge, national director of Scottish Care, said: "We need to learn lessons from the shortage of adequate PPE and testing of patients before they entered care homes from hospital.
What just happened? Charities unite to demand public inquiry into how Scottish Government handled coronavirus pandemic
"We need to expose the weaknesses in how this Covid pandemic was handled and learn from them. A manual needs to be created for future pandemics – one that will help us all act quickly and prevent viruses spreading. Scientists predict that there will be future pandemics.
"All this need to be done with the inclusion of the care-home sector and others who have been impacted. The contribution of all our skills and expertise must be all valued. It is important the Scottish government appoints a chair to the inquiry soon. We need guidance and procedures in place."
Sir Harry Burns, ­president of the British Medical Association and a former chief medical officer and chair of the Scottish government's Public Health Threat Assessment sub-group, also called for both the Scottish and UK governments to hold inquiries. He said: "There should be an inquiry in Scotland and an honest look back on availability and standard of PPE, timing of lockdown and getting an adequate, test trace and isolate service established.
"There will be more ­pandemics and we need to learn how to deal with them appropriately."
The Scottish government said: "We have been clear that there will be a public inquiry into all aspects of the Covid crisis in due course – the first and only government in the UK to commit to doing so – but we are still in the midst of the pandemic, and setting up a public inquiry with the full powers it needs is a complex issue that will ­inevitably take some time.
"But we do not need to wait for a public inquiry to learn lessons. We take with the utmost seriousness the duty on government to do all we can to protect people, especially the most vulnerable. Saving people's lives has been, and will continue to be, our priority throughout the pandemic."
---
We need answers. We need to learn lessons.

Anas Sarwar
We need a full public inquiry into the coronavirus pandemic in Scotland, and we need it to begin as soon as possible.
Thousands of Scots have lost their lives to this virus, and we have all struggled with the damage the pandemic has done to our daily lives. For the families who have lost loved ones, and for those who have been placed in financial difficulty by the pandemic, we need justice – swiftly.
We need to know why our countrywas so badly prepared for this pandemic despite years of warnings and preparedness operations.
We also need answers from the separate care home inquiry to understand why the Scottish government allowed our care homes to be put at risk, with the human rights of residents and those working in the homes ignored.
I know how important a public inquiry can be, and how important it is to those affected not to delay. I am fighting for justice for the family of Milly Main (who died in Glasgow's Royal Hospital for Sick Children in 2017), and I will make it my business to ensure a public inquiry into the pandemic is delivered.
We need to learn the lessons of this pandemic so that this tragedy is never
again repeated.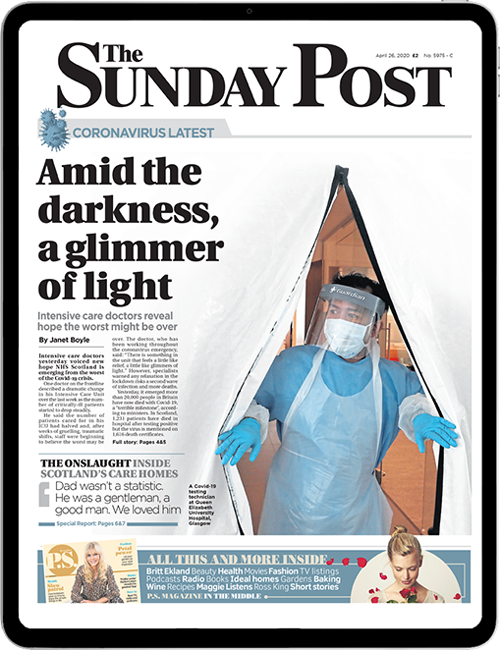 Enjoy the convenience of having The Sunday Post delivered as a digital ePaper straight to your smartphone, tablet or computer.
Subscribe for only £5.49 a month and enjoy all the benefits of the printed paper as a digital replica.
Subscribe