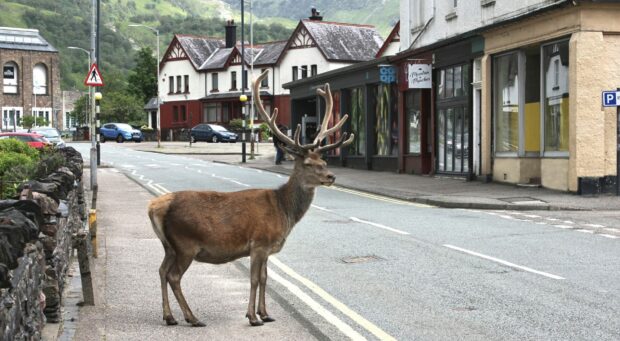 Fearless wild deer roaming the streets are dividing villagers.
Some residents in Kinlochleven, near Fort William in Lochaber, say the animals risk health and safety and say a cull, called-off after protests, should be resumed.
The plan to kill the deer in January was halted after an outcry from villagers who said having animals shot in the street was awful and urged the community to learn to live with animals.
More than 20 deer are making their home around the village, which used to house a giant aluminium smelting works. It is now sustained by tourists walking the West Highland Way and many of them are delighted to see the deer and get close to them.
The Kinlochleven Community Trust (KCT), which owns much of the open space around the village, has taken on the task of sorting the problem out. It is working with Government nature agency NatureScot, Highland Council and local landowners.
KCT chairman Steve Connelly said the deer arrived four years ago when a lone stag took up residence in the village.
He attracted some hinds, which in turn attracted more animals. He said: "Life has been made too easy for the deer due to them being fed by locals so they have stayed during the summer now which is very unusual, and they have continued to feed them which has made them reliant and quite unhealthy."
He added that while the deer delight many people – including visitors to his B&B – they chase and frighten some residents and dogs, they scatter excrement in play parks and other spaces and they carry large numbers of ticks. Last week he had one report of a dog being bitten by a deer.
He said: "The deer are majestic and the ability to get that close to a wild animal is a once-in-a-lifetime opportunity.
"What's happening now is the deer are losing their fear of both people and domestic animals and in some cases they are actually starting to intimidate and in one case attack people and pets."
Going wild: Pleas for urgent and enforced deer culling to protect wilderness
An initial cull was started in January, but some residents objected. Betty Green, who is in her 80s, says deer have been in the village for many years. In January she heard two shots in the middle of the night, and saw a hind with two young running away.
Not long afterwards she saw a stag's carcase being dragged away. She said: "It was a beautiful stag that I had got to know personally and seen around here for years. This is not an acceptable thing to do in a built-up area like this."
The cull ended after that incident, to the relief of some. Connelly said KCT had tried to stop deer being fed by people with a Facebook campaign and notices, but he said a "hardcore" of residents refused to accept feeding the deer was an issue. He now plans a meeting to thrash out the issue. "Everybody can put their views and we will see the proportions that are supporting or are against a cull because I think a cull is the only way forward," he said.
"People have to be realistic. Deer that are born in an area will always want to return, so the only way we are going to get rid of the deer at the moment is by holding a cull."
NatureScot said the cull was paused in April when licenses expired, and since then it has been working with KCT, Highland Council, Jahama Highland Estates and a local Highland councillor on the remaining issues. It added: "We expect a meeting within the next few weeks so we can consider our options."
'There is a lot of tension': Villagers say feelings are running high as opinion splits on the risks of roaming deer
Reiki therapist Debbie O'Hara believes any cull would be "outrageous" and says she will fight to stop it.
She said a deer fence around the village could be restored, signs put up warning people not to feed the deer, and play parks could be better fenced to keep the animals out.
She said: "If you choose to live in a rural area, you are choosing to live in an environment that's surrounded by beautiful nature, which includes wildlife.
"They shouldn't be culling in the village. I have not met anyone since this started who has ever heard of a residential community having guns on their streets to kill deer."
Other residents are emphatic that they want action. Morgan Malcolm, who runs the village coffee and sandwich shop, said: "I've been out walking the dogs, myself and my partner, and we've been chased by the deer, just when we were walking in the street.
"I also had an incident with a stag where it chased me and my dog, which was terrifying. I am very much for the cull to try to bring down numbers. It will help with the risk to the public.
She added: "The atmosphere is pretty difficult. There's a lot of tension. People are getting a hard time from those against the cull."
Jahama Estates owns the surrounding land and said: "We will continue to work closely with relevant agencies and the local community to ensure public safety in Kinlochleven remains paramount. Appropriate licences were issued for the deer culled."
A Police Scotland spokesperson said: "A pre-planned deer cull by authorised firearms holders was undertaken in the Kinlochleven area, in January of this year.
"Following a complaint, a 37-year-old man has been reported to the Procurator Fiscal in connection with offences under the Deer (Scotland) Act 1996."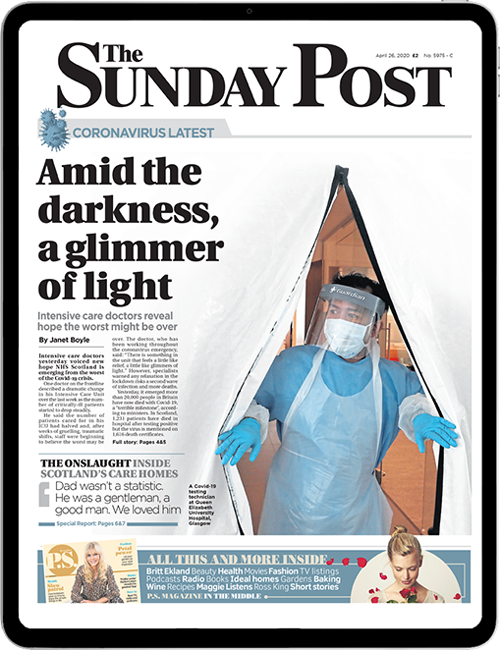 Enjoy the convenience of having The Sunday Post delivered as a digital ePaper straight to your smartphone, tablet or computer.
Subscribe for only £5.49 a month and enjoy all the benefits of the printed paper as a digital replica.
Subscribe