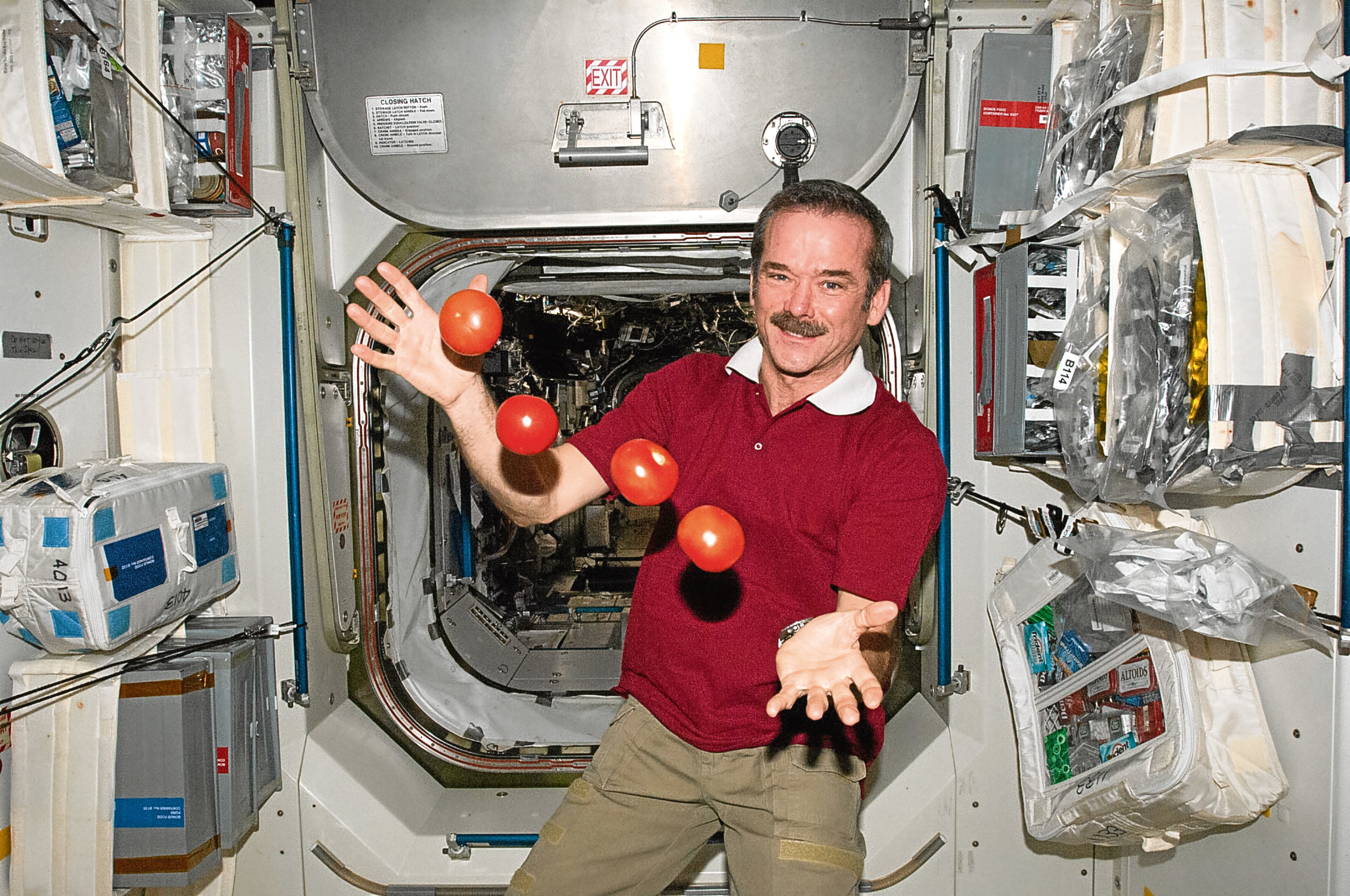 CHRIS HADFIELD has done things most humans can only dream about, so it's reassuring to know his biggest fear is shared by millions.
Having twice walked in space and been commander of the International Space Station (ISS), the Canadian is one of the most famous astronauts in the world.
But he says his greatest worry is the well being of his three children.
"They live all over the world now and sometimes you feel helpless and scared, but you just have to let them go and hope they listen to what their mum and dad say to them," Chris admitted.
"That's what I'm most afraid of – a big, personal impact I have no control over."
The 57-year-old, from Ontario, found mainstream fame and brought space exploration to the masses in 2013 thanks to social media and videos he made while on the ISS, especially the clip of him performing David Bowie's Space Oddity, which has been seen more than 34 million times on YouTube.
Yet he had to overcome his fear of the dark before he could become an astronaut.
That was the subject of his first children's book, The Darkest Dark, last year and he will also discuss it in his "evening with" show in the Usher Hall on Friday as part of his four-date UK and Ireland tour.
"The intent of the book was to show it's OK to be afraid, but the real essence of life is to find ways to be brave," he continued.
"In the show I talk about not letting fear cripple you. I studied why I was afraid then looked at the difference between fear and any danger I'm facing.
"The whole idea of the show is to bring ideas and complex thoughts to the stage as entertainment.
"It's also about inspiring and letting people step outside their life for a different view of the world.
"Sometimes people think they're too old to learn, but no matter whether we are nine or 90, each day is new and we should all take a look at some of the fascinating things going on in the world just now."
Chris is no stranger to Scotland, with his visits dating back to his teenage years.
"In 1977, I travelled round Europe for six months and started in Prestwick, where I got off the plane, and made my way up to Oban and then Loch Ness to look for Nessie.
"I later climbed in the Ben Nevis area with my daughter and my wife.
"And I'm looking forward to seeing the progress of the new bridge over the Forth."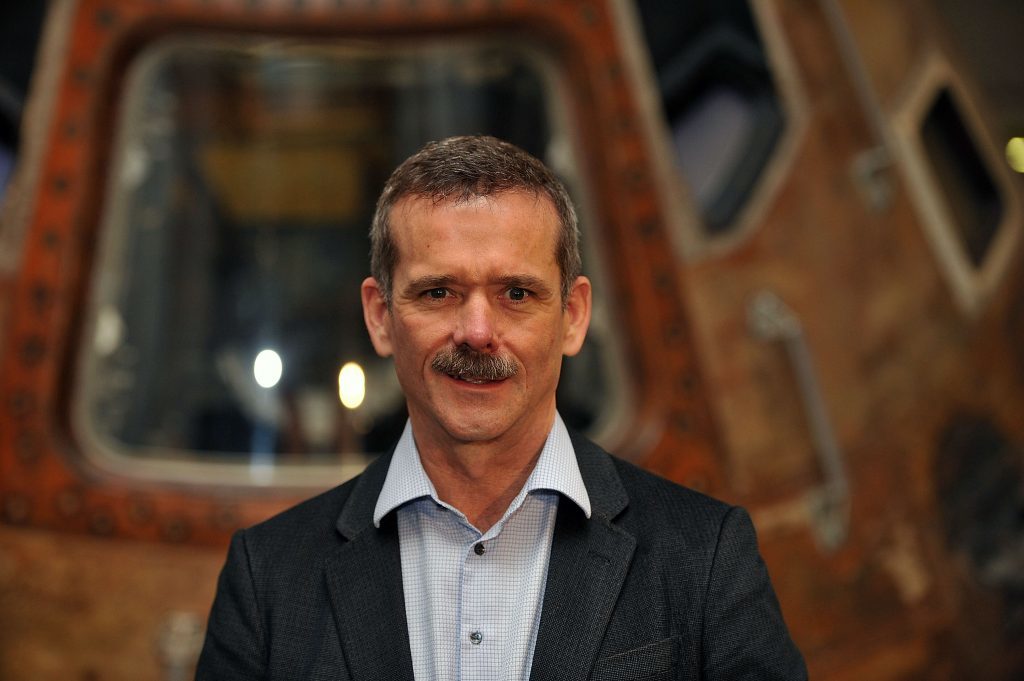 For all of Chris' achievements, he's in no doubt about his favourite accomplishment.
"When I was a boy watching sci-fi movies and seeing the first men walk on the moon, what embodied it all for me was walking in space.
"So to be lucky enough to do two space walks, to have a day in the decompression chamber and pull yourself out and cling on to the ship with the world off to one side, is the most magnificent experience of my life."
Chris continues to be very much in-demand. On the day we speak he is preparing to go on stage with David Bowie's band to perform in a tribute concert to the great man in New York.
Since retiring as an astronaut he has been to the Arctic, performed with a symphony orchestra, lectures at university and is writing another book.
He's also working with National Geographic on a project, has made a series for American TV and will soon film a show for the BBC where ordinary people are challenged to go through the astronaut selection process.
The public's interest in space has rarely been higher and Chris thinks what we're currently seeing is only the beginning.
"When I was born, space flight wasn't difficult it was impossible, it hadn't happened.
"But now, 15 nations are working peacefully together, planning to go to the moon and beyond," he added.
"Inevitably, we'll get some things wrong, but we'll go from the space station to the moon, spend a generation or two there, and then we can explore the rest of the solar system.
"Fundamental human nature is to explore and I think we're on the right track."
Unique Lives 2017: Colonel Chris Hadfield, Usher Hall, Edinburgh, Fri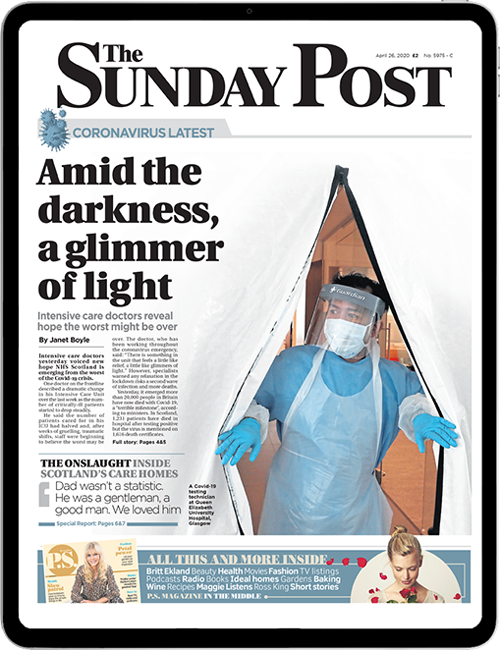 Enjoy the convenience of having The Sunday Post delivered as a digital ePaper straight to your smartphone, tablet or computer.
Subscribe for only £5.49 a month and enjoy all the benefits of the printed paper as a digital replica.
Subscribe