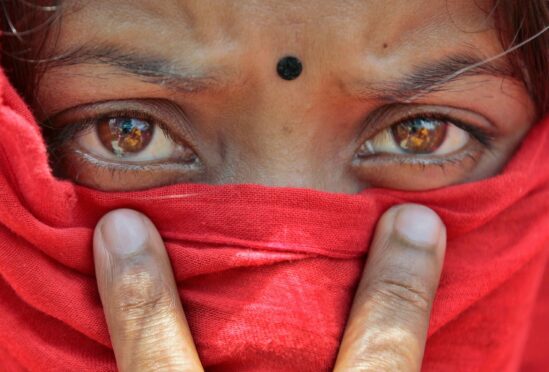 A Scots professor, inspired by witnessing the suffering endured in the sweatshops of Bangladesh as a boy, reveals how the sudden cancellation of orders by UK firms because of Covid has worsened violence and exploitation faced by workers earning a pittance to provide the world with the latest styles at bargain prices
The actions of UK firms meant violence and exploitation suffered by girls as young as 13 working in the global fast fashion industry escalated during the pandemic, researchers fear.
Professor Muhammad Azizul Islam, inspired by his childhood experiences witnessing harsh conditions in sweatshops in Bangladesh, has led a team exposing how orders suddenly cancelled by firms in the UK worsened conditions for garment workers in countries like Bangladesh and Cambodia during lockdown.
The academic at Aberdeen University found a culture of violence against women, with many fearing being assaulted on the way to work or facing abuse in order to meet unrealistic production targets.
He said: "I grew up in Dhaka city in Bangladesh in the 1980s and '90s in an area which was surrounded by garment factories.
"I saw how women workers got into the factories in the morning very early and then at night if I went out at 9pm for walk I would see the lines of workers coming out.
"I used to see them and how their lives were. It struck me at that time when I studied accounting, that my subject was talking about how to make profit and maximise profit but not about workers.
"Suppliers and manufacturers are concerned with profit, not workers. I wanted to think about responsible profit mechanisms. One must not make profits at the expense of human rights."
Islam, professor in sustainability accounting and transparency at the university's business school, said the actions of many high street retailers, based in the UK or with operations in the UK market, had led to factory closures and job losses, leaving around 2.8 million workers facing poverty and hunger in Bangladesh.
He added: "Our research found that UK retailers' unfair practices, including cancellations of orders during the pandemic, stimulated exploitation and forced labour of women workers.
"The retailers' cancellation of orders exacerbated vulnerabilities in economic security, job security, food security, housing security and health and wellbeing, resulting in women workers struggling to support themselves and their families.
"We have also found that there was an increase in sexual and verbal abuse and symbolic violence, mainly from line supervisors pushing women to work faster to meet unrealistic production targets.
"We hope it propels governments, fashion brands and garment manufacturers to do more to fulfil their responsibilities to protect workers' rights and improve gender equality in the garment production in Bangladesh and across the world.
"Some workers we interviewed were appointed to their jobs at the age of 13 and 14. We asked how they got jobs as there is a rule that factories can't employ at this age. It's easy to get a birth certificate there to fake your age. Some of the workers are children."
Islam recently showcased his team's work to Scottish MPs at Westminster when they backed his calls for a watchdog to tackle unfair and abusive buying practices in the industry.
The MPs were shown video testimony of garment workers in Bangladesh and spoke to researchers investigating the impact of Covid on female garment workers in both Bangladesh and Cambodia, two of the world's top locations for garment manufacturing.
MPs were shown evidence of workers going hungry, experiencing sexual harassment and being forced to work longer hours for no pay. They heard many fashion brands behaved unethically towards suppliers in the wake of Covid, including failing to pay for goods already made, paying late, and demanding discounts.
Unfair purchasing practices, which are often unlawful, were common even before Covid disrupted trade, he found.
Also, despite many retailers returning to profitability last year, these practices are still continuing.
He added: "We focused on women workers who were particularly vulnerable. They were not able to find alternative employment. They had to take loans from friends and relatives and eventually they were not able to pay back the money because they could not get jobs.
"The worst scenario was in May 2020. Around 25% of the workers we surveyed lost their jobs as many retailers cancelled orders.
"Many of them were not re-employed. There would be violence in the factories with abuse directed by managers at workers for them to meet unrealistic production targets.
"No one followed rules during the pandemic. Retailers stopped monitoring and auditing."
Fast fashion has increasingly come under the spotlight. In May, the online fashion retailer Missguided collapsed, leaving workers in Pakistan destitute and hungry. The firm's suppliers are expected to be paid less than 2% of the £30m owed to them by its main trading entity after the company shut down.
A recent survey in Leicester – where several factories depended on Missguided for work – also found poor conditions among garment workers. In Cambodia, 63% of the garment workers surveyed had been forced to take out loans to supplement their poor wages even before the pandemic.
Trade justice charity Traidcraft Exchange collaborated on the research. Fiona Gooch, of Traidcraft Exchange, said: "It's not fair or realistic to expect consumers to clean up the exploitative fashion industry by changing where they shop.
"Voluntary schemes haven't worked either, because it's more profitable for fashion brands to dump inappropriate risks and costs on to suppliers.
"The only way we'll stop appalling working conditions is by regulating fashion retailers so they can no longer get away with abusive, cost-cutting purchasing practices which impact manufacturers not only in Bangladesh and Cambodia but here in the UK.
"It's high time for a fashion watchdog, like the one we already have for the supermarket sector, to end the harm and bring the garment sector up to the same standard we have for groceries.
"Researchers at Aberdeen University have done excellent work revealing impacts on workers and suppliers in Bangladesh.
"We are delighted that Scottish MPs are supporting the call for a fashion watchdog to get change, as part of a determined and growing cross-party coalition."
The testimony
The research team spoke to female workers in Bangladesh to hear their experience of abuse and exploitation.
There are many things I dislike about the factory. The one I most dislike is the rude scolding and shouting of the supervisors. They physically abuse us by hitting or slapping us. They slap us to force us to work.
If I go to the toilet and the supervisor sees that I am not working, they deduct the time from my salary. They even deduct the time from salary if I drink water other than during the lunch break.
There are female workers in the ready-made garment industry that suffer from undernutrition. They cannot eat properly, and this reduces their productivity.
I often have to work for 14 hours a day. They don't feed us or let us have a rest. I have to stand on my feet all the time and do the work. It impacts my health significantly. I get headaches and neck pain, and I also have problems with my eyesight.
Management can dominate female workers more easily; they are a soft target, but it is difficult for them to abuse male workers.
Workers who have been doing the job for a long time are the ones most likely to be terminated.
They don't pay us fairly; They force us to do overtime without pay.
Because of pregnancy, I had to give up my job, pregnant workers get fired.
Fast fashion and the damage done
Fast fashion revolutionised the clothing industry, boosting the growth of some of the high street's best-known brands.
The pace of production has ramped up in recent years with the turnaround of designs offering cheaper versions of catwalk trends becoming ever faster.
Fuelled by the internet, globalisation and technological innovation, fast fashion operates on a far faster product turnover than traditional garment manufacturing. Usually retailers would offer new clothes lines every few months but fast fashion brands now offer them every few weeks. Constant turnover and affordable prices are designed to lure shoppers at all income levels. In past years, factories made roughly 40,000 garments across four different styles in 20 weeks.
Now, suppliers have to manufacture four styles at 500 garments per week for five weeks. The use of cheap labour in poorer countries allows firms to increase production speed and volume.
The industry has other negative impacts. Fast fashion is reportedly responsible for around 10% of global greenhouse gas emissions.
Water and microplastic pollution is caused by the industry's synthetic materials and toxic chemicals – some 2.5 billion gallons of textile waste contaminate around 70% of Asia's waters.
Last month, images emerged of the damage done by the industry after piles of unwanted clothing washed up on beaches in Accra, Ghana.
Ghana is one of the main recipients of the UK's used clothing but nearly half of the imported clothes there cannot be resold because they are either of low quality or are one-off items that no one wants such as hen party T-shirts or novelty sports kit.
These unwanted items are dumped in landfill sites or end up polluting rivers, beaches and the sea. Each year, an estimated 39,000 tons of clothes from developed countries are also being dumped in Chile's Atacama Desert.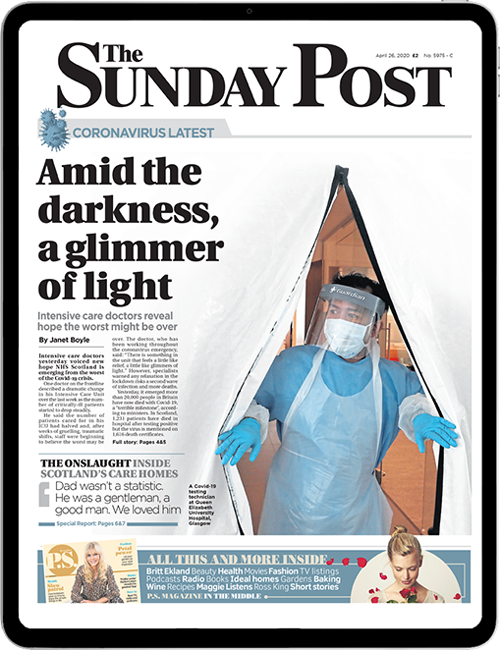 Enjoy the convenience of having The Sunday Post delivered as a digital ePaper straight to your smartphone, tablet or computer.
Subscribe for only £5.49 a month and enjoy all the benefits of the printed paper as a digital replica.
Subscribe