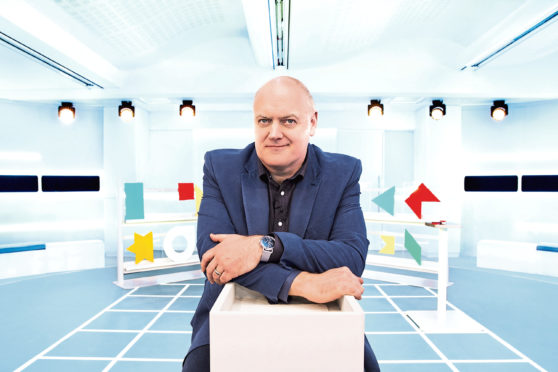 He's hosted Mock The Week and numerous other shows, including Blockbusters and The Apprentice: You're Fired!
Now Dara Ó Briain, who studied maths and theoretical physics at university, has a new series that sounds like it should be a perfect fit.
The super-smart comedian is presenting new quiz show The Family Brain Games.
Running at peak times on BBC2 from Monday to Thursday for the next two weeks, it's billed as the "ultimate test of collective, cross-generational intelligence".
Eight of Britain's smartest families pool their respective IQs and go head to head in the quiz that will push their minds – and family dynamics – to the limits.
And Dara reckons for some of the challenges, the solution was definitely kids' stuff.
"For the children, the smart money is on questions that involve lateral thinking," said Dara. "They're quicker at seeing the change and they're less trained into thinking one way. Therefore they don't get fooled by the tricks the grown-ups get fooled by."
In each hour-long episode, two families face a series of ingenious games, designed in association with Imperial College London. Going beyond traditional ideas about how to measure brain power, such as individual IQ, the games will explore the power of group intelligence.
"This is very different to your standard quiz," insists Dara. "A lot of it comes down to family dynamics, which were very interesting.
"The families able to move out of what we would call the traditional hierarchies, such as dad will take the leading role in this and mum will take the leading role in this while the kids just stand there; were able to communicate very well and did very well."
But the pressures the families face quickly become evident.
"The cameras stay rolling in between the games, so we see how they respond to the stress of the process and their performance," says Dara.
One of his last TV outings was Robot Wars, the reincarnation of the old metal mayhem series, which was filmed in a giant derelict factory in Renfrewshire.
The Family Brain Game could hardly be further removed. In fact, Dara says it's a departure from most of the things he's tackled in the past.
"It's a very different show to do. The questions are on screen, so it's not like I'm asking the questions. This wasn't really a quizmaster-type thing."
The Family Brain Game, BBC2, Monday 8pm