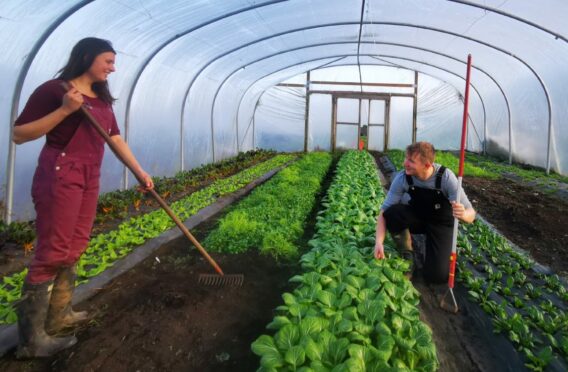 When Nat Dixon and partner Bryde Marshall first took over five acres of farming land at the base of the Lomond Hills, Fife, they had very little experience – but plenty of enthusiasm.
"I think we literally started with one spade between two of us, a handful of seeds and a polytunnel," explained Dixon with a smile. "It's been a massive learning journey, but thankfully, it's paying off."
Over the past eight years, the couple have transformed the empty field into Falkland Kitchen Farm, a thriving organic market garden, where they now grow more than 70 varieties of fruit, vegetables and herbs, including cabbage, cauliflower, broccoli, potatoes, cucumbers, and lettuce to name but a few.
Dixon, who had always dreamed of becoming a farmer, but completed philosophy degree before later training as a professional chef, said: "It wasn't the most conventional route into farming. As a child, I always enjoyed playing farmers and having toy tractors and things like that."
Selling locally and also delivering to homes in north-east Fife, Perth and Dundee via a weekly veg box scheme, Dixon says business has continued to grow since he and Marshall planted their first seeds – and during the pandemic, when more people became interested in eating locally and seasonally, it was hard to keep up with demand.
He said: "When the pandemic first started, we were just completely inundated with calls from people wanting veg boxes. That moment gave small producers the opportunity to prove the strength of short, local supply chains, and show that there are producers out there willing and capable of feeding their communities.
"We've also been really amazed by local chefs in Fife, particularly, that really support what we're doing, and we're now on the menus of some really top restaurants in any area. I guess it show you're doing something right when Michelin star chefs want to use your produce."
Organic farming means growing produce without artificial fertilisers, weed killer and pesticides, and focuses on building a healthy carbon-rich soil that, in turn, leads to healthy plants and animals. Certified farmers and growers are subject to an annual inspection to ensure standards, and while Dixon admits it's more time-consuming and labour-intensive, going organic has many benefits.
He explained: "About 80% of my week is spent on my hands and knees crawling around in the weeds, and we have to protect our crops in other ways, with fleeces and mesh that we have to put on and take off every day. Soil is also so important to us, so we actually go a step further and do a 'no dig' system, which means we're not actually turning the soil at all.
"That allows the microbiology and the ecology of the soil to thrive. When normally rotating the soil, you're disturbing its amazing ecology – there's something like 10,000 species in a handful of soil. That's worth protecting and so as much as we're vegetable growers, the crux of what we're doing is feeding and farming and caring for the soil. Without healthy soil, we won't have healthy crops."
He added: "One criticism we get with organic, is that it's kind of 'trendy' and a bit of a fad. But people need to remember that organic farming has been done for about 10,000 years and, actually, modern, chemical-rich farming is relatively recent from the last 60 to 100 years."
As a professional chef, Dixon says it's not just the planet that benefits from organic farming methods – our taste buds see the difference, too.
"I've always seen the field and farm as an extension of the prep work of the kitchen," he explained.
Helping to spread the word about the fellow incredible producers in Scotland, Dixon signed on as one of 24 Regional Food Tourism Ambassadors. The new programme, launched by Scotland Food & Drink and the Scottish Tourism Alliance, aims to raise Scotland's profile as a global food tourism destination, showcasing chefs and caterers, producers and independent retailers.
Dixon said: "We're so lucky in Scotland to have such an amazing natural larder, and so many fantastic producers. There's some inspiring things happening yet, if you ask most people what Scotland's food is about, they would probably say whisky and haggis. As important as those things are for Scotland's reputation, there's so many other things going on as well. So being a Food Ambassador and getting to champion local food enterprises has been really exciting."
Harissa roasted carrots with butterbean and roasted garlic puree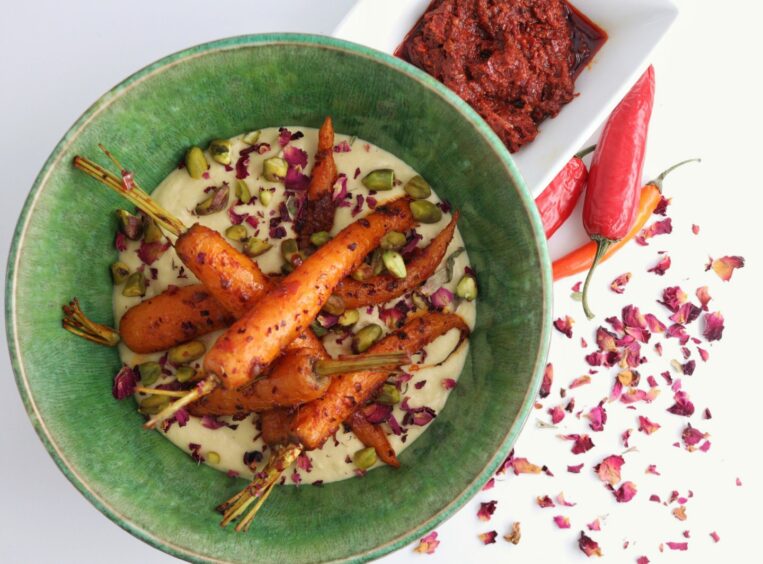 You'll need
For the roasted carrots:
1 bunch of young carrots
1 heaped tbsp rose harissa paste (try Belazu Rose Harissa, available in supermarkets)
1 tbsp olive oil
Salt and pepper
For the puree:
2 bulbs of wet garlic or 1 bulb of dried garlic
1 tbsp olive oil
800g butterbeans (use tinned or soak and cook from dried)
180ml cold pressed rapeseed oil
50ml lemon juice
Salt
To garnish:
Dried rose petals
Chopped pistachios
Method
Pre-heat the oven to 180 degrees.
Roast the garlic for the butterbean puree. To do this, rub the garlic bulbs with the olive oil and season with salt. Wrap tightly with kitchen foil and roast for about an hour until the bulbs are soft all the way through. If using wet garlic you can use the whole bulbs in the puree with their skins still on. If using dried garlic, pass the garlic bulbs through a sieve in order to separate the garlic paste from the skin.
Wash and scrub your carrots as they will be roasted whole with the skin on to trap in all the lovely flavour. Cut the tops leaving about an inch of green stem.
In a mixing bowl, combine the harissa paste, olive oil, carrots and a generous seasoning of salt and pepper. Rub the mixture into the carrots until well coated and then transfer to a baking tray.
Roast in a 250 degree oven until the carrots are starting to caramelise but still have a slight bite to them (about 20-25 minutes).
To make the butterbean puree combine butterbeans, rapeseed oil, lemon juice and your roasted garlic in a blender. Blend until silky smooth, then season to taste.
Serve the puree topped with the harissa roasted carrots and garnish with rose petals and pistachios. Warm up some flatbreads and enjoy.
---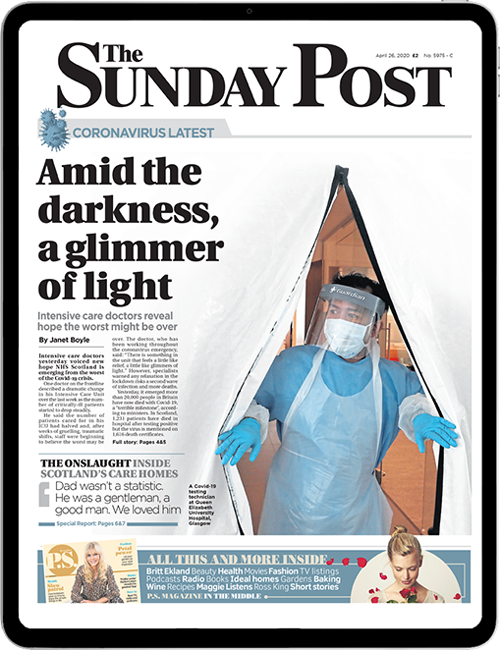 Enjoy the convenience of having The Sunday Post delivered as a digital ePaper straight to your smartphone, tablet or computer.
Subscribe for only £5.49 a month and enjoy all the benefits of the printed paper as a digital replica.
Subscribe