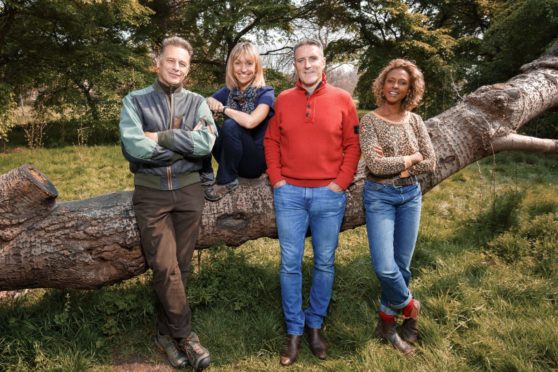 Nature shows like Autumnwatch can inadvertently risk wildlife by encouraging people to get too close, experts warned.
Factual programmes and documentaries have fuelled people's interest in the outdoors and encouraged them into the countryside. But scientists have stressed that it is vital for the welfare of wildlife that people appreciate them from a distance.
Dr Fiona Manson, a marine ecologist at NatureScot, said factual nature programmes like Springwatch and Autumnwatch help raise awareness of responsible behaviour, but added: "The only issue I have with some of these programmes is they do tend to give the impression that it's good to get closer to the animals.
"They always say things like: 'Let's see how close we can get'. To me it's really important that people don't try and get closer. You can watch something from a distance and see perfectly well what the animal is doing.
"If you try to get closer you're probably going to scare the animal, which means you're going to lose out because you're not going to be able to watch them anymore and then you've also caused disturbance to that animal.
"One of the really key messages should be that you don't need to get close to the animals to enjoy them. Stand back at a distance and observe them.
"Sometimes when they say on the TV: 'We'll get as close as we can', I'm shouting: 'No, don't'.
"What one person does probably isn't going to cause any issues, but if it's repeated over and over then it could have serious consequences."
Nature-based tourism is worth hundreds of millions of pounds to the Scottish economy. A campaign called Giant Strides 2020-2025 was launched in spring in a bid to boost marine tourism's contribution to £500 million a year.
Nature reserves and country parks are the most popular destinations but people also venture to more remote areas to spot Scotland's big five – the golden eagle, red deer, harbour seal, otter and red squirrel.
Bottlenose dolphins in the Moray Firth are also a draw for tourists and since the 1990s the number of tour boat businesses operating in the area has grown from one to about a dozen.
Ben Leyshon, NatureScot's operations manager for the Highlands, said: "What we wanted to do was encourage people to come up and see the dolphins because it's good for people to see, experience and enjoy. But we also wanted to look after the animals themselves."
Growing visitor numbers mean a balance needs to be struck between maximising the economic benefit and ensuring the welfare of creatures in the wild. Wildlife is protected by law but visitors and tour operators are also encouraged to abide by guidance such as the Scottish Outdoor Access Code and Marine Wildlife Watching Code.
Ecological modeller Dr Francesca Mancini carried out research at Aberdeen University into managing wildlife tourism, and concluded co-operation was the best approach.
She said: "The question of striking the right balance is a really tricky one. You really need everybody working together to the same goal. There's no wildlife tourism without the wildlife.
"Tourists play a very important part. It's important to educate people to behave in a certain way around wildlife.
"TV programmes can be very useful and a good tool. There's a good thing about showing footage to people because they get to know wildlife but there's a danger that they think they can just go up to them.
"Sometimes you can't even tell if an animal is disturbed because some species freeze when they are scared. They don't show aggressive behaviour or run away, so you don't perceive what you're doing as harmful but it is."
The BBC said: "Autumnwatch places the utmost importance on the welfare of the animals they film. When presenters talk about 'taking a closer look' it is usually a studio cue to the live gallery prompting them to switch to a particular camera. On screen we always ensure we tell people when a species is endangered, as well as giving positive information about how people can help, and to encourage them to behave considerately."
---
Presenter's secret to staying cosy while filming at Fife beach
Presenter Michaela Strachan has revealed her secret to staying cosy while filming Autumnwatch.
The popular nature show will be filming in Scotland this week, with Michaela based at Tentsmuir Forest in Fife.
Living in South Africa, she is braced to feel the chill – and will keep herself toasty by wearing a woolly hat and stuffing a hot water bottle down her jumper!
The 54-year-old said: "I get very, very cold. I've got a little hot water bottle that I put under my jumper. I'm really quite pathetic.
"I'm usually the only one with a woolly hat on because, as my mother said, you lose a lot of heat out your head."
Former children's TV presenter Michaela said her highlight of this year's Autumnwatch will be following families of grey seals as they raise their pups on the Isle of May.
The live show will run for eight episodes rather than four, and she is hoping seals will be born during filming.
Parts of the programme have been left unscripted to allow for any unexpected moments.
Autumnwatch starts on BBC Two on Tuesday, and the four presenters – Michaela, Chris Packham, Gillian Burke and Iolo Williams – will be based at different locations in the UK because of social distancing rules.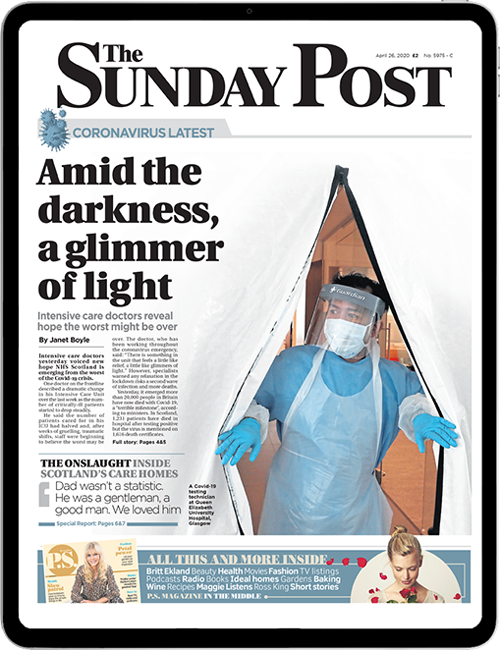 Enjoy the convenience of having The Sunday Post delivered as a digital ePaper straight to your smartphone, tablet or computer.
Subscribe for only £5.49 a month and enjoy all the benefits of the printed paper as a digital replica.
Subscribe