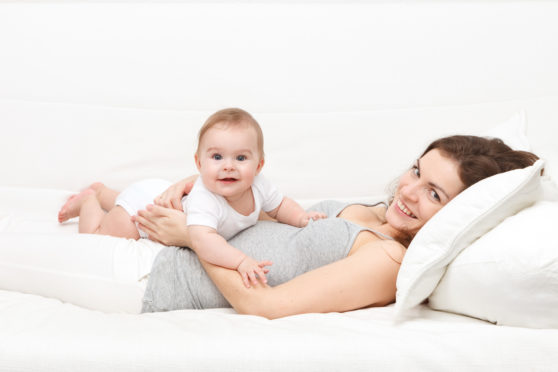 A loving hug. A finger brushing away a tear. A goodnight kiss.
A caring touch is a reassurance and comfort, one of the most important ways we connect and communicate with each other, expressing everything from joy and sorrow to pride and passion without ever having to say a ­single word.
But, in the past few months, we've all had to consciously reconsider our innate instinct to reach out and touch, keeping our distance from loved ones, family and friends as the spread of coronavirus continues to altar our everyday lives.
Scientists believe touch is the first sense to develop in the womb, and therapist and mindfulness practitioner Kate Mollison says our very first method of communication gives a clue as to why we continue to seek touch in adulthood for safety, soothing and comfort.
The Glasgow-based therapist explained: "It all starts when we are babies – a baby needs to be touched for stimulation and love, and the mother gets the same back in the form of ­oxytocin or what is called the 'cuddle hormone'.
"Touch affects how we learn, how we respond to people and how we interact. So, that's still around for us even as big people – there's still that wee baby in us that wants that moment of connection, understanding and safety with others.
"Often we don't have the vocabulary, so touching the wrist or placing a hand on the arm can be used to communicate. Just being able to reach out and touch someone often conveys more than words. It can be a happy touch or sad – every emotion, really."
A 2009 study, which aimed to discover more about non-verbal communication, found participants were able to send and receive emotional signals through skin-to-skin contact alone. Despite being blindfolded during the experiment, subjects could correctly identify eight distinct emotions – including anger, fear, disgust, love, sympathy and gratitude – with up to 78% accuracy, which surprised even the researchers conducting the study.
But touch is not just vital for expressing emotion. Previous studies have also found the ­simple action of holding hands with a partner can improve our ability to withstand pain, and so-called "touch therapy" can even speed up the healing of wounds.
Dr Alasdair Forbes, deputy chairman of policy for the Royal College of General Practitioners Scotland (RCGP), admits patients currently struggling to recover in hospital or at home could be impacted by a lack of physical interaction with family and healthcare professionals.
"We know that patients recover better when they feel psychologically well, as well as physically," explained Dr Forbes, who is a partner at Scotstown Medical Centre in Bridge of Don, Aberdeen.
"When we have to be ­isolated and stay apart, delivering that psychological well-being is really challenging. Think about it – when you're a kid you feel much better when your mum gives you a hug. But patients just can't do that right now, so you can see how that does have an effect on recovery. I'm sure that has a part to play."
Stress, anxiety and worry are other concerns that can be alleviated with such simple measures as hugs, kisses or even holding hands, and chartered clinical psychologist Dr Abigael San agrees we may start to feel the effects of the social ­distancing measures, which look set to stay in place for some time to come.
She said: "Touch acts on the soothing pathways. It's kind of the antidote to threat and anxiety, which there is a lot of around at the moment. It indicates, safety, reassurance and comfort, and fills the basic needs we have for safety and trust. So, it's very hard living with a lack of it at the moment.
"Even before coronavirus, people would talk to me about noticing if they were lacking physical touch in their lives. It's a basic instinct to feel safe and to seek safety, and the physical sensation of touch as part of that."
For those missing hugs from excited grandchildren or the warm embrace of a partner, therapist Kate Mollison says there are lots of little everyday activities we can use to replace the sensation until we can be reunited again.
"A lack of touch has an effect on us, and how we compensate is really important," explained Kate, who is a member of the Counselling Directory.
"We can self-soothe with other things, such as a bubble bath, practising meditation or mindfulness, stroking a dog or a pet, and even just talking to other people. All these things stimulate that 'sooth system', which touch is a big part of – it's not the same, but it can be similar.
She added: "We don't often think of ourselves as a 'huggy' nation. If you go on holiday to Italy or France, where everyone's hugging all over the place, we think we're not really like that. But not being able to hug has made us realise it is actually our normal response.
"But it's important to ­remember we are doing this for good, compassionate reasons, and it's keeping people safe. So, if you can remind yourself of that, which is difficult in the moment, we can think of our actions as kind rather than punitive."
A simple touch?
The sensation of touch is ­mediated by mechanosensory neurons that are embedded in skin and relay signals from the periphery to the central nervous system. During embryogenesis, axons elongate from these neurons to make contact with the developing skin. Concurrently, the epithelium of skin transforms from a homogeneous tissue into a heterogeneous organ. – The Company of Biologists
---
I haven't hugged my family since I came out of intensive care
Just a few months ago, Ian Coventry would have described himself as fit, healthy and active. But after being suddenly struck down with a heart attack, the 72-year-old spent more than five weeks in hospital – just as the true threat of coronavirus was emerging.
Unable to receive visits since he underwent a life-saving operation, Ian says being unable to hug his loved ones – including daughters Laura, 42, and Julie, 38, and granddaughters Rebecca, 11, and Sophie, nine – has been one of the most difficult challenges.
He explained: "It was the start of March. I had gone up to my local Tesco for a wee walk with my daughter's dog. The last thing I remember was being in the shop, and then a week later I woke up in Hairmyres Hospital.
"I didn't have any chest or arm pains – one minute I was there and the next I wasn't.
"For the next five days I was in intensive care, covered in tubes, and seemingly the doctors had to revive me 10 times. So, for all intents and purposes, I was dead 10 times during that period.
"When I woke and they explained what happened to me, I couldn't believe it. Then of, course, the coronavirus crisis just started to kick in after I came out of intensive care.
"For the next four weeks I had to stay in hospital awaiting an operation to implant an ICD in my chest. I didn't have any visitors, so it was very difficult for my daughters, and for me – I just wanted to reassure them I was OK and getting better.
"I haven't had a hug or a kiss or anything. When you've been through a trauma like that, the first thing you want to do is hug your family. But that just wasn't to be – and still hasn't.
"I am fastidious about keeping to the two-metre rule. My daughters drop messages at the door, or if it's a nice day they'll come round to the back garden, but they sit about 10 feet away from me. We have no physical contact.
"We've had my birthday and my granddaughter's recently, but there have been no real celebrations or parties. So, it's been tough all round.
"We are all making plans for when this is all over – it's just a case of looking forward. This isn't going to last forever, so we've just got to try and make the best of it."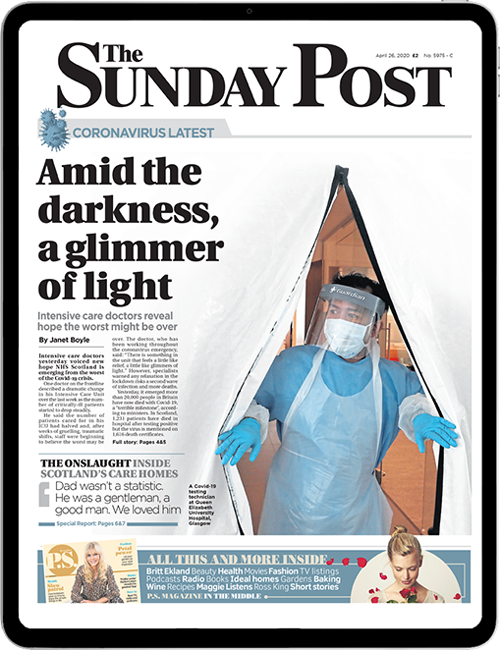 Enjoy the convenience of having The Sunday Post delivered as a digital ePaper straight to your smartphone, tablet or computer.
Subscribe for only £5.49 a month and enjoy all the benefits of the printed paper as a digital replica.
Subscribe