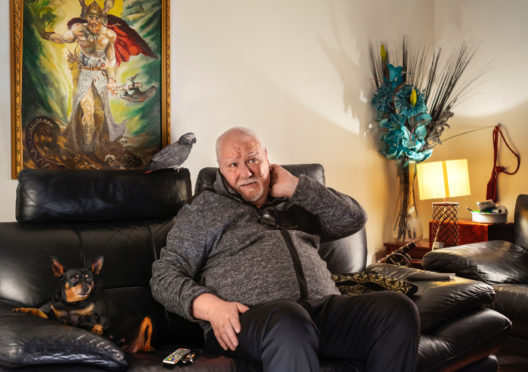 A lung cancer test which was successfully piloted in Scotland in a £3 million trial should now be made widely available, experts have said.
Around 12,500 Scots were recruited by GPs in Dundee and Glasgow to try out the £60 Oncimmune EarlyCDT-Lung test between 2012 and 2016. Lead researcher, NHS primary care medicine specialist Professor Frank Sullivan of St Andrews University, said the test had already saved several dozen lives of volunteers after spotting the early signs of lung cancer.
He said: "Looking forward 10 years, I'd like to see this test being offered in the same way we offer people the bowel cancer test and instead of us seeing over 4,500 people dying with late-stage lung cancer, we'd get that down to a few.
"The key to getting on top of lung cancer is early detection. Unfortunately, Scotland still has one of the worst records on lung cancer."
He added: "We saved several dozen lives just as a result of this research programme. I'd now like to see it being offered to several hundred thousand more people."
Lung cancer kills 4,500 Scots every year – more than breast, ovarian and cervical cancer combined, and double the second highest killer, colorectal cancer.
But, with no national screening programme, 80% of lung cancer victims are currently diagnosed in the late stages. By then only 5% survive five years or more compared with 57% when it is detected early.The finger-prick blood test can diagnose cancer in patients who may not have any symptoms but are in a high-risk group such as heavy smokers. It has been sold to a US firm in a £25m deal and licensed for use in 21 other countries. UK medical watchdog NICE produced a briefing on its advantages in March, confirming it has a place in early detection. But, since Covid, NICE has shelved further action.
Oncimmune's Dr Adam Hill said: "It's deeply frustrating because our test can detect lung cancer four years earlier than current clinical diagnosis techniques."
Dr Merina Ahmed, consultant clinical oncologist in lung lymphoma at the Royal Marsden NHS Foundation Trust, said: "To identify a method of lung cancer diagnosis that is less invasive than the current method of lung biopsy would be a great leap forward."
Dr Pedro Oliveira, Consultant in Histopathology at The Christie NHS Foundation Trust, Manchester, said: "Further clinical use will help to identify if this is going to be the game-changer needed to reduce morbidity and mortality with lung cancer."
Dr Jodie Moffat, head of early diagnosis at Cancer Research UK, said: "Too many people are diagnosed with late stage lung cancer, when it is more difficult to treat, and we want to see a shift towards earlier diagnosis. But there are many outstanding questions about whether this particular blood test could help to diagnose lung cancer earlier. For example, the research done in Scotland used the blood test as well as CT scans, and it isn't clear enough if the blood test added anything new or improved diagnosis.
"Further research is needed before we can be confident enough in the blood test to use it more widely. In the meantime, we encourage the UK National Screening Committee to consider the evidence for the use of CT scans in people we know are at higher risk of lung cancer. And as always, we urge people to contact their GP if they notice symptoms that could be lung cancer."
Scottish Conservative health spokesman Miles Briggs, co-convener of the Scottish Parliament's cancer group, said: "I can't see any reason why we are not pursuing it when the evidence is there to show this test has saved lives." MSP Alex Neil, who approved the trial while health minister, called on the Scottish Government to "act now or lose out".
The Scottish Government said: "While there are some potentially exciting developments for lung cancer in the pipeline, it's important that the time is taken to carefully explore the best options that match our unique circumstances in Scotland, to avoid creating further health disparities."
---
'I didn't have a cough and could walk for miles. I had none of the signs'
In the late 1970s, Jim Hendry gave an unknown band some of their first gigs at the pub he ran.
Fifty years later, Simple Minds are, in the words of one of their hits, still alive and kicking and so is Jim, thanks to the lung cancer research trial he joined.
Back then, he smoked 60 cigarettes a day, several cigars and inhaled everyone else's smoke at the Mars Bar music venue.
Jim had no signs of cancer when he volunteered for the Oncimmune blood test. The test showed he had the early stages of the disease.
The grandfather, 72, from Pollok, Glasgow, said: "I'd smoked since I was a child and worked in smoke-ridden pubs all my days. Everyone around me smoked, and everyone around me ended up with lung cancer.
"I'm the only one to have escaped thanks to that test."
Jim said that when the drive launched to find 12,500 Scots at risk, he signed up. He added: "I didn't have a cough. I could walk for miles. I had none of the signs. The test showed I had cancer and I was offered an operation. They removed the cancer and a bit of my left lung. It saved my life.
"Since then, my sister has died from lung cancer aged 72, and my youngest brother who is 63 has it too. Better to catch it early and treat it before it gets you, because undetected, it will get you."