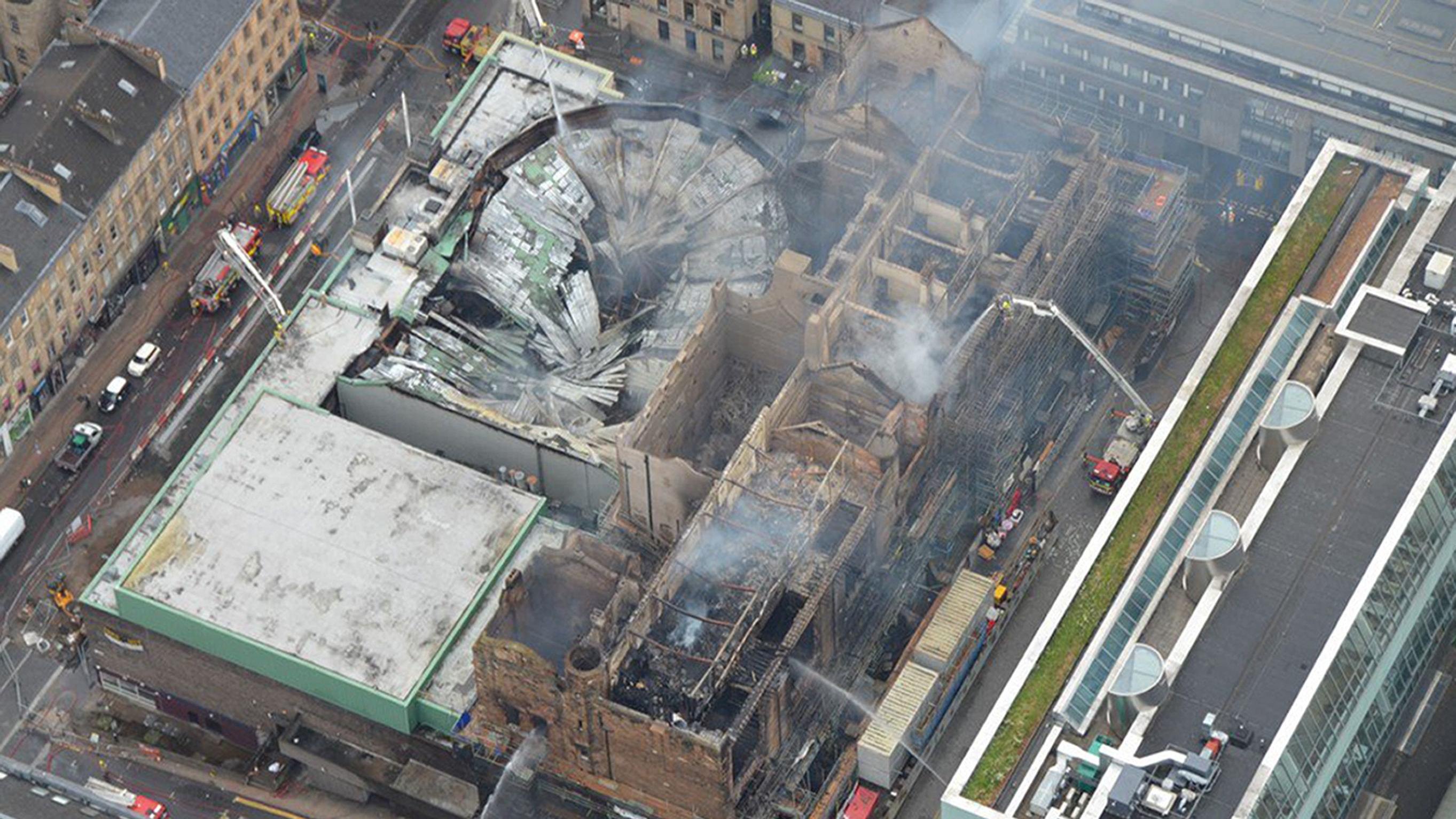 FIRE safety systems being installed as part of the restoration of Glasgow School of Art were not working when the devastating blaze ripped through the historic building, it was claimed yesterday.
A £35 million renovation, which had been expected to be completed next February, was ordered after the west wing and the Mackintosh library were destroyed by fire four years ago.
History in flames: Heartbreak as Glasgow's iconic art school lies in ruins after second devastating blaze
In 2016, project manager Sarah MacKinnnon said the art school was due to be fitted with a "misting infrastructure", which works like a sprinkler system.
Yesterday, the British Automatic Fire Sprinkler Association said it understood the new system was not yet in use.
A spokesman said: "As the building was still undergoing refurbishment, it is understood that automatic fire sprinklers had not yet been fully fitted.
"However, it should be realised that sprinklers can be fitted in buildings throughout construction on a temporary basis, as there is a considerable risk from fire during this period."
Independent fire safety expert Stephen Mackenzie said 60% of construction and refurbishment fires occur when a building is 90% complete.
He added: "This was not unforeseen, this was both predictable and preventable.
"Why wasn't the building's fire suppression system or a temporary system in place?
"I am going to demand that the Scottish Government conducts some kind of inquiry into this. Glasgow School of Art has had considerable charitable donations and considerable public funds donated from 2014."
The blaze devastated the Mackintosh building as well as the neighbouring O2 ABC music venue, which saw its roof collapse, and Campus nightclub.
Scottish Fire and Rescue area manager David Young said: "Damage is from one end of the building to the other.
"The roof is damaged and the floors. The building is in a poor state."
Kier Construction was appointed the main contractor for the project in July 2016, being made responsible for co-ordinating the stone, joinery, electrical, decorative and all other aspects of the main reconstruction.
The company, which saw its profits soar by more than 300% to £42.9m last year, yesterday refused to answer any questions on fire safety.
It said in a statement: "Kier has been working with the Glasgow School of Art since 2016 on the restoration of the Mackintosh building and so we share the devastation felt by the School and the wider public at this time.
"We are working closely with the Scottish Fire and Rescue Service in their investigation and as such it would be inappropriate to comment further while an investigation is ongoing."
A senior fire source told The Sunday Post that installations such as sprinkler systems and heat detectors are usually switched on at the end of the construction process.
And they said the roots of the fire almost certainly lie in the 2014 blaze, a claim supported by fire safety experts.
The insider said: "The reason it's been so ferocious will be down to the fact there wasn't safeguards in place to isolate it that you get in established buildings.
"And that's normal for building that are still under construction.
"I'm thinking about things like wall insulation, doors and even cladding that will help isolate a fire in a room and stop it from spreading."
The source added: "I don't know in this instance what has happened but the fact that the fire was so well-established leads me to think there would not have been smoke alarms and heat detectors present.
"The difference in just five minutes can mean a fire goes from one that can be successfully contained to one that is out of control."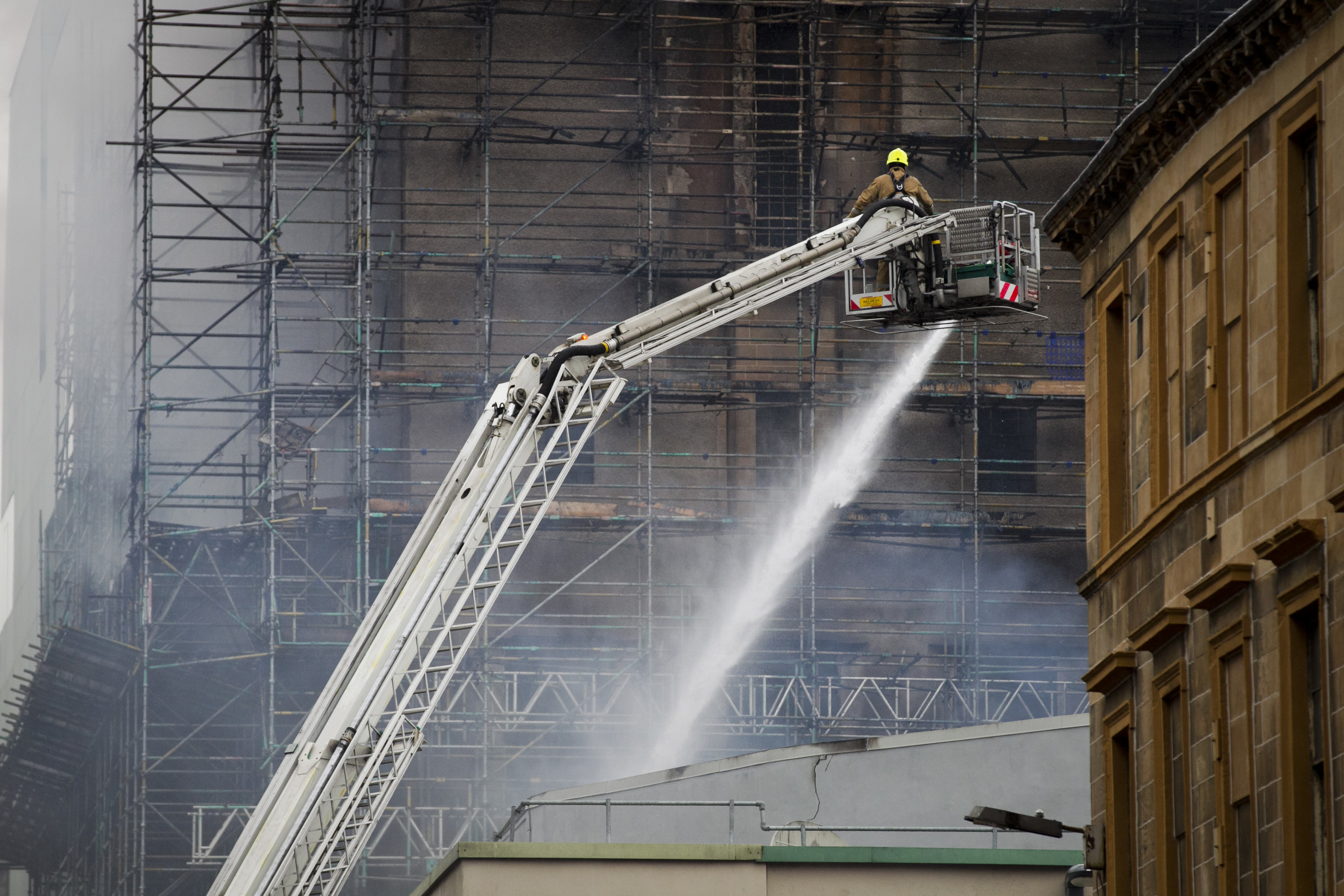 Professor Grunde Jomaas, of Edinburgh University's School of Engineering, said basic safety precautions could have been taken on site, even if the new systems were not switched on.
The academic added that creating smaller spaces through the likes of fire doors was a key tool used by planners to stop the spread of a blaze. This is unlikely to have happened at the Art School, however, because the renovation works were ongoing.
Prof Jomaas said: "There is more oxygen in a larger area for the fire to spread. A fire is controlled by the availability of fuel.
"At some point if you have a smaller room, unless a window breaks or something like that, oxygen will run out and the fire will die down.
"In this case it is likely there were larger rooms and it might be it was open to the outside which lets oxygen in."
He added: "One of the things that would be interesting to know would be what kind of fire protection measures were in place, if any.
"They can have alarms, you can have smaller CO2 alarms that anybody could put up on a wall."
The 2014 fire was sparked by gases from a foam canister used for a student project before travelling through vertical air supply ducts to cause extensive damage.
Traders fear for Glasgow's famous Sauchiehall Street as it's left reeling from string of disasters
Prof Jomaas said anything from an electrical fault to embers from any work involving hot materials that may have taken place on Friday could have led to the blaze starting.
Bruce Ogilvie, of Ogilvie Fire Protection, has nearly 20 years' experience in making buildings safe from fires.
He said that blazes tended to spread quickly once they had taken hold in older buildings.
Mr Ogilvie added: "The art school itself will have its own propellants but the fact that construction work was ongoing is likely to have been a factor. This is the likes of stacks of timber or gas bottles for roof work, and of course you might not have had all the fire safety measures in place at this stage of construction.
"The music venue is newer in construction and is likely to have had better fire protection but these measures have different ratings, as in how long they will keep a fire back from spreading.
Art world united in grief and disbelief over Glasgow School of Art fire
"Given the sheer magnitude of what we assume to be the seat of the fire, the art school, then they will only have done their job for so long and then a hole between the two will have poked through allowing it to spread.
"Especially with older buildings, and interconnected sites, the fire service only has a small window of time to try and contain things. It's a really hard job."
Reporting team: Judith Duffy, Hannah Rodger, Kieran Andrews, Sophie Law & Andrew Picken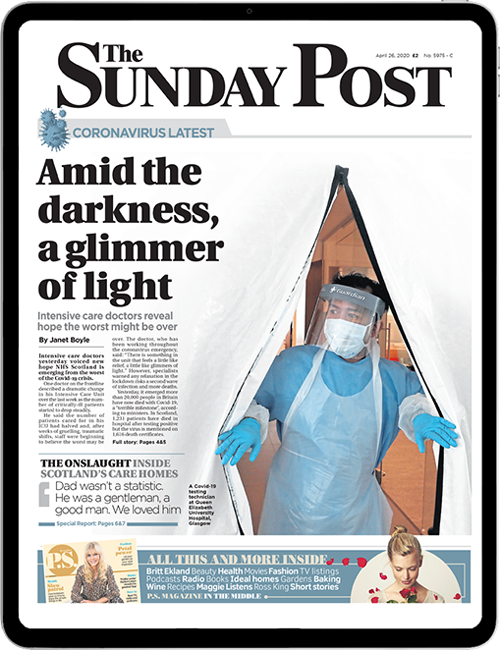 Enjoy the convenience of having The Sunday Post delivered as a digital ePaper straight to your smartphone, tablet or computer.
Subscribe for only £5.49 a month and enjoy all the benefits of the printed paper as a digital replica.
Subscribe