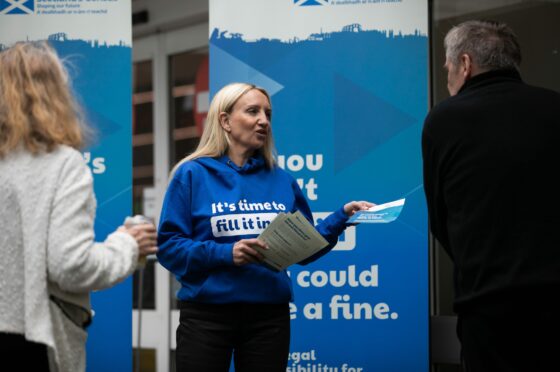 People living in Scotland's poorest ­postcodes will suffer most if too few Scots complete the Census, an expert has warned.
The Scottish Government set a target of 94% of households completing the £148 million census but the rate stood at just 83.6% on Friday.
The deadline was extended until the end of the month with about 450,000 households still to complete the Census, which is used to map the population and direct public spending and support.
Some commentators have suggested returns must reach 90% to have any value. Dr Mark Roodhouse said a lower figure would not render the Census meaningless but risked missing small social groups such as some migrants, localised pockets of poverty and the very elderly.
Roodhouse, an executive of the UK's Economic History Society and a reader in modern history at York University, said: "The government needs a large enough group to make sure they get the right resources. If they don't get enough the numbers will be unreliable, and the really small social groups will be hit harder, and their disadvantages will be compounded.
"The data helps gauge a sense of deprivation within certain districts, which has all kinds of consequences. For example, if someone from that area wants to go to university and access loans, it is important the information on their experiences is accurate so admissions are able to see that the person comes from a tough background."
The very elderly are also a growing group that may miss out on services if missed in the Census. Roodhouse said: "People over the ages of 100 are a growing part of society across the UK and they need a lot of services and support, and it is really important to know where they are. They are the ones who are going to struggle now the Census is largely online."
As well as informing what services are needed in an area, political parties are also able to use the data to learn what the electorate needs. "Political parties can get a sense of individuals and can understand the make-up of their council wards and constituencies they are contesting, and are able to gauge what people want effectively," said Roodhouse.
Last week, First Minister Nicola Sturgeon admitted experts will be enlisted when the Census is complete to check if enough information has been calculated to make reliable decisions. She told MSPs: "Work will be done to ensure the exercise has been a credible one and the information gathered is reliable. It will be appropriate to take expert advice on that."
Census teams are visiting supermarkets and colleges to speak to people yet to complete the survey. Yesterday they were at the Asda supermarket in Govan.
The original deadline was extended by four weeks due to a low number of completion rates, despite those who have not completed the survey facing a fine of up to £1,000.
Critics said the decision to delay the survey a year, despite the Census being held last year in England and Wales with a 97% completion rate, hindered the collection of data. This has led to questions over how the Census will run next time.
Roodhouse said: "They might have to turn to sample surveys. It is a system that has been talked about in the run up to every Census since the turn of the century but it is always pushed aside because a complete Census is much better.
"Census teams will just ask a sample from a particular area, but if you sample people outside school gates, then it's going to be a very skewed data set, and it is now being considered in big cities such as Edinburgh and London. This means a lot of ­individuals won't be recorded, but everyone deserves to be remembered. It also makes it difficult for historians to look at the past."
The Sunday Post View: The £150m question? So why did ministers delay the Census and risk the vulnerable?
The Census was previously hit by controversy over guidance that told people they could choose whether they are male or female based on gender identity rather than biological sex.
National Records Scotland (NRS), which is responsible for the Census, said: "Householders have until the end of May to submit their returns. Our absolute priority is to support and enable those who have not yet done so to complete their Census, adding to the more than four out of five households that have already done so.
"For those who have yet to complete, help and support is available via census.gov.scot, or by calling our free help­line on 0800 030 8308, and our field teams, who have so far undertaken 1.4 million doorstep visits, will continue to support households to complete their Census."
NRS said it was vital students took part, adding it had "undertaken extensive work to further encourage student response, including holding successful student events in Dundee, Edinburgh and Strathclyde this week".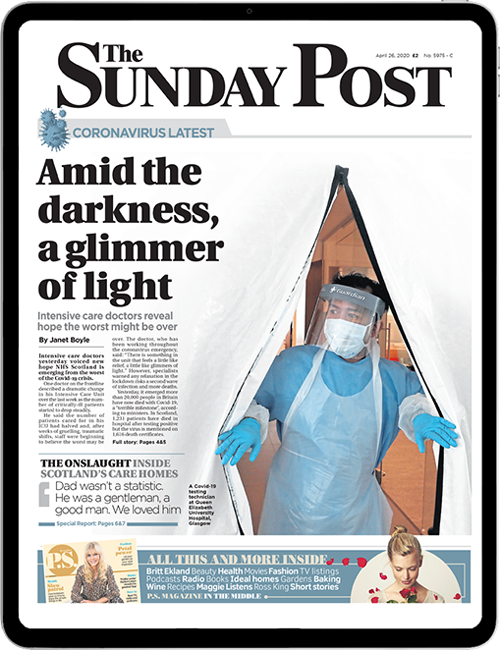 Enjoy the convenience of having The Sunday Post delivered as a digital ePaper straight to your smartphone, tablet or computer.
Subscribe for only £5.49 a month and enjoy all the benefits of the printed paper as a digital replica.
Subscribe