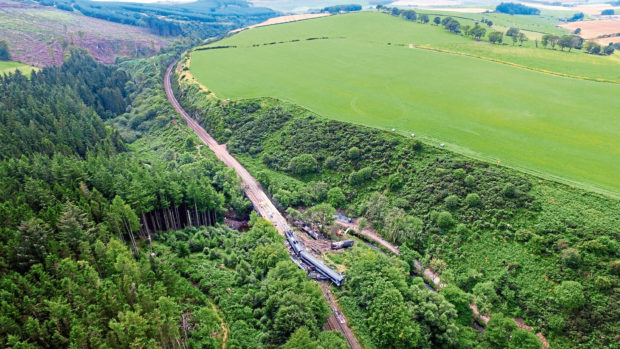 Rail authorities face a race against time to prevent more landslips endangering trains, experts warned yesterday.
They voiced fears after it emerged a landslide had hit a Highland line just weeks before last week's fatal derailment in Aberdeenshire. The 6.38am service from Aberdeen to Glasgow was derailed by debris on the tracks on Wednesday, killing the driver, ­conductor and a passenger.
Now it has emerged a landslide triggered by a flash-flood had caused mud and rocks to cascade onto the West Highland line between Fort William and Mallaig in June.
Experts have warned that urgent work needs to be done on the rail infrastructure to avoid further tragedies or disruption to services. Landslips are more common in Scotland because of the terrain and unpredictable weather, and experts have urged rail authorities to take more urgent action to deal with problems caused by global warming.
Railways expert Tony Miles said hard lessons may have been learned from the crash near Stonehaven about which parts of the rail ­network need to be given priority. Most of the network is more than 150 years old but climate changes are now destabilising land around the tracks in an unprecedented way.
Mr Miles said: "This is something Network Rail is looking at urgently because geologists are saying it's going to happen more often. Stuff that's stayed in place and been ­perfectly sound and secure for over a century is suddenly vulnerable. Network Rail can't nip out next Thursday and fix it, this is decades of work ahead."
He added: "There are all sorts of investigations going on but the problem is the environmental change seems to be happening faster than the scientists can cope with."
Network Rail is investigating ­different methods of making tracks safer, including additional drainage, using pins to secure the ground and reshaping embankments.
Rail lines carrying high-speed trains are likely to be prioritised.
A Network Rail spokesperson said: "We're investing heavily in Scotland's railway to improve the condition of our earthworks and drainage systems and, between 2014 and 2019, we invested over £120 million on projects around Scotland. In the five years between 2019 and 2024 we plan to invest even more – £149m.
"We have been making greater use of weather modelling to forecast rain events and using assets such as our helicopter to help improve how we identify and respond to potential issues, before and after storms. We are also deploying new technologies like remote monitoring equipment to improve how we manage earthworks."
The Rail Accident Investigation Branch is leading the probe into the crash. Driver Brett McCullough, ­conductor Donald Dinnie and ­passenger Christopher Stuchbury lost their lives. Data from the train's black box is likely to have already been recovered, giving the exact time of the crash and the train's speed. Trains also send similar information in real time.
When it crashed, the train was returning to Aberdeen after being turned back at the Carmont signal box because of a second landslip further south.
It is understood the driver was not travelling at excessive speed when the locomotive hit debris on the track and derailed, sliding 90 metres before hitting a bridge and partially toppling down an embankment.
Off-duty conductor Nicola Whyte scrambled from the wreckage and walked more than a mile along the track to raise the alarm.
Investigators will also examine CCTV footage from the crashed train and other services that had passed the scene for clues to whether the area was unsafe.
Chris Milner, editor of Railway Magazine, said: "The investigators will be aided by the fact that trains that went over there ­ previously had forward-facing CCTV cameras. The train, in fact every train in this country, is fitted with a data recorder.
"From that they can work out GPS positions, speed, brakes, when the driver opened or closed the regulator to make the train go faster or slower."
He added: "They can determine all those bits of data and gradually they will piece together the picture of what happened."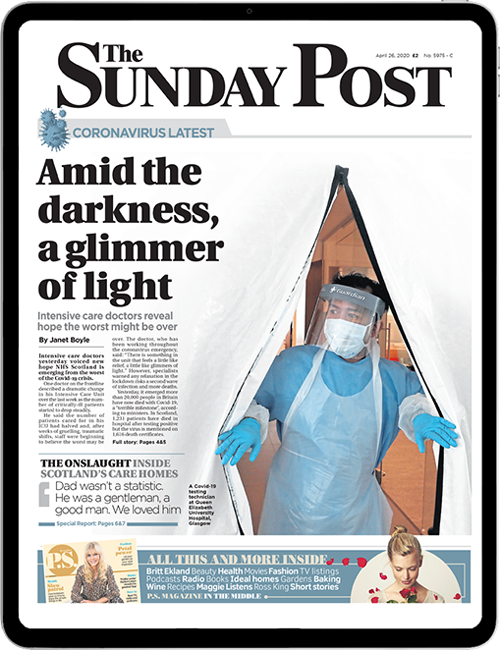 Enjoy the convenience of having The Sunday Post delivered as a digital ePaper straight to your smartphone, tablet or computer.
Subscribe for only £5.49 a month and enjoy all the benefits of the printed paper as a digital replica.
Subscribe