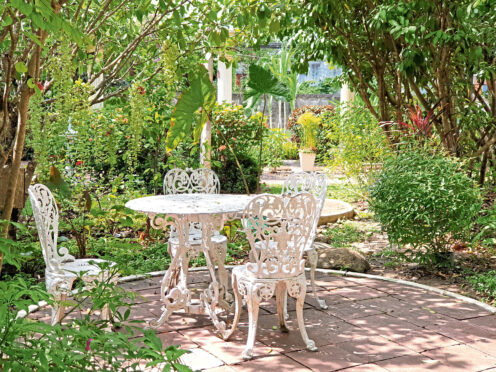 Almost every conversation I have with friends at the moment involves chat about garden furniture. Either they've splashed out on a new set or they are having trouble tracking down replacements for their existing tables and chairs.
Prices have shot up because of high demand and a four-fold increase of shipping prices for imports from China and so the furniture that is available can be very costly.
Meanwhile, I've heard three reports in recent weeks of furniture and garden accessories being stolen. These thefts are part of a worrying spike in garden crime that is being witnessed across the country.
Our garden furniture came second hand from friends who were upgrading to something smarter and I don't think there's any risk of it being stolen but the idea there are criminals sneaking into gardens at night doesn't make for untroubled sleep.
So how do you stop yourself from being a victim of garden theft? One of the best ideas I've come across is to use steel cable and a hefty lock and wind it through the legs of tables and chairs. It's not easy to get a patio set into a van under the cover of darkness when everything's linked together.
It's a shame we have to think this way but if I had fancy outdoor furniture then it is what I would do.
As it is our huge but slightly rickety table has a shabby chic vibe that fits with the rest of the garden. It is in constant use as a place for breakfast on sunny mornings and as a work bench for taking cuttings and potting on seedlings.
I decorate it with plant displays, covering it with pots of the small things that can be lost at ground level but which benefit closer inspection.
We've got three other tables dotted around the garden. One is a French metal bistro table that, despite being old, still has buckets of charm, while the other two are glass tables that started off indoors but get moved outside into warm corners in summer so we can follow the sun around the garden.
Having somewhere to sit and enjoy the flowers makes any garden more inviting and even in the smallest courtyard there's usually space for a folding chair. Add a couple of pots of lilies and a climbing rose scrambling up the wall behind it and you've got the perfect spot to while away a sunny afternoon.
I won't be doing any outdoor snoozing for a while, however, because the seeds I sowed last month are all now growing strongly and need to be potted on before they get any bigger and that will involve spending hours at the garden table while I move them on.
With it's cracked and compost-covered surface, I can't imagine that our table would be appealing to even the most desperate thief, but I would be lost without it.
With garden furniture in short supply and a surge in thefts from gardens, our ­expert Agnes Stevenson offers advice on how to keep those tables and chairs safe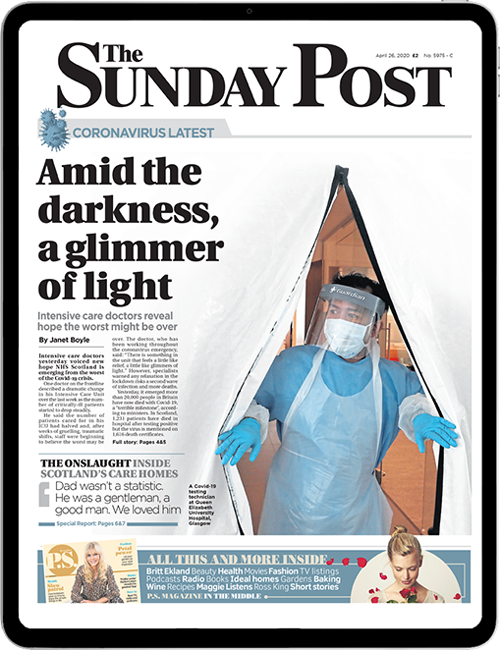 Enjoy the convenience of having The Sunday Post delivered as a digital ePaper straight to your smartphone, tablet or computer.
Subscribe for only £5.49 a month and enjoy all the benefits of the printed paper as a digital replica.
Subscribe